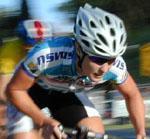 Photo: © James Victor
Going pro: The Rochelle Gilmore Journal 2003
Rochelle Gilmore - super sprinter and silver medallist in the Scratch Race at the 2002 World Track Championships - is a woman full of ambition. Despite being courted by the number one women's team in the US, Gilmore opted to sign with Lithuanian squad Ausra Gruodis-Safi; her goal being to move her World Cup ranking from 5 to 1 in the space of a year. Follow Rochelle as she attempts to rise to the top of the cycling tree in 2003.
Feeling great at the GP Feminas Castilla y Leon
Spain, Sunday, March 30, 2003
Today's race was seven laps of a very tough circuit, the main difficulty being the steep 1km pinch half way through the lap; the profile showed 7km up and 7km down!

I had one of the best rides of my life today, feeling extremely strong on the hills. I managed to crest the hill in the top 10 every lap and also move into all of the threatening breaks! The race broke down to a group of about 20 riders for the last few laps, our team only had myself and Nicole Cooke in this group. It was great to see so many Auzzies also in the front group, Alison Wright, Sara Carrigan, Oenone Wood and Liv Gollan.

With one lap to go I was determined to get over the climb one more time in a good position, I went over about fifth this time without needing to work too hard, the bunch was moving quite fast trying to pull back the eventual winner, Mirjam Melchers who had established a small gap before the last time over the hill.

I was very excited and feeling great descending the last 5km to the finish, unfortunately I nearly crashed in the last 300m. The bunch moved from the left side of the road to the right just as I was accelerating and I got squashed out, my feet came out of the pedals and I was skidding across the road on my shoes, I managed to stay upright but I lost about 70 or 80m. It took me a while to get me feet back in the pedals, but when I did, I powered to the line passing a few people. I had a lot of speed and my legs felt great, so despite how strong I was feeling this is also one of the most disappointing races I have ever done!

I did everything right in this race and I was having a good day, I guess I was only sprinting for second place as Mirjam had a little gap but the points were important to me and I just cant believe the way it finished for me!

Oh well, plenty more races! As you can imagine I am more motivated than ever plus my form in the hills is still surprising me and doing wonders for my confidence!

I still don't know where I finished but I think I passed about 10 girls in the last 50m, so maybe top 10? I saw that Sara and Ali were right up there in the sprint, so Sara would still hold the series lead and Ali would have moved right up in the points.

My next race will be the South African Track World Cup in Cape Town. I have not been on the track for a long time but I am looking forward to it!

Right now, though, I'm drowning my sorrows :-(

[A few minutes later...]

I just received the results:
6 Gilmore
I must have been flying, I didn't think I caught that many people!
I'm also sixth on overall points! I feel much better now after seeing how close the points still are! It is 75 points for a win, so its still anyone's series with six races remaining!
Cheers,
Rochelle