Recently on Cyclingnews.com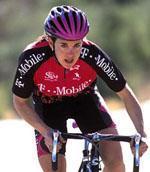 Photo: © Casey Gibson
Time for a change: The Kimberly Bruckner Journal 2003
Last year the 2001 US Road Champion Kimberly Bruckner left the number one ranked women's team in the US after two years with Saturn and joined the growing force that is Team T-Mobile. With her sights firmly set on the Worlds in Hamilton and the Olympic Games in Athens in 2004, Kimberly's diary is sure to provide compelling reading.
Geelong Women's Tour - 2.9.2, Australia, February 23-25, 2003
Stage 3 - February 25: Lara to Lara (via You Yangs & Bacchus Marsh), 129km
Why are you pushing?
What a difference a day makes. Yesterday we were wilting in the heat and this morning we woke up to chilly temperatures and a misting rain. I actually started the race with my arm warmers on. Our road race started and finished in the town of Lara, just outside of Geelong. We knew from the race profile that there was a two kilometer climb about half way into the race ... but seeing as how all our rides around here have been relatively flat, we couldn't imagine anything too terribly steep. Whoa, were we wrong. Just before the start, Dave Millward, soigneur for the Nürnberger team, came over to me and asked in a joking manner, "What gears do YOU have for today?"
"Does it really matter?" I asked him. He laughed and told me I must not have heard. Heard what? Then the race promoter came over to our team and mentioned that he thought there would be girls walking up the climb. Walking? They obviously don't know women's racing.
Hike a bike
Photo: © John Veage

It was still lightly raining when we headed out of town on our 115km jaunt. The first 30km of the race was rather mind-numbing: straight, flat and not so interesting. It was a good warm-up though as AIS set a strong tempo at the front and we were all content to sit behind and enjoy the ride. After 30km, attacks started going off and finally a break got away that had our own Stacey Peters in it. It was a non-threatening group to the leaders and they were content to let it go up the road. As we approached the climb, however, the pace really quickened. Everyone had been warned that the road narrowed quite a bit and to be at the front when the climb started. So it was a rush to see who would make it to the climb first. With the pace we were going, I felt as if I was going to be totally cooked by the time we hit the climb.
All of a sudden in the middle of the flat lands, the road turned up - very steeply. We had 25s on our bike, but I easily could have used a 27. It was only a 2km climb, but it was the turning point of the race. Because the road was so narrow and so steep, some girls would start to swerve, cutting other girls off and causing crashes. I was luckily able to manoeuvre my bike around some potentially dangerous situations and make it to the top unscathed. My teammates were not so lucky. A group of three girls crashed right in front of Stacey and Kristin, forcing them to put their foot down. And once you put your foot down, there was no starting back up. You had to get off and run your bike up the climb. They were later horrified to see a picture of themselves pushing their bikes up the climb on this web site. They're still trying to explain that to their friends back home.
I think I will have a lie down
Photo: © John Veage

I was lucky enough to crest the climb with Mirjam Melchers and together we quickly closed the gap, with Hayley Rutherford on our wheel, to bridge across to the group of four that had crested the climb first, including Margaret Hemsley (Nurnberger), Oenone Wood and race leader Olivia Gollan and Katie Mactier (Victoria).
Hesitantly, our group, except the race leader, started pulling through together, but unsure of what was coming up behind us, no one was content to pull with an all-out effort. I was listening to Margaret talk in her radio in German, trying to figure out what kind of direction she was getting from her team leaders, because I knew she was most likely getting direction from Petra, and Petra always knows what she's doing! My team car was too far behind to let me know what was going on.
All of a sudden, Judith Arndt (Nurnberger) came flying up and put in a great attack. She brought along with her probably about 10 more women from behind. AIS shut down the attack, but others started going off just as we passed the 50km to go mark. Working off other's attacks and using what Petra and Judith had taught me last year as my teammates, I attacked as the pace slowed and was able to break away solo.
By this time, my team car had driven up behind our group and was able to tell me through my radio that the gap was widening and the pack was hesitating. For approximately the next 40km, I was out there solo, keeping my mind focused on the task at hand; AIS were chasing, holding me at a steady 30-40 seconds.
But each time there was an attack from the group behind, the gap would close to 18-20 seconds. It kept yo-yoing like that throughout the remainder of the race. Meanwhile, the wind was taking its toll on me. A strong headwind or crosswind was all I had coming into the final 20km and I wasn't sure if I was going to be able to hold it.
Finally, at only 3km to go, a break of five caught me with Judith, Margaret, Katie, Olivia, and Roz Reekie-May (New Zealand National). It was all I had just to hang on to the back of their group to the finish. Judith led out Margaret for the sprint and while I was dealing with my seizing legs, the girls sprinted for the line with Katie coming out on top. In the overall, it was Olivia who took home top honors for the stage race, and the rest of us gaining valuable fitness for next Sunday's World Cup number one in Geelong.
Talk to you then!