Recently on Cyclingnews.com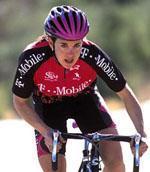 Photo: © Casey Gibson
Time for a change: The Kimberly Bruckner Journal 2003
Last year the 2001 US Road Champion Kimberly Bruckner left the number one ranked women's team in the US after two years with Saturn and joined the growing force that is Team T-Mobile. With her sights firmly set on the Worlds in Hamilton and the Olympic Games in Athens in 2004, Kimberly's diary is sure to provide compelling reading.
Giro d'Italia Femminile, part two: Category what?
Stage 1 - July 5: Grumo Nevano (NA) - Guardia Sanframondi (BN), 119 km
Before the start of each stage, each team goes up on stage and officially signs in. It was funny how they were rushing us today to get sign in completed so they could start the stage on time after last night's fiasco. In the line up, I talked with another American girl, Joan Wilson, who's racing for an Italian team here. She's raced the Giro before and had good hints for me, the main one being never take anything here too seriously. Good advice!
Today's race was just 119km and was fast-paced from the start. We had two category 1 climbs at 97km and the finish. It was actually the same climb. My idea of a cat 1 climb was not their idea. Last year at the women's Tour de France, a cat 1 climb consisted of climbing up an entire mountain like the Col de la Madeleine. Today's climbs seemed to just weave around and around up a hillside but were not really difficult enough to break the field up too much. We came over the climb at 97km pretty well intact and it was a rush for the next 23km to the finish. The final 2km was steep enough with a hard enough pace to start breaking things up a bit and women came in either individually or in groups of three or four, but there weren't huge time gaps. I believe Amber finished 11th for the day and I finished 15th. I didn't feel great... I felt like I was still getting over jet lag. Hopefully in the days to come, my legs will start coming around.
Cheers!
Kim