Recently on Cyclingnews.com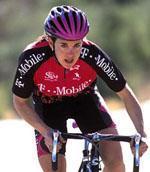 Photo: © Casey Gibson
Time for a change: The Kimberly Bruckner Journal 2003
Last year the 2001 US Road Champion Kimberly Bruckner left the number one ranked women's team in the US after two years with Saturn and joined the growing force that is Team T-Mobile. With her sights firmly set on the Worlds in Hamilton and the Olympic Games in Athens in 2004, Kimberly's diary is sure to provide compelling reading.
Giro d'Italia Femminile, part one: Hurry up and wait
Prologue - July 4: Grumo Nevano ITT, 2.2 km
The T-Mobile women's team arrived in Italy on Wednesday. We flew from Munich, Germany down to Naples, Italy over the Dolomites. I saw gorgeous views from the plane even despite my severely jet-lagged body. Once we arrived in Naples though, my view of the place kind of changed. Apparently, according to our German sports marketing director, Herwig Reus, Naples is the dirtiest, most polluted, most trashed city in Italy. Honestly, it really looked like it, at least from where we were staying. And granted, my point of view was limited. But I was a little worried upon our arrival.
The teams were staying in a little town north of Naples called Pinetemare. My teammate, Kristin Armstrong, used to live here when she was in fourth to sixth grade - very odd coincidence. The area didn't look great, but wow, could you find good pizza here. I could have stayed just for the pizza!
Our prologue was held Friday evening in an area of Naples called Grumo Nevano. The 2.2km course wound through the city streets kind of like a dragged out criterium course. It was supposed to start at 8pm and there was no start list yet. We didn't even know if the prologue was going to count towards overall GC. Mari told us that in past Giros, the prologue hasn't counted for overall, they just want to have the top three wear the leaders, points, and mountain jersey the next day for the first stage. I could see why they may not want it to count as well; I couldn't imagine them being able to safely close off the complete course. There were people, dogs, and cats wandering all over the streets!
We arrived at 6:30pm, leaving plenty of time for warm-up. Little did we know how much time that would give us. Our director sportif, Jim Miller, was still in the manager's meeting when we arrived. He finally showed up at our cars around 7:30 and still had no start times. The race was supposed to start at 8:00. We got on our trainers and started warming up anyway. Then, all of a sudden, someone came running over to tell us we were going off by teams, all in minute intervals, and we were the second team, so our first girl would be going off at 8:08.
We all rushed onto our TT bikes and zoomed to the start. And waited. Finally, they told us they weren't starting until 8:30. We waited some more. That became 9pm. More waiting. At 9pm, a completely different start list came out and our first girl wasn't going off until 9:24pm. Our last girl was going off at 11:15 at night!
At first I was taking it seriously and getting annoyed. But finally, I realized there was nothing I could do, that I really shouldn't stress myself out with things I can't control, and to just go along with the circus. And it really was a circus. I think my official start time was 10:25 or something like that: pitch dark, no street lights, just the motorcycle light of my guide in front of me. People in the streets yelling, children playing... it was chaos. Needless to say, my time wasn't the slickest. But Mari had a great prologue and finished third overall out of 140 women! That made for a good night overall. We didn't get back to the hotel until well past midnight and pretty much went straight to bed. I can only imagine what the rest of the Giro could be like if this is any indication.
Cheers!
Kim