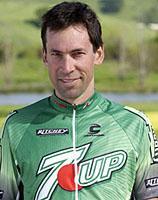 John Lieswyn
Photo: © 7Up/Maxxis
The John Lieswyn Diary
A pro racer who now mostly concentrates on the US domestic scene, John Lieswyn is one of Cyclingnews' most popular and sometimes controversial diarists. He has been racing since 1985 and a Cyclingnews diarist since 1999. John likes both criteriums and longer road races, and seems to particularly like it when the going is hard. He has raced in the Regio Tour, Peace Race, Tour of Poland, Vuelta a Guatemala, Tooheys GP and Commonwealth Bank Classic with success, as well as winning stages in the Sun Tour, Killington and Superweek. In 2003, he is once again riding for 7Up, this year co-sponsored by tyre maker Maxxis.
Sea Otter 2003, part 1: Why are we here?
Sea Otter offers record low $4 prizes for the lower placings, and only $450 for the overall win, but we're here for two other reasons: high NRC status and competition. There is a definite bias towards coastal races. Well-organized, tough Midwest races (Boise, Minneapolis, Arkansas, etc) can offer five times more money yet receive a lower National ranking. A lesser reason for attending is that the race occupies a convenient place on the schedule.
Stage 1 - April 9: Circuit Race, Redwood City
Unfortunately pro road riders weren't consulted for the new Redwood City course, and the ensuing debacle has already been extensively covered in the meduia. I will just say that we all really appreciate the efforts of the organization to bring big time road racing to urban areas. Hopefully future attempts to bring road racing out of the sticks and industrial parks will be more successful.
Stage 2 - April 10: Laguna Seca Time trial, 12 miles
My legs were surprisingly sore after Wednesday's essentially neutralized circuit race, and even on Thursday morning I was still feeling pretty toasted. I forgot my bib number but arrived at the venue so early I had plenty of time to ride back to the hotel and get it. Even with two hours of warm-up the legs were unresponsive and tight.
Second to last starter, I was chasing US Pro road champ Chann McRae (Schroeder Iron). Despite not having a full-blown TT setup and disc wheel, I figured he would be trying hard. It was motivational to catch him 3km in. Jeff and Chad were following me in the van and doing their best to cheer me on. Later Jeff confided that they thought I was crawling at the beginning, and I probably was. Maybe it helped me go faster on the major obstacle of the day, a long 3km climb near the end.
I wished that I had some feedback (split times) because knowing I was on a top 10 time would have been a huge motivator. As it turns out, I was 8 sec behind Vaughters (Prime, 5th) and less than 4 sec behind Wohlberg (Saturn, 6th). When you end up 25th, not much thought is wasted on "oh, I could have picked up a couple seconds on that hill or that corner" but when you are so close to the really good riders then hindsight is a big temptation. I put those thoughts to rest by realizing that Horner's 3rd place was fully 1:22 faster than I. No combination of small improvements could have brought me past that difference.
A Riders' Union
A few years ago I offered to become the US Pro Riders Union secretary. I believe that there is no better time than now to organize. I am going to put together a ballot through which all US Pro riders can agree on a platform of standards. Major issues would include prize money, minimum salaries, group health insurance, and safety.
USADA
I'm on the "out of competition testing" list, and have been surprised at home twice by USADA. Sounds like a good thing except the tests are only "partial screen" meant to catch run of the mill cheats on steroids and the like. The whole program is really a marketing effort to convince the public and the sponsors that the sport is cleaning up. There have been and probably will continue to be a very few athletes who have the motivation and resources to stay one step ahead of the ADA's. You will just have to take my word for it; I'm clean.
Email John at jlieswyn@cyclingnews.com