Recently on Cyclingnews.com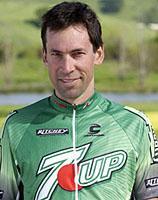 John Lieswyn
Photo: © 7Up/Maxxis
The John Lieswyn Diary
A pro racer who now mostly concentrates on the US domestic scene, John Lieswyn is one of Cyclingnews' most popular and sometimes controversial diarists. He has been racing since 1985 and a Cyclingnews diarist since 1999. John likes both criteriums and longer road races, and seems to particularly like it when the going is hard. He has raced in the Regio Tour, Peace Race, Tour of Poland, Vuelta a Guatemala, Tooheys GP and Commonwealth Bank Classic with success, as well as winning stages in the Sun Tour, Killington and Superweek. In 2003, he is once again riding for 7Up, this year co-sponsored by tyre maker Maxxis.
Redlands 2003, part 3: "The most boring race ever"
Stage 5 - April 6: Redlands Business Center Sunset Road Race, 142km
This is a course that I have been second on (to Trent Klasna, the year he was Superman). I told my teammates that if I were Saturn's Big Three (O'Neill, Horner, Danielson), I would punch it hard from the start and ride away from everyone. I had to hope that they would ride a traditional defense, using their domestiques to set tempo before responding to attacks near the end. This would allow myself, Mitchell, Vaughters, et al, to have a go for the stage.
"A wee tactical error" - J. Vaughters
You can't beat the system
Photo: © Bob Wilson

Well, it turns out that a traditional defense was in fact their plan for the day. Unfortunately, Vaughters went so hard leading Clinger out for the first ascent and associated mountain points, that he absolutely shattered the field. A third of the way up I was redlined and wondering why Vaughters thought this was necessary to win the points for Clinger.
We caught an early attack by Mike Sayers (Healthnet) and Burke Swindlehurst (Navigators). As we rounded a curve Burke took the wheel I was on, and I allowed it, hoping that he'd be able to "hold the wheel" (not open a gap to the guy ahead). At the KOM line I was over the limit, fingers and toes tingling from lack of blood, and pretty much simultaneously every good rider in the pack had to quit pedaling and watch as the Big Three just rode away. A former star of European climbing, Vaughters, blew up at the end of his leadout for Clinger. In 17 years I'd never seen three guys not just maintain a pace that hard, but once they saw they had a gap, they actually accelerated away from us.
Why such a weak chase?
Within 20 seconds I was jamming it with the Prime Alliance men in pursuit. I had Greg Henderson take a few pulls, knowing it would cost him his chances of finishing in this group. If any GC guy (and this group was pretty much fourth through fifteenth) took hard pulls on the minimal flats or downhills, they were throwing away their hard earned overall placings since putting yourself into any kind of physiological debt would surely get oneself dropped as soon as Pate and Vaughters took the front on the next climb. I myself quit chasing when I saw that even our best efforts were doing no more than holding the Big Three to a 1:10 gap. Soon Prime Alliance threw in the towel as well, and we rode for the finish only. Unfortunately, Greg was dropped just before the pace slowed, and he never made it back on.
The scraps
We still had Brice Jones there for 7UP Maxxis and this would help us move up from a dismal eighth in teams classification to fourth. Brice has the bravery to take on a bigger group in the sprint so I resolved to see if I could help him pick up another scrap; the field sprint for fourth on the stage. (He ended up taking fifth, without my help).
The backlash?
Chad, our mechanic, greeted me at the van with the words "congratulations, you just finished the most boring race ever". I hope that the whole season isn't so one-sided as this. Perhaps when the Navigators bring their A game back and we catch up a bit more then we'll have some interesting races again.
I read in the paper the next day a small headline: "The Backlash". The reporter asked O'Neill if such dominance was a bad thing for the sport. O'Neill replied that he thought quite the opposite, that now the rest of the teams knew what had to be done to win races. Okay, ride faster, right? Is that all? We'll get right on it.
I've received several emails since then from faraway countries. Tough, competent riders just want a chance to race in America for expenses only. They and their managers promise that they can do it. (Beat the Big Three?) What is missing is money. Our budget is completely allocated and we are going to perform the majority of this season with the 10 men we put our faith in over the off-season.
Email John at jlieswyn@cyclingnews.com