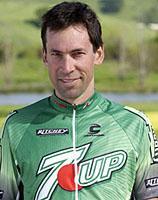 John Lieswyn
Photo: © 7Up/Maxxis
The John Lieswyn Diary
A pro racer who now mostly concentrates on the US domestic scene, John Lieswyn is one of Cyclingnews' most popular and sometimes controversial diarists. He has been racing since 1985 and a Cyclingnews diarist since 1999. John likes both criteriums and longer road races, and seems to particularly like it when the going is hard. He has raced in the Regio Tour, Peace Race, Tour of Poland, Vuelta a Guatemala, Tooheys GP and Commonwealth Bank Classic with success, as well as winning stages in the Sun Tour, Killington and Superweek. In 2003, he is once again riding for 7Up, this year co-sponsored by tyre maker Maxxis.
Redlands 2003, part 2: Complete control
Stage 4 - April 5: Beaver Medical Group Criterium, 90/60min
Today reminded me of the way that the Calder Stewart team I was on dominated the criterium at the Southland Tour 2001. I can only hope that the same result eventuates for the following stage, in which the completely humbled field somehow pulls an upset victory over the extremely well prepared and dominant leading team. Saturn is making the domestic race scene look like a farce, and we have only ourselves to blame and the future to hope for.
From the first minute to the ninetieth, Saturn sat on the front nearly the entire time and proved that their domestiques weren't as tired as pundits were claiming them to be. The team 7UP/Maxxis strategy was to come over the top (pass the leadout) with one lap to go, main sprinter Greg Henderson in tow. Unfortunately with most of the team down sick (actually most of the peloton is sick right now) and yes, perhaps not in the same league as Saturn, we simply couldn't do it.
For the last 10 laps Brice and I struggled mightily to keep Greg out of the bumping and fighting for the tail of the Saturn train. Nobody seemed willing to consistently challenge Gord for the last Saturn wheel (Charles Dionne). Meza, Henderson, Candelario, and Dawson (Schroeder, 7UP/Maxxis, Prime Alliance, and Jelly Belly sprinters in that order) just fought each other for Gord's wheel until nobody had the gas to challenge.
Meanwhile Dionne enjoyed a smooth draft and his heart rate was probably 20 beats lower than the other sprinters. In hindsight there are only two other strategies we could have employed. One, we needed to take over the leadout to give Greg the same luxurious ride that Charles was enjoying. Right. We currently don't have the horsepower to do it. And the uncertainty over whether we ever will is the kind of mental advantage that a winning team in the spring enjoys over everyone else. The second strategy might actually work so it will remain classified information until such time as we get a chance to try it!
You know how in "Spiderman" the Army General threatens the bad scientist CEO guy that if he doesn't come up with the ultimate human performance enhanced soldier within two weeks, then he'll pull funding? We laughed that all the fictional character had to do was cross a Green Beret with Chris Horner and he would be SET.
It's funny how this morning's newspaper said: "Chris Horner is still the favorite to win the Redlands Classic" when O'Neill is in the jersey... Everyone will be watching Chris today to see if he will attack his teammate for time on the big circuits or time bonus on the finish in order to win the overall.
To the Canadians who have threatened the very tongue in cheek and inspired writer Michael Creed (Prime Alliance) with a lawsuit if Mike doesn't offer a public apology for his diary insult of the Canadian who nearly took him out a few days ago, I have only this to say: Don't be messin' with what is originally an American tactic, fellas. We are the kings of litigation here in this country. Besides, I bet you'd get lots of sympathy from Creed's pocketbook, the judge, and you may even have the burden of proving that your rider isn't the a_ _ -clown that Mike claimed he is. Lawyers prepare your briefs...
Lots of people have congratulated me for my win on Friday, saying I must be feeling better, I will thank you again now and remind my supporters that it was a good measure of luck that got me the result. I'm unfortunately still fairly congested, but at least not feverish any more. It's going to be great when I'm 100 percent again, although the forces of KAOS appear to be nearly unassailable...
Email John at jlieswyn@cyclingnews.com