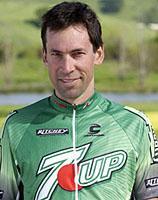 John Lieswyn
Photo: © 7Up/Maxxis
The John Lieswyn Diary
A pro racer who now mostly concentrates on the US domestic scene, John Lieswyn is one of Cyclingnews' most popular and sometimes controversial diarists. He has been racing since 1985 and a Cyclingnews diarist since 1999. John likes both criteriums and longer road races, and seems to particularly like it when the going is hard. He has raced in the Regio Tour, Peace Race, Tour of Poland, Vuelta a Guatemala, Tooheys GP and Commonwealth Bank Classic with success, as well as winning stages in the Sun Tour, Killington and Superweek. In 2003, he is once again riding for 7Up, this year co-sponsored by tyre maker Maxxis.
Redlands 2003: Riding to recovery
When we left John after Solano, he was fighting off an infection. He spent the first couple days at Redlands still trying to fight it off, then delivered a knockout punch.
Prologue - April 1: Mt Rubidoux ITT, 5km
I rolled over to the start with Hayden (who is just training this week) Brice and Greg. Downhill tailwind all the way there, didn't break a sweat. I just can't warm up for an event I have no chance in. Not because I'm not fit enough or talented enough but because I feel like I've got one foot in the grave. Off the start line the announcer called me as 7UP/Maxxis' team GC leader and I thought to myself; "not this year, not when I'm this under the weather…" I just rode 70 percent of normal tt pace and still I felt like my heart was leaping out of my chest. Looking down at my HRM I was ticking over at 173, fully 15 beats below my normal target for a 5km ITT. I'm on full autopilot, taking the corners out of last year's memory (last year I was gunning hard for this one). Super smooth ride but no power. Didn't catch anyone, didn't get caught.
Rode back to the Robertsons' with Hayden. He had to push me on inclines and I started getting chills, despite 80 degree heat. Went to sleep at 7pm and slept 12 hours to try and beat this thing.
Stage 1 - April 2: Highland Circuit Race, 100/66.3km
In the thick of it in stage 1
Photo: © Rob karman

Rode around in circles and tried to lead out Greg. Had zero punch but positioned myself on Greg's wheel coming out of the last corner with 1500m to go. Greg panicked as did I, and when I saw him pushing into the wind by himself I came right around and started leading him out far too early. Drew even with Klasna and Horner, who were leading out Gord (???). Of course I ran out of gas almost immediately and left my sprinter dangling with 800m to go. We fell apart today and learned more lessons.
Stage 2 - April 3: Oakmont Oak Glen Road Race, 172/130km
Woke up feeling no better than yesterday, unfortunately. The team plan was to refrain from early breaks knowing that the Horner/Danielson/O'Neill Saturn slam was going to bring everything together for the final climb. When a small break including both the sprint and KOM leaders (Sayers, Clinger) and Jelly Belly's Adam Livingston went up the road, Saturn put five guys across the front of the narrow road and shut it down. They're obviously working with Healthnet for common goals. Fraser in the sprints, Sayers in the points, and Healthnet help setting tempo for the Saturn GC men. I know that I wasn't meant to expend any energy but when I don't feel like I have the form to contend for top three GC then I tend to race aggressively for training and fun. So when I saw the last chance to make the early break quickly disappearing, I shot through a tiny gap near the curb. To the caucophony of Saturn rider jeers and howls. I chased the small break for several K's but they weren't waiting.
Over my radio I heard that Alex Candelario (Prime Alliance) was coming up alone to try and join his teammate Clinger. I immediately sat up to wait for him. Still Clinger, Livingston and Sayers didn't wait, and when we turned onto a climb through the orchards I had to make a huge effort to close the gap. Alex dropped off, and now I heard that Creed (also PA) and Horner himself were bridging. The man himself. They picked up Alex on the way and now there were seven of us. Meanwhile Roland Green (major MTB stud climber) was cracking the whip on his Trek/VW team to bring us back. No point in wasting energy now, not if it wasn't putting pressure on the Saturn GC position.
An hour later, there's a two man break and the rest of the peloton is cruising along. We bomb through a downhill turn at 40+ mph and I sit up to get something out of my pocket after the corner. At this moment it feels like my bike just slows suddenly on it's own, and I wonder if I've gotten a slow leak in my tire. I bounce it a couple times but it seems fine. Ahhh, I must just be hurting today.
All together heading into the final climb. I pick the wrong (windward) side of the field and lose a bunch of spots as we make the turn onto Oak Glen. Simultaneously Doug Z has his second flat of the day and the team drops back to help him. Horner et al don't really attack, they just pull away and guys keep blowing in front of me. Soon I'm 40 guys back in the fourth small group. This won't do… I find a rhythm and begin picking guys off. Whenever a break in the gradient presents an opportunity I jump to the next group ahead, and with 3km to go I'm now in the second group going for sixth place. It took a full out sprint to get on this group and despite a tiny downhill I'm not recovered for Pate's attack. I got over the summit on fumes for 13th on the stage, essentially same time as sixth. At the van, I tested my front tire and found it half pressure at about 60psi. Considering my health and the tire, I'm pretty stoked to be climbing reasonably.
Today I had a good talk with Horner somewhere on the flats midrace. We talked about our families, racing, and New Zealand. He told me that I'd win a lot more races if I used more conservative tactics. I replied that when he saw me using those tactics, that's when I would be a true threat for the overall. In other words, I was trying to say that I knew going with early moves wasn't ideal for the team's GC leader, and I didn't really care because I'm not quite ready to lead yet. Part of my preparation involves some measure of efforts and I can't do efforts when I'm sitting in the bunch drafting at 135 bpm. Might as well be sitting on the couch, as I like to say.
Stage 3 - April 4: The Sun - Panorama Point Road Race, 105/73km
"Chief, the forces of KAOS have been beaten"
Photo: © Rob Karman

We drove this course after Oak Glen and agreed that it will be brutal.
I "sagged" (drifted back from head of pack to midpack for energy saving) on the first couple ascents of the wall. On lap 3 Roland Green attacked while I was performing this maneuver and I found myself 90 guys back, in the third group, pretty much out of contention. I called my teammates on the radio and we initially played a little poker to see who else might chase.
All the GC guys were up the road now in a group over 20 strong, and we had only our sprinter Greg Henderson up there. Not good. Nobody took charge of the peloton so I set Chris, Oscar and Kevin on the front for a few K's. Between their efforts and the lack of cohesion in the leading group, we salvaged a potentially disastrous situation and got Doug, Brice and I back into the race.
No more "sagging" from here on out! Up the wall lap 4 I was so redlined holding onto the climbing heavy hitters that I resolved to try something else next lap. I did manage to hold on, but didn't know if I could keep it up for two more laps. Next time around when Hamblen (West Virginia) attacked, I responded and we got a group going. It had Mitchell and Swindlehurst (Navigators) Clinger and Pate (PA) and Klasna was patrolling for Saturn.
Initially my sole goal was to get ahead of the climbers and have them come up to us rather than get dropped from them, but once I saw the composition of this move I was stoked. We didn't hesistate to put the hammer down, building a 1:30 lead by the last lap.
Mitchell attacked ferociously on the last ascent of the wall, and I was thinking immediately of my similar (ultimately failed) attack at the 1992 Olympic Trials. No response. Swindlehurst went out the back, and then there were four of us chasing Mitchell.
Klasna still sitting on, as he should, in defense of his GC leaders. Mitchell was caught 3km to go on the descent. I hadn't been thinking of the stage until now, and my director Jeff Corbett's words were beginning to take hold. Be told "you can win" enough times and doubts begin to evaporate.
The expected Klasna attack never came and now that Mitchell was probably cooked from his solo effort I grew more optimistic. Downhill, headwind, only have a 12 cog due to the use of low climbing gears, patience! I tried twice to get the rearmost fifth position but Mitchell wasn't taking the bait. Everything went perfectly for me and I won in a bike throw with Clinger.
Run that sprint five times with the same five guys and I bet that the result would be unique every time.
Seeing our soigneur Steph's huge smile after the line as she cleaned me up for the cameras and put a drink in my hands made it even better. She takes all the garbage we create, physically and mentally, and launders it for us, through expert massage and acting as a counselor for each of us. Yesterday she'd mentioned how tough it was to be getting creamed so thoroughly by Saturn, and while they still have a commanding lead, it is really great to get a stage win here, now.
It is OSCAR PINEDA's birthday today! Happy B-day, brown brother. Thanks for the help today, you are a great teammate and friend.
Email John at jlieswyn@cyclingnews.com