Recently on Cyclingnews.com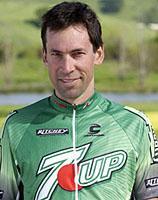 John Lieswyn
Photo: © 7Up/Maxxis
The John Lieswyn Diary
A pro racer who now mostly concentrates on the US domestic scene, John Lieswyn is one of Cyclingnews' most popular and sometimes controversial diarists. He has been racing since 1985 and a Cyclingnews diarist since 1999. John likes both criteriums and longer road races, and seems to particularly like it when the going is hard. He has raced in the Regio Tour, Peace Race, Tour of Poland, Vuelta a Guatemala, Tooheys GP and Commonwealth Bank Classic with success, as well as winning stages in the Sun Tour, Killington and Superweek. In 2003, he is once again riding for 7Up, this year co-sponsored by tyre maker Maxxis.
Checking out the grassroots
The Gateway Cup, St. Louis, August 29-September 1
With the famous Arch serving as the physical and ideological gateway to the West, St. Louis today is a very diverse city with some parts of it having more in common with European cities and other parts carbon copies of every other 'burb in the USA. Around the time of the Worlds Fair in 1904 and with the mighty Mississippi River serving as the industrial engine of the Midwest, St. Louis was predicted to surpass NYC as America's most important and largest city within two decades.
While we know this didn't occur, St. Louis is now regaining much of the lost momentum. Neighborhoods that were in decline since 1960 are now undergoing revitalization. Powerful construction interests have propelled the suburbs north and west. Behind much of this growth, both infill and 'greenfield', is our cosponsor THF Realty. This company owns much of the nation's big box store land, serving the demands of our society. While this method of development isn't the one I tend to espouse, it is driven not by the developers so much as by the people seeking their quarter acre slice of the American Dream. THF Realty has given much back to the St. Louis area and their support of our team and by extension bicycling in general says a lot about what they stand for. With THF headquartered here and our Dan Schmatz being from here, team 7UP/Maxxis came with a powerful 5 man team. In addition to Dan and myself, we have Jason, Greg "Second in the World, mate!" Henderson, and Brice "I've traded the rice burner to be pimpin' in the Denali, G!" Jones.
Jason, Paul Ellis (Bianchi/Grand Performance) and I drove down on Thursday (a day early to avoid having to race after eight hours in the car) through one of the heaviest rainstorms I've ever seen. During one heavy squall the visibility ahead of us was no more than 20 meters! We went out for drinks with Mike, the owner of Big Shark Bicycles, and had a great Vietnamese dinner downtown. Some of us continued to cut loose while I succumbed to the rigors of the day and was in bed at midnight.
Stage 1 - August 29: Lafayette Square
Surrounded by stately mansions that eight years ago cost $80,000 and now go for four times as much, this course is wide and safe even when wet like it is tonight. I rolled around the course to watch the women's race, and took some time out to inform a few clusters of residents who were enjoying the race from their lawn chairs. They were a bit bewildered by the various packs of women out on the course at the same time. Promoter's corner: have a sign on the lead car/moto with the title of the category racing, and the laps remaining. It makes a huge difference for the spectators out of earshot of the announcer. After cheering on Dan's wife Kerri (she and Kori are here for our sister team Diet Rite) to the win in the women's pro/1/2/3 event, we lined up with over a hundred other regional competitors.
Surprisingly, throngs of umbrella-wielding spectators turned out tonight. Mark Gorski, of 1984 Olympics fame and more recently known for his involvement in management with the USPS team, has moved from the Bay Area to St. Louis and he was on hand to start the 2003 Gateway Cup off right. With fine droplets of mist/light rain visible in the beams of light cast by the streetlights and the strains of the national anthem playing, I composed myself for "another day at the office". Gorski says a few words about the apparent health of the grassroots of the sport, evidenced by this race, and the official follows up with final instructions. As I often do, I say a quick prayer for safety just prior to the start, and then I'm clipping in for the sprint to the first corner. There is a paint stripe in the corner, but if you take the inside line it can be avoided. Wow, just as last year I'm impressed by the strength of these guys all around me; we're going 35mph on lap one and I'm getting continually passed. We are lucky to have a strong (numerically and physically) team here- I think we'll need it. The backside hill is really a false flat grunt, enough to sap the momentum out of the bunch but that's about it. With the wide roads and turns it is a course for sprinters. Nevertheless, in the final laps I manage to slip away in a three man break with Jason and another guy, who is pretty much happy to be hanging on for third. (sorry I forgot your name!!!) Over the twenty minutes that I have to go pull for pull with Jason I'm reminded why he's the national time trial bronze medallist this year. This guy can GO. I know that I'm contorting my face into all sorts of shapes as I strain to keep up with him, and finally Jason just dusts us out of the last corner on the last lap to take the win. Initially close, the sprint for second is decided with 100m to go and I've got second place. Not a bad start, especially compared to last year (where we managed just fourth or fifth on this stage)!
Stage 2 - August 30: Greentree Park Criterium
The five of us set out for the 20km ride through the western suburbs from Dan's parent's house to Greentree Park. The first 12km are on Clayton Road, a major two lane thoroughfare with occasional lights and an intermittent shoulder. We hadn't made it five minutes before I flatted after running through glass on said shoulder. From then on we weren't quite so willing to ride through the debris. At one point a car passes us, only to come to a quick stop for a left turn that is blocked by oncoming traffic. Other cars follow in passing us but end up screeching to a stop as well. No cars hit each other but it was bit scary being so close to our shoulders, and it certainly wasn't our fault. Moments later a fifty-something potbellied man behind the wheel of a full size late model pickup truck purposefully drove at us, nearly crashing Brice off his bike. Adrenaline surging, we followed the truck as it turned into the next strip mall. The guy jumped out of his pickup brandishing a trailer hitch & ball at me. Dan asked what he thought he was going to do with that hitch! I asked the man, "what do you think will happen if you end up killing a bicyclist with your two ton hunk of truck?" to which he replied "it wouldn't be my fault". More arguing led to nothing at all being accomplished, but I did follow the man into Starbucks to point out to all within (in a very loud voice) that this man's coffee was more important that human life. As we turned back onto the main road for the final few kms to the venue, I worried that I had just spent my day's allotment of adrenaline.
Not known for large crowds due to the inaccessibility of the course once all the streets are blocked off, this year a fair number have turned out despite the again threatening weather. Last year I lapped the field solo, but this year the 100+ opponents were not only watching me closely but either they're a lot stronger or I'm down a bit. No matter how many times I tried, it seemed today was going to be a bunch kick. Each lap is about 1.2km.
Two laps to go: it's still all together as the bell rings for a $100 prime. We're here for THF, for Dan, and for the training that the racing provides, but also to make as much moolah as we can. Greg took the hun yesterday.
One and a half laps to go, on the hill: Brice attacks full out and gets a small gap - the prime is his. He keeps going as we start down the long sweeper after the line, but Frank Pipp's team is chasing hard. Suits us well, as the remaining four of us 7Ups are lined up on their two man chase.
Half a lap to go: Starting the hill, now about 750m to go… Brice is caught and finished. I take over and blast up the hill in 53x13, knowing only that it is all green helmets behind me. Just before the top of the hill and the chicanes, Greg comes by with Dan in tow, and unlike all pro races I'm able to slot in third wheel behind Dan. Through the chicane I'm sufficiently gassed from the hill lead-out that I elect to open a gap for my guys, which thanks to the narrow road and right/left curves works out well. They've got one-two locked up. I'm still third with 100m to go but losing steam, Jason comes by me on the right to take third while another guy is putting pressure on me from the left side. Yet another guy seems to think I've got it in reverse gear as I get a dual control lever jammed into my butt, and I just ease off the pedals and strongarm the bike vertical. I'm NOT crashing today. Fifth at the line is just fine with me after the lead-out effort, and my guys swept the podium. On the one hand I feel a bit sheepish that we've brought such a high powered team here to what is a regional event. Certainly it has dissuaded some amateurs from participating, but for others it is a chance to really test themselves against some of the country's best. And the fans are getting (albeit somewhat predictable in terms of knowing which team the day's winner will come from) a show of pro teamwork.
Our ride home wouldn't have been complete without getting yelled at by another angry suburbanite on his way to drink a beer on his couch in front of the TV. "Get a drivers license!" was his witty shout. That from a guy sitting in the passenger seat…
Stage 3 - August 31: Giro della Montagna
The Hill is an Italian neighborhood of small brick houses, narrow streets, and leafy trees. They love us here and have turned out in decent numbers despite the on-again off-again rain and threat of heavy storms in the sky. For a while today I thought it would be another field sprint since as hard as we were hitting it, we couldn't seem to establish a small break suiting us. Finally the backside hill (every race here has a hill on it, I love it!) wore the pack out and in a replay of last year, I bridged up to a teammate and we powered away. Greg and I were doing the majority of the work but we got some assistance from a pair of others, one of whom is the infamous Mark Southard. Mark was a star of the domestic scene back when I was a junior racer in Florida, on my first trip out west to the stage races. Today at nearly 40 he is still as lean as a professional, evergreen in looks and still a strong bike rider. Greg took the stage win for us today.
Stage 4 - September 1: University City Corners
This is one of those neighborhoods that having been anchored by a university for its entire history never really slipped to the point of no return. Now Jews, Christians, Muslims, blacks, whites and Asians all are found strolling Delmar Street past entirely locally owned and unique businesses. From my favorite ("Bubble Tea") to our sponsoring bike shop Big Shark Bicycles to Kerri's sometime place of employment, Iron Age tattoo shop, there is a vast array of goods on sale here. It stands in stark contrast to the national chain store laden, albeit beautifully done Plaza District of Kansas City.
We awoke this morning to a steady heavy rain, and I knew there would be more than a few guys opting out of the final stage to get an early start for the long drive home. (The Midwest of America is HUGE). Nevertheless about 60 or 70 diehard bike riders (of the 100+ that have been showing up daily) took to the start line. I was shaking like a leaf in the 70 degree rain, and a competitor asked if I was nervous or cold. "Cold" was my answer, but it set me thinking about the last time I was nervous for a race. San Francisco a couple years ago, I guess. Or maybe Housatonic's new hill circuit this year. One thing is for sure; nervousness wastes energy - I invariably go out way too hard in the early kms when I'm nervous.
With all the rain that St. Louis has had the past week, the streets were free of oil and our Maxxis tires gripped really well. So while we didn't need to execute an aggressive strategy for the purpose of staying out front and out of danger, we did so anyway mainly to make the race as hard as possible. Last day and all, and since it is only a 90 minute race we might as well go all out for training. All five of us hit it hard from the gun and within five laps there were only 12 others hanging on our wheels. Today the 7up breakaway duo would be Jason and me, as I took my third second-place finish and wrapped up the overall points win at this year's Gateway Cup.
After the eight hour drive home and a night's sleep I broke this year's tradition by actually riding the day after the race, and found my legs are coming around really well. I feel powerful again for the first time since Beauce in June. I will be putting in some longer rides this next week as a final stage of preparation for San Francisco and early prep for the Worlds in Hamilton Ontario. As regards team selection for Worlds, it appears that the powers that be have me on their long team so I've been told that while my participation isn't assured I should continue training and scheduling the appropriate races to be ready for the callup. With the USA getting twelve spots, I will go out on a limb and say that I can't imagine there being 12 guys more motivated, prepared, and suited to Hamilton's tough course than myself. I will respect their decision, but if I'm not included I think it would be a mistake for the US team. Now I've done it, haven't I? All my readers will now be watching should I slip up and DNF or something there! Sort of like Horner's confidence pre worlds TT last year, only to perform so-so. In racing you must have some lofty aspirations…
Email John at jlieswyn@cyclingnews.com