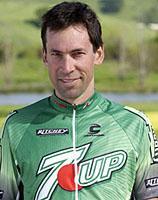 John Lieswyn
Photo: © 7Up/Maxxis
The John Lieswyn Diary
A pro racer who now mostly concentrates on the US domestic scene, John Lieswyn is one of Cyclingnews' most popular and sometimes controversial diarists. He has been racing since 1985 and a Cyclingnews diarist since 1999. John likes both criteriums and longer road races, and seems to particularly like it when the going is hard. He has raced in the Regio Tour, Peace Race, Tour of Poland, Vuelta a Guatemala, Tooheys GP and Commonwealth Bank Classic with success, as well as winning stages in the Sun Tour, Killington and Superweek. In 2003, he is once again riding for 7Up, this year co-sponsored by tyre maker Maxxis.
In the break - but not quite there
New York City Championship, NYC, August 3
Red-eye
Photo: © Michael Lascarides

On awakening I flicked on the TV to the morning news shows and heard not one peep about the race. They were reporting on ethnic dancing and festivals, and lots of other stuff, but no bike race coverage. We met Oscar near the George Washington Bridge and he led us over the bridge, through Washington Heights, and down along the river bike path into lower Manhattan. Seeing the rowing races and all the other activities put the size of NYC into perspective. Passing Ground Zero was sobering; I was really glad that we rode our bikes to the race so we could see so much. At that point we started seeing packs of bicyclists on their way to spectate at the race.
My job today would be to cover early moves and be a support rider for Dan and Kevin (who was fifth here last year). Kevin warned us that if you tried to ride mid or back pack you would suffer terrible slinky effect (having to accelerate much harder on the straightaways thanks to riders opening gaps through the two dogbones of the course). Doug and I got near front line start positions and I had a good view of the hoopla. A horde of media was on hand to photograph and film Tyler Hamilton's appearance to start the race. He looked happy and relaxed, chatting with former teammates on the front line. Clothes hung loosely from his gaunt frame but otherwise he didn't look like he'd just finished the hardest three-week bike race in the world!
With the sound of the air horn we were off. I hadn't seen a whole lap yet and my first glimpse of the short cobblestone stretch was alarming. I checked my bottle cages for tightness and grimaced as we bounced over them, my receding but still present light concussion not feeling any better with the vibration. Doug was pretty wound up and nervous. He overworked the first few laps while Oscar showboated a bit in a very early solo move in front of his entire extended family. Perhaps he knew that he didn't have the condition to rock today; he's also very torn up from his crash with O'Neill at Altoona.
We didn't go far before missing a move that contained one or more of each major team, and I had to drop it in the 53x11 and make a huge effort down one of the straightaways to get at least one 7UP/Maxxis representative up there. When I looked back a few guys had tagged on with my acceleration and I was dismayed to see a huge gap back to the main bunch. We had over 20 guys up here and I was alone! Had I known that somebody would just open a gap like that it would have been better to drop back a ways in the pack and get Dan or Kevin on my wheel before making the big effort. The risk would have been that Danny Pate was just railing it today, and even my best effort today couldn't match Danny's power.
At one point Jeff asked me to check the lap board at the S/F line and report back to him how many to go. Replying "Twenty-three!" I just about quit right there. I couldn't imagine hanging on as fatigued as I was feeling. I rode so hard in yesterday's 95 mile race that I felt totally empty today. The only thing to do was just switch to the Greg LeMond method of breaking a tough ride up into mini segments (telephone poles, the next hill or regular county road intersection, in this case the next lap). As the race built to the finale, the crowd seemed to swell and roar louder every lap, and that was motivating.
With half a lap to go I found the wheels at various points of Antonio Cruz (USPS, eventually fifth) and Viktor Rapinski (Saturn, eventually second). Unfortunately for me, and certainly not the only reason I flailed, the camera motorbike managed to get in the way one last time as we fought for position with about a kilometre to go. Field sprinter (this was still at least 15 guys!) that I am known for, I lost my nerve and hit the last dogbone turns way back, probably second from last. I thought to myself that out of the last turn it was a good 800m into a headwind, maybe they'd mushroom a bit. The rain was now dampening the last couple turns but there was still traction, and I couldn't use that as an excuse. I was starting way too back and I knew that without a crash or a huge hesitation it was over for me. Out of the turn I looked up to see the front runners just pulling gaps out of each other. Despite my best effort (189 heartrate, which is about six below where I'm at when not seven days into a stage race as I am here) I could only manage twelfth, and dejectedly made my way back to the van in the ensuing downpour. I knew that I had some legitimate reasons for failure but also definite room for improvement in nerve and motivation, and couldn't stop thinking about it over the long travel to come.
At Newark all four United flights to Chicago were delayed or cancelled, and I ended up sleeping three hours on a cot at Chicago O'Hare airport before police came to collect the cots at 4am. After a tough and relatively unrewarding week of bike racing, airline hassles and trying to sleep with a hundred other stranded travelers in an airport hall was just killing my usual optimism.
Dawn broke free from work Monday morning to pick me up in Des Moines and her sympathetic support really helped turn my mood. I have a week to heal, rest, and ride my bike before this weekend's tune-up (for Chicago's USPRO Criterium Championship) races in Kansas City. I've never spent any real time in Kansas City and after reading a new urbanist writer's travelogue on it (An Empire Wilderness: Travels Into America's Future by Robert D. Kaplan) I'm anxious to develop some of my own impressions of this Midwestern city, from the perspective of the bike seat. Also, between Horner's riding style this week and being reminded of his five/six hour a day training regimen through his interview on Cyclingnews, I'm inspired to actually train more than usual before Chicago and San Francisco!
Promoter's corner
One of the duties I envision for the US Pro Rider's Association general manager would be teams/media/race promoter liaison. This person would call each NRC race organizer and offer (on a rotating schedule) one or two teams to come in early to each race for events such as TV interviews, press conferences, and school bicycle safety presentations. It shouldn't be hard to get the mayor to show up if he/she thinks the media will be there, giving a chance to tout the city's progressive transportation or quality of life initiatives. It is a Catch-22 situation, since the TV cameras won't come unless the mayor attends, and vice versa. Therein lies the power of children and school visits.
Email John at jlieswyn@cyclingnews.com