Recently on Cyclingnews.com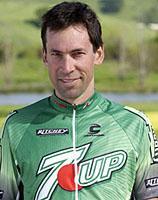 John Lieswyn
Photo: © 7Up/Maxxis
The John Lieswyn Diary
A pro racer who now mostly concentrates on the US domestic scene, John Lieswyn is one of Cyclingnews' most popular and sometimes controversial diarists. He has been racing since 1985 and a Cyclingnews diarist since 1999. John likes both criteriums and longer road races, and seems to particularly like it when the going is hard. He has raced in the Regio Tour, Peace Race, Tour of Poland, Vuelta a Guatemala, Tooheys GP and Commonwealth Bank Classic with success, as well as winning stages in the Sun Tour, Killington and Superweek. In 2003, he is once again riding for 7Up, this year co-sponsored by tyre maker Maxxis.
Tour de Toona, part 6: Saturn conquers
Stage 6 - August 2: Altoona/Blair County Road Race, 93.8 miles; weather: foggy
Suffice it to say that I didn't have the great ride I was hoping for, with my left leg injury limiting the amount I could pull up on the pedals. Brice rode studly today in covering most of the early moves before making the break and holding on to Danielson until just before the final KOM summit. After being dropped he refueled and waited for Jason and me, who were in the yellow jersey group of about a dozen riders. Then not only did Brice pull with us as hard as he could in pursuit of the Saturn breakaway but also he managed to take sixth on the stage. After the finish I could barely lift my left leg, but I was satisfied with having slugged it out today and sticking with the second group. We pulled off a good climb up the team GC. Saturn, however, took home all the marbles. Horner even pumped the hapless and hardworking Snow Valley team for the sprint points (possibly the points jersey too).
The stage was really fun at the beginning with thick fog that made this road race unique in recent memory as far as weather goes. Again the lead motorcycles and police did a fantastic job clearing the roads for us. It was so incident free I wonder how much was due to the race being early Saturday morning versus residents being familiar with this long running event.
We had a shower, lunch, and piled into separate vehicles with the car going to Pittsburgh airport for departing guys and those of us doing NYC taking the van to Fort Lee, where Oscar Pineda lives. It was around five hours of driving, but not too tough with the ability to lay out with one rider to a bench seat. We checked into a nice hotel with pillow top mattress and down sheets. Oscar's mom made a homecooked Guatemalan dinner for us and then it was lots of rest for tomorrow's schlamfest.
But first, a couple of tactical musings.
Climbing: Expectations of others and confidence in oneself
Let's assume that you are able to climb hills as well as the better climbers in your event. If you start the hill 30 riders back, the effect of riders opening gaps in front of you can put you at a severe time gap back from those leading climbers pretty quickly. You would have to be quite superior a climber to make up this time loss before the summit. This is why there is often a battle for position just before the climb starts. I'll use Adam Bergman as an example here. This is a guy who is relatively unknown to the best US pros, and as such he probably had a bit of trouble slotting onto a "good wheel" near the front of the bunch for Wednesday's Blue Knob ascent. Strong domestiques are there to position Danielson, Baldwin, and myself for the climb. If Bergman came up all on his own and tried to slip in behind Danielson and in front of Baldwin that day, he'd have found it impossible (at least in the fast runup to the climb). Once the climb began in earnest, Adam came from far back to match the power of Danielson and O'Neill. Once he'd established himself as a good climber to everyone else, there was much more acceptance of his place on Saturday's climbs. Now that everyone knew he could do it (and I'm sure having self-confidence didn't hurt either) riders were much more likely to not only allow him to take the wheel of guys like Danielson but they'd actually try to be on Bergman's wheel. It comes down to knowing that the guy in front of you is a player, someone who won't open a gap in front of you when the going gets really tough.
Tactical advice of the day: When to do the "schlam from the gun"
Let me relate a story from the 1991 Toohey's Grand Prix, Sydney stage 2 criterium. There was an international field on hand for this evening criterium ("100 Cyclists/15 Countries/Under Lights!" The poster proclaimed). Jonas and I scouted the course and found that after the first turn we were expected to ride up a wooden ramp and funnel into a pedestrian mall lined with concrete benches and trash bins, then ramp down out of it onto a wide boulevard, and later on in the very technical course we were to dart through a narrow arched gateway into a little loop with four turns in like 200 meters, finally emerging from said loop to the start finish stretch. It was absolutely crazy. This is the day that I became a coffee aficionado as Jonas bought me a tall coffee and we got ourselves psyched up to "schlam from the gun". When faced with a course that offers such significant and race-breaking challenges early, you've got to be ready for this tactic. After a laser light show and parade the race commenced. Straight off the line Jonas and I sprinted all-out into the pedestrian mall, hearing the sounds of a huge crash somewhere behind us. For the next four laps we swapped off, taking huge pulls, and finally dared a glimpse behind us. There were less than a dozen guys left in the race from over a 100 starters. From there our work was easier to win the race, but keep in mind that we did have to race flat out for 100 percent of the distance.
The opposite of this would be the recent Bensenville Criterium at Superweek. With a $10,000 prize list this was one of the richer stages. Wide, flat roads meant no real course challenges to break things up, and as per precedent it was expected that the biggest cash primes would be offered in the last ten laps. So why did some of the younger riders attack so hard on the first lap? Perhaps a lack of patience, nervousness, or fear of missing the winning move. The far stronger (relative to myself) Ivan Dominguez went absolutely crazy early on, but with a 100km ahead of us didn't find enough cooperation to form a successful break. In the end I won not out of strength but with patience; I waited until everyone else attacked and chased themselves out of energy.
Certainly in some regions the rule of thumb is that the winning break goes early every time. This is usually due to the presence of a few much stronger riders. Put a fully charged up Gordon McCauley and similar riders into a field of lesser strength riders, with few teams willing or able to chase, and the result is often a successful early break. The higher the strength disparities in your peloton, the more likely it will be a successful early break. If you are Jacky Durand and racing against motivated and more equal teams the likelihood of an early break's success is very low.
I really didn't want to race Superweek's Tour of the Holy Hill flat out from the gun, but when McCauley, Bergman, et al. dropped the hammer one mile into the race I was forced into a 100 mile ten man team time trial. BORING! I recommend a little patience to all the strongmen (and women) out there. It really helps encourage newer, less strong riders if you go easy on them at the start. Strike up a conversation, even! At higher levels, races tend to start fast but end even faster. Hitting out at 30mph for the first quarter of the race and then once everyone is blown to smithereens slowing to 25mph for the finish isn't good practice for the biggest races.
Email John at jlieswyn@cyclingnews.com