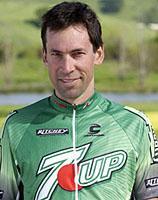 John Lieswyn
Photo: © 7Up/Maxxis
The John Lieswyn Diary
A pro racer who now mostly concentrates on the US domestic scene, John Lieswyn is one of Cyclingnews' most popular and sometimes controversial diarists. He has been racing since 1985 and a Cyclingnews diarist since 1999. John likes both criteriums and longer road races, and seems to particularly like it when the going is hard. He has raced in the Regio Tour, Peace Race, Tour of Poland, Vuelta a Guatemala, Tooheys GP and Commonwealth Bank Classic with success, as well as winning stages in the Sun Tour, Killington and Superweek. In 2003, he is once again riding for 7Up, this year co-sponsored by tyre maker Maxxis.
Winding up the camp & battling Ivan at Orlando
We left the Gainesville Lodge on Friday morning, only 15 minutes late despite having to organize a huge caravan of trailers and vans, and squeezing them out of the narrow alleyway behind the motel. Our accommodations in Claremont, a fast growing town 20 miles outside of Orlando, are at the (unaffiliated) National Triathlon Training Center. The rooms are part of assisted living retirement home but with a separate entrance. Nice rooms but the AC doesn't stay on so we've all had a hard time sleeping.
We had a tour of the facilities on arrival. Really cool huge workout areas but there weren't any athletes on the machines, just a couple seniors. My initial impression was that the whole "national triathlon" moniker exists for a halo effect on the hospital that owns it. Then again I know nothing of triathlon and what kind of reliable assessment can be made on a workout facility in a five minute tour anyway?
We went for a 50km ride on the former state road race championship course, including a couple ascents of Sugarloaf Mountain. Before you laugh at the idea of a mountain in Florida, I'll mention that on a windless day, if you were to release your brakes from a standing start at the top of the hill, you could hit 90kph a kilometer later at the bottom. Partway into the ride we encountered one of those tropical weather cells I've only experienced in Florida where within seconds the temperature drops twenty degrees and often you can see a wall of rain approaching. My knee was killing me but during my massage Steph traced it to a quadriceps muscle and ironed it out for me. She's an awesome soigneur. We talked about how hard it is to get mostly Swedish technique trained masseurs to adapt to the flushing technique that works so well for professional cyclists.
March 8: Orlando Festival of Speed Day 1
The course
Four corners, 2km rectangular circuit, flat, around a downtown lake. Between the second and third turns the surface is brick and the road is divided by a grassy median. You can take the inside lane but the turn is sharper and in the wet it becomes harder to hold speed going through the second turn. The painted road markings are thick and bumpy, and the first corner is littered with metal plates and manholes. It rained prior to our start at 5:15pm. The 100km, 50-lap race was reduced to 80km/40 laps due to late schedule. The corners are well lit with huge sports stadium style light trees.
The players
112 riders including Colavita-Bolla, GoMart, three Saturns (Bahati, McCormack, Dominguez), Navigators' Olympic Gold Medallist Marty Nothstein, local powerhouse team Cycle Science (featuring Jason Snow, Ralph Clemente, and Dan Larson).
Oww. For the first 15 laps I was overheating and struggling at the back of the pack. There seemed to be a crash nearly every lap for a little while, and after one particularly large one the peloton was neutralized momentarily. I took the opportunity to strip my helmet, Smiths, radio, jersey and bibs, stowing or hanging all of that on my bars, and remove my undershirt. While riding. I tossed the undershirt on the roadside and began redressing. Unfortunately the neutralization ended a bit earlier than I hoped and I had to chase to get back on to the tail end of the now single file 50kph peloton.
Now I felt normal and a few laps later I started taking turns attacking with my teammates. Soon Brice and I were in a move of about seven guys including Larson (CycleScience) and Ivan Dominguez (Saturn). Ivan is a blazing fast sprinter, a tough guy that can do well on a course like San Francisco, so we had to either get away from him or allow the race to come back together and try to reshuffle the deck with another break sans Ivan. Brice and I attacked relentlessly but Ivan used his incredible acceleration to get on our wheels quickly or if he got on the ropes one of the other members of the break took over and chased us. Especially Larson, Ivan's former teammate. Our on-again off-again pace resulted in getting caught by Nothstein and our speedster Dan Schmatz. Dan was our best hope to beat Ivan but he's still learning the ropes in pro racing. Dan got gapped off with Nothstein so Brice and I were back to square one against Ivan.
I was getting really frustrated. I felt awesome and I knew Brice was at least as strong as me, and we couldn't crack Ivan. Several times one of us would get away with Ivan and immediately he would say "work with me, it is your best chance!" Best chance to get second? No way, we could get second without riding with Ivan in a two up break.
Last lap. The field was breathing down our necks and in the pitch dark without a defined field sprint plan Brice and I had to make a decision. When Brice called for me to "go!" after the third turn I didn't hesitate. I gave it full gas, perhaps too much to give myself a decent placing but just enough to get the break to the last turn as the field caught on and the sprint began. Ivan's fierce acceleration was a sight to see, but Brice came from behind to take second narrowly. After the finish I wasn't a good sportsman to Ivan. I was really frustrated but that's no excuse. Ivan is a great guy and a tremendous athlete. He matched everything we could throw at him and won the race fairly. By the time I was called up for post race interview with the race announcer I had cooled off and gave him his due props. For Sunday we'll need a better plan to beat him, and it's going to take all seven of us to do it, he's riding that well.
Email John at jlieswyn@cyclingnews.com