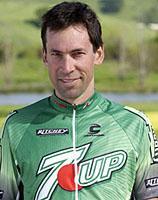 John Lieswyn
Photo: © 7Up/Maxxis
The John Lieswyn Diary
A pro racer who now mostly concentrates on the US domestic scene, John Lieswyn is one of Cyclingnews' most popular and sometimes controversial diarists. He has been racing since 1985 and a Cyclingnews diarist since 1999. John likes both criteriums and longer road races, and seems to particularly like it when the going is hard. He has raced in the Regio Tour, Peace Race, Tour of Poland, Vuelta a Guatemala, Tooheys GP and Commonwealth Bank Classic with success, as well as winning stages in the Sun Tour, Killington and Superweek. In 2003, he is once again riding for 7Up, this year co-sponsored by tyre maker Maxxis.
Tour de Toona, part 4: Double tumble
Hollidaysburg Circuit Race; three laps, 64 miles (102km); weather: overcast, humid, 75 degrees F; 9am start
What's up with this stage? I should excel here! Instead, last year I crashed on a monster pothole with 3km to go, and received some of the best team help ever from Oscar Pineda in saving my fourth GC position. This year wouldn't be much different…
Jason was nearly inconsolable yesterday after he had a bad ride up Blue Knob, losing his GC position and the team's GC as well. I kept telling him that the upside meant that now he was over two minutes down on O'Neill, he would have a bit of rope to go for stage wins. He didn't disappoint as he snuck into the break halfway through the first lap. The other three escapees were yesterday's powerhouse Andy Jacques-Maynes (Sierra Nevada, second in the KOM competition), Burke Swindlehurst (Navigators), and a Snow Valley rider.
I'll switch the narrative to real time now as we enter the third and final lap…
Switching my cleats this morning before the stage start wasn't the brightest idea ever. I get a twinge in my left knee with the application of any power at all. I'm convincing myself that it is a blessing in disguise since it means that I'm spinning lighter gears and conserving as much energy as possible. In defense of their team GC position Webcor has thrown a couple guys into the Saturn team chase, and the gap is hovering just under a minute. Using the argument that Saturn has won the majority of this year's races and their star rider's salary is probably in the ballpark of the entire Webcor budget, I'm trying to convince them to let Saturn do it all. I figure they're burning up a couple guys for nothing, since Saturn isn't going to let this break have much of a gap at the finish line anyway.
Crash the first
Cresting another climb, it's still strung out single file at 50-55km/h. I'm using a compression caused by the descent to roll up next to Baldwin for a chat. For a couple minutes we talk about how to win this race, and one of the last things he says is "everyone is doing their own thing here anyway." In slow motion I see him overlap his own teammate's rear wheel. Baldwin is off balance! I'm trying to swerve right to get out of the way but he's coming down and his wheels are flipping towards mine. Oh no, I managed to crash only once this year so far and here comes another. (What was it that I was saying to someone yesterday about not crashing much anymore? This is a recurrent theme; every time that I brag about being somewhat invulnerable, while looking for wood to knock on as a joke, then it really happens. This keeps up and I will become superstitious.)
Wham, I'm down and sliding headfirst on my back. The slide is taking forever, long enough that I lift my head and watch the peloton between my legs. They're crashing now too. When I stop sliding I brace myself for another impact, here it is! It's a double hit of bodies right into my bike, which is still between my legs. Like a weebelo I'm jumping up and grabbing my Cannondale. Pain is completely secondary to the priority here, and a quick inventory tells me that nothing's broken. Mistake one occurs now. Rather than putting my chain on first, I figure that I'll start rolling down the hill and use the derailleurs to put it on again. Only problem is that the chain is off to the outside of the crank and it's stuck on top of my shoe/pedal. After 20 seconds of futzing with it, I'm stopping to manually get it back on. Unfortunately the quick link comes apart and now I don't have a chain at all. Grabbing my mike, I'm yelling for Chad and Jeff to come back from following the break and give me a spare bike. It's highly illegal to drive backwards on the course but without any neutral support we've no choice. Jeff gets a serious yelling from the motorcycle official. I'm back on now, but probably two minutes behind the fast-chasing peloton. We're going to have to take the fine and possible time penalty as well, or I'm completely out of the GC running; so I jump into the draft and we're up to 90kph. In two minutes we've caught sight of the tail end of the peloton and I see Oscar waiting for me, so Jeff listens to the angry officials and pulls away. Oscar throws it down for me and we're back on the peloton. Baldwin is scraped up and bleeding but he's back in the line near the front, and when I get there he's very apologetic. I don't hold it against him; stuff happens in bike racing.
Crash the second
Up the final climb with 4km to go. Hit the same pothole as last year but this time I'm wearing gloves and my sweaty hands don't slip off the bars. The Snow Valley and Sierra Nevada riders have been dropped and are being absorbed by the charging peloton. After sitting on (not sharing the pace-making) for nearly half the race, Swindlehurst has magically recovered his form (yesterday he worked very hard for Baldwin to contain the Johnson breakaway) and attacked. Jason is swinging a few meters behind the Navigator but it looks like those two will stay away. With only third place left and the possibility that the officials will have no mercy on my misfortunes today in slapping me with a time penalty, I'm not too gung ho about the remaining time bonus. As it does every year, the single file line after the climb is mushrooming as we hit he final 500m and it seems like everyone thinks they are going to be Cipo for third. A little warning is going off in my head and I'm backing out of this now. Brice is leading Oscar through the last bend. With O'Neill on his wheel, Horner is coming by Oscar on the left, trying to get Brice's wheel. Somebody comes up the inside on Oscar's right and pushes his bars through, forcing Oscar left and into O'Neill's bike. Oscar makes a last ditch effort to push back, brake, anything to keep it up but there isn't room or time. I've left enough room ahead of me to nail the brakes and swerve around the five man pileup. The yellow jersey is down and not getting up.
Jason held on for second while Brice won the field sprint for third. Yesterday I wrote about Adam Bergman having a bright future, today I'm praising Brice. Anyone who wants to know about his talent please read my Philadelphia entry; until his very inopportune flat he was a rock star.
I roll back down the hill to see if O'Neill is OK; he has a hematoma over his eye and it's pretty bloody. His teeth caught some of the road too, and they're putting a precautionary neck brace on him just before loading him in the ambulance. He's conscious though. If he doesn't have any broken bones there is the possibility that he may start tomorrow, not having crossed the line being of little import since the 1km to go rule provides that anyone crashing in the last kilometer is credited with his group's finishing time. O'Neill is a tough Aussie, and we're all hoping that it's not as bad as it looked immediately after the crash.
[Editor's note: After John filed his diary Nathan O'Neill was diagnosed with a cracked C2 vertebra and will not start tomorrow's stage.]
A soigneur's day
Our soigneur since 2001 has been the unflappable and super talented Stephanie Roussos. Steph is in her 30s and is a former bike racer herself. Her boyfriend Mike is a bicycle framebuilder in Boston. She doesn't own a car (no need in Boston) and I'm often giving her an undeserved hard time because she doesn't do this or that while driving. My best bet is to lay down with headphones and we'll get there when we get there. It is a challenge driving the 20 foot long V-10 powered VanZilla II, especially with an accelerator that seems tuned to impress on the dealership test drive but annoy one for the next 200,000 miles.
Steph wakes up before everyone else and finishes mixing bottles which have been drying since the previous night's bleach-fest. She fixes post-race sandwiches, post-race recovery mixes, finds ice, and packs the coolers. Somewhere in there she grabs a cup of coffee, pretty much the only thing she'll eat until 5pm many days. Then she has to drive to the stage start and find a parking spot that suits both Jeff and the race organizers, sets up the chairs, puts out race food, and when we arrive on bikes or pile out of the van she sets each of us up with race radios and tape for the earpieces. (Back at the hotel the radios are her responsibility to maintain and charge). Legs get rubbed, sunscreen distributed, her shirt serves as a sunglass lens cleaner, then she heads to the start line to pass out more bottles and collect long-sleeve jerseys which we keep on until the last minute.
Feed zone is next, and that in itself is one of the day's highlights as she and the other soigneurs engage in a bit of competition and cooperation just getting there. Passing off bottles or mussettes when we come through is really difficult to do right, and when the team is lined up we have to try and space ourselves out just before the feed zone. She'll often have six bottles arrayed on one arm for rapid fire loading to the feeding arm, which she must swing in the direction of race travel. We're often doing up to 50kph through the feed zone so it's a bit of a trick! A professional soigneur never runs or even moves their feet, because there is another feeder standing next up the line in the roadway.
After the race Steph has the chairs set up again, now with post-race sandwiches, recovery drinks, all our backpacks, towels and skin cleanser spray bottles. She'll attend to scrapes if any as well as prepping guys for the podium (if necessary). She accompanies riders when selected for drug control to sign off on the paperwork and ensure the rider has anything he might need recovery-wise.
Then the drive back to the hotel and quick set up for massages. Each massage is 30 minutes, and if you are late then you lose massage time. The massage is important to work out tight tendons and ligaments as well as flush out toxins of the day's work. Steph acts as confidante to each rider during "his time", that rider also has control of the TV if he wants it and nobody else is allowed to hang out although there ends up being a few interruptions as guys are looking for someone or something like laundry soap on days that Steph doesn't do the team's laundry.
Chocolate covered espresso beans or another coffee keep her going through the afternoon, and then it's clean out the van and wash bottles time. And then Groundhog Day starts it all over again for her. Phew!
Promoter's corner: Getting the people to the race venue
I'm starting a fairly regular section to my diary that I hope will help organizers in sharing good ideas and problem areas. Today's observation and question have to do with how to get spectators from their cars to the viewing areas. On arrival in Hollidaysburg, I noticed that police barriers were set up not just around the start venue but for blocks in every direction. In today's society people aren't inclined to park a ten minute hike away from the action. What if, just like for major golf tournaments, there were signs: "Rider Parking this way" and "Spectator Parking this way" and "VIP/Media Parking this way"?
Email John at jlieswyn@cyclingnews.com