Recently on Cyclingnews.com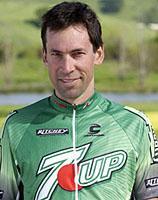 John Lieswyn
Photo: © 7Up/Maxxis
The John Lieswyn Diary
A pro racer who now mostly concentrates on the US domestic scene, John Lieswyn is one of Cyclingnews' most popular and sometimes controversial diarists. He has been racing since 1985 and a Cyclingnews diarist since 1999. John likes both criteriums and longer road races, and seems to particularly like it when the going is hard. He has raced in the Regio Tour, Peace Race, Tour of Poland, Vuelta a Guatemala, Tooheys GP and Commonwealth Bank Classic with success, as well as winning stages in the Sun Tour, Killington and Superweek. In 2003, he is once again riding for 7Up, this year co-sponsored by tyre maker Maxxis.
Tour de Toona, part 3: Chasing through the Pennsylvania countryside
Johnstown to Altoona; 95 miles (although three different distances are published for this race in various locations!); weather: Hot!; 1pm start
Wow, that was fun. So we start in Johnstown, a cool old industrial town in a valley about an hour from Altoona. Around the start venue are many imposing buildings, including the newly built Crown American (paper checks, I believe) headquarters and several retirement apartment buildings. The city streets filled up with residents to wave us off on our four-plus hour journey to Altoona. Straight away we were climbing out of the valley, and the first serious attack came from Doug Ollerenshaw (Broadmark), Andy Jacques-Maynes (Sierra Nevada) and Tim Johnson (Saturn). Gotta hand it to the smaller teams, they aren't rolling over in the face of a super-powered Saturn lineup here. This move elicited an immediate response from Mark Walters (2002 Philadelphia winner, Navigators) and our Doug Ziewacz. Unfortunately, even though the gap between these two little groups was just five seconds for about eight minutes or so, the Navigators/7UP twosome couldn't close it down. Johnson was going all out. I wonder what Ollerenshaw and Jacques-Maynes were thinking, though. If they hadn't helped Tim, then Walters and Ziewacz would have caught on and that could have been the decisive move of the entire week.
Navigators put Spinelli and Swindlehurst on tempo duty for the next two hours, limiting the damage the very powerful three-man break was inflicting. Their maximum lead reached nearly seven minutes before the heat and distance began to reverse the time deficit, with the help of a Webcor rider defending their man who was in second overall after yesterday's brilliant breakaway. Meanwhile we stayed calm and sat back; I figured that whether Tim Johnson had seven minutes or four, he would be ordered to wait for O'Neill and Danielson after the ascent of Blue Knob anyway. I hoped that we could get at least three men over the mountain and give us a shot at containing the Saturn climbers.
The Blue Knob climb is gorgeous - it's narrow, tree lined, and unspoiled except for a nicely integrated park and a resort near the top. I got an email from a reader today who said his 60 year old father rides Blue Knob weekly. My only experience with it was under race conditions, where the organization has enough motorcycle marshals and police escorts to keep the roads completely free of moving vehicles. It's just amazing to ride roads this stunning, car-free and worry-free. There were numerous descents of nearly 100kph, sometimes faster, over this hilly stage. I had to laugh at one point as Oscar rode alongside our team, heavily loaded with bottles in every pocket and tucked under his jersey, as he tried to coax our slightly tunnel-visioned riders to take a bottle off him. He waved a bottle right in front of my nose and it took me a few seconds to realize it was for me. Same thing happened to Chris Pic; he seemed a bit dazed that it wasn't him carrying the bottles at this moment, and initially reluctant to grab it. Knowing that Oscar is a new father, I started into a high pitched monologue: "take the bottle! You know you want this good stuff, good boy!" Oscar laughed and pinched his cheeks as if he was lavishing affection on his kid.
I think that despite the efficient, regular drop back to team car work of my teammates in providing liquids, I must have gotten dehydrated today. As we began the climb on to Blue Knob, O'Neill punched it hard and I was instantly at 190bpm. That's really high for me, and it felt like I had no snap at all. Bergman (normally Jelly Belly but riding for Bianchi/GP this week), Baldwin (in yellow) and Danielson (Saturn) went with the Aussie star and I had to let them go. As we hit the midpoint of this fifteen minute climb (which seems like forever when you are having a bad ride) I got very lucky. Baldwin got dropped and came back to my group, being led by Chris Wherry (also Navigators). Can I possibly use any more parentheses? Okay, I must be fried after today's race but I'll try to improve this report a bit.
Up front the Johnson-led break was coming apart, O'Neill went it alone from Bergman and Danielson, and I was in the third group with Wherry, Baldwin, Horner, and a few others. This is where race radios can be such an advantage when they're working and a liability when they're conveying incorrect information. With Danielson and Bergman just 20 seconds ahead of us on the now rolling ridge road, Wherry and I sat up to wait for promised assistance. While losing time on the danger men ahead, we were quite displeased to find that the next group to catch on contained no Navigators or 7UP riders but did have the last two Saturn guys in it! Oops.
Eventually everyone ahead except O'Neill was caught by our group, which swelled to about 25 riders. Doug caught on and together we lent our best efforts to the Navigators in an effort to reel in the Aussie. The final 20km of hard hills didn't have my predicted effect on the stage win as the Navigators did a really fine ride in getting three men up there to drive it hard with Baldwin. These roads are awesome for a bike race, with smooth pavement, little traffic, bucolic farmland vistas, steep hills and twisting descents. It's not all wonderful though when your body is in a world of pain trying to get back into contention for the win here! O'Neill just held us off by ten seconds to take the stage win, time bonus, and overall lead. The race didn't go to our plan but it could have been much worse. If the 'triumvirate' were on the form they had at Georgia, it might have been another one-two-three sweep. I'm not out of the overall running but the Saturn guys will have me on a short leash, and unless I find form all of a sudden here it's not like I can go out and drop O'Neill on Saturday's slightly different ascent of Blue Knob.
Last year (or the year before?) I felt a bit robbed in this stage because I was in the break that got misdirected, but this year the organizers did pretty well. It's a real challenge for them because we must have made a hundred turns out there today, and only once did we miss one this year. The wrong turn was instantly caught by the escorting motorbikes and ourselves, and we only baja'd through a small median to get back on course. It had no effect on the outcome of the race.
Adam Bergman is having a breakthrough year, and his strength was obvious today. He's doing it without being on a 'big' team, which is both harder and easier. It's harder because you don't have the staff support or the super-experienced guys to listen to, but easier because when a neo pro joins a major team they invariably get slotted into domestique duties that limit their ability to pad the resume for themselves. With gains in patience and tactics he could become one of the next big names in US cycling.
Email John at jlieswyn@cyclingnews.com