Recently on Cyclingnews.com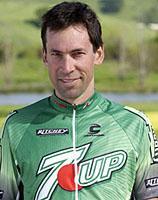 John Lieswyn
Photo: © 7Up/Maxxis
The John Lieswyn Diary
A pro racer who now mostly concentrates on the US domestic scene, John Lieswyn is one of Cyclingnews' most popular and sometimes controversial diarists. He has been racing since 1985 and a Cyclingnews diarist since 1999. John likes both criteriums and longer road races, and seems to particularly like it when the going is hard. He has raced in the Regio Tour, Peace Race, Tour of Poland, Vuelta a Guatemala, Tooheys GP and Commonwealth Bank Classic with success, as well as winning stages in the Sun Tour, Killington and Superweek. In 2003, he is once again riding for 7Up, this year co-sponsored by tyre maker Maxxis.
Tour de Toona, part 1: Upbeat Toona overcomes problems
Underdone Johnny L gets smoked in prologue TT
Today's headline in the Altoona Mirror read: "Tour riders still positive despite woes." Frmer race co director Kirk Liedy is accused of embezzling a quarter million dollars from the race over the last decade, and attempts to expand the race to Pittsburgh have failed. Nonetheless this race continues to be the largest multi-category stage race in America and the recently added Johnstown Road Race and Horseshoe Curve TT have done much to maintain the race's high stature. Race sponsors called the remaining promoter, Rick Geist, and not only pledged continued support in spite of the scandal, but some even shared stories with Mr Geist about having been victims of embezzlement themselves. Most people seem to realize the positive economic impact such a huge event has on central Pennsylvania, and Pittsburgh has pledged to support a future expansion into their city as well (albeit with tough economic times and a tight city budget, they aren't able to ante up cash for the event yet).
Defending 'Toona champions Prime Alliance have chosen to forego this one in order to prepare for the big Fall races. That leaves full six-man squads from Saturn, Navigators, and our 7UP/Maxxis team to battle it out while a strong contingent of smaller teams fills out the rest of the roster. Uniquely this race's US $45,000 in prizemoney (for the men) is heavily weighted in the team classification, so that will have an interesting effect on tactics this week. Good scheduling news is that the Sunday downtown Altoona Criterium has become a stand-alone event, not part of the stage race, so that those teams trying to enter full squads here and at the big NYC Invitational will be able to do so. I'm pretty excited to be doing this double!
Despite talking a big game for the past few weeks, I came here a bit 'underdone' ('blocked' is a common term for the same feeling) and got myself smoked today. Super short time trials on the first day have never been my specialty but I didn't prepare very well either. Next time I go to an event that begins with a time trial, I'll make every effort to arrive an extra day early to get jet legs out of the way.
I was worried that my lieutenant Jason McCartney wouldn't be any good since he hasn't raced his bike since Beauce, but he ended up smoking me too, finishing fifth.
Email John at jlieswyn@cyclingnews.com