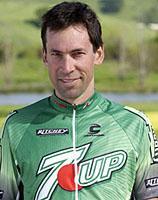 John Lieswyn
Photo: © 7Up/Maxxis
The John Lieswyn Diary
A pro racer who now mostly concentrates on the US domestic scene, John Lieswyn is one of Cyclingnews' most popular and sometimes controversial diarists. He has been racing since 1985 and a Cyclingnews diarist since 1999. John likes both criteriums and longer road races, and seems to particularly like it when the going is hard. He has raced in the Regio Tour, Peace Race, Tour of Poland, Vuelta a Guatemala, Tooheys GP and Commonwealth Bank Classic with success, as well as winning stages in the Sun Tour, Killington and Superweek. In 2003, he is once again riding for 7Up, this year co-sponsored by tyre maker Maxxis.
US Pro Week 2003 Part 1: Crash Alley
After the Iowa weekend, Quad Cities winner and World Cup track star Hayden Godfrey came back to my house for the week. The idea was to keep him from having to drive halfway across the continent with the team vehicles and to keep me from working on my Benz instead of training. It worked out perfectly; we got in some great training days and I only worked on my car restoration for two afternoons.
Dawn, Hayden and I took a flight Saturday morning from Des Moines. In Chicago I said goodbye to my wife- she's headed to Charlotte for her first of two major ACVIM (American College of Veterinary Internal Medicine) tests, while we were off for the Clarendon Cup in Arlington Virginia.
Clarendon Cup
I read 'The Black Box' on the second flight. It's a collection of thirty CVR (Cockpit Voice Recorder) accident tape transcripts. The CVR's aren't actually black, they're orange. Anyway, it's a very interesting book but I wouldn't recommend it to those already frightened about air travel. I seem to have a morbid fascination with air disasters, all the more strange since I fly so much and I've taken a few flight lessons.
On arrival at Washington Dulles Airport we threw our bags in the team van and said our hellos to Stephanie. Being a pro bike racer you end up having two families: your friends and family at home and your crew on the road. Being on team 7UP/Maxxis is tons of fun because we all get along really well and the team is very geographically and culturally diverse.
You all know by now how much I rail against what I see as runaway sprawl in America, but I have to say that Herndon and Reston Virginia (near Dulles) are examples of sprawl that have made at least cursory concessions to smart growth. On my 90 minute leg-loosening spin from the corporate chain hotel I was on a bike path for 85 of those minutes. The bike path was in use not just by children but mostly by exercising adults and even a few bike commuters! The adjacent developments were all obviously built within the last five years but they were fairly high density and seemed to have sidewalks and easy bike path access.
After a quick team meeting to discuss the week's schedule and then a thirty minute flushing massage, three of us jumped into the van for a five minute drive to the Reston Town Center. This is all brand new development, but in the new urbanist style. Parking garages have first floors occupied by restaurants and retail (after all, who wants to stroll past car parks?) and architecturally pleasing office/retail buildings surround traditional squares. Restaurants and cinemas line the streets, and most importantly there are residential townhouses and condo complexes within a two minute walk of all of this. Nevertheless abundant parking is provided for those who don't live within walking distance; it's kind of a melding of suburbia to traditional town centers. The buildings are marked with the names of the "new economy", tech companies like Oracle. Anyway, this diary isn't supposed to be a travelogue as much as an insight into bike racing. I only include this stuff because as cyclists we all should be interested in the type of development going up all around us.
On the start line I was asked by Mariano Friedick of Jelly Belly how the survey for the USPRO Riders Association was going. I have to say that other than Jelly Belly, I haven't received any of the other 75 surveys I handed out during the Tour of Georgia. I'll make another attempt this week, but if I continue to be confronted by apathy from my colleagues then perhaps the association isn't meant to happen.
Before the start I stayed in the van, talking to my wife for a few minutes on the cell and generally refusing to get myself worked up about the race until the last possible second. I wasn't too keen about racing in the gusting winds, but knew that once the gun went off I'd be into it. I'm up to second place in the NRC rankings (the US version of UCI points) behind Chris Horner, who has a commanding lead. This has been and will continue to be a back-of-my-mind motivator for the season, but our primary goal today will be to protect Hayden for the win and Dan for the American Criterium Series points. (He's second in that ranking, which actually has dollars in it, to Jonas Carney).
Once underway, I felt surprisingly good and had to remind myself constantly that it is a long criterium at 90 laps and 100km. Many breakaways were forming and being reabsorbed but nothing serious went until a group of seven (one of each major team) got away at about halfway. We had Dan there, and seeing as how he has a lightning fast sprint we were happy with that.
The break was just 20 seconds behind us and looking set to lap us when I heard Jeff on our radios saying that Dan looked to be on the ropes. There was a lot of attacking going on in the break and finally Dan cracked. Immediately the two Kiwis and I threw it down as hard as we could, hoping to prevent the remainder of the break from lapping. It took us a dozen solid laps of hard work, occasionally assisted by one or two Prime Alliance guys, to salvage the situation and bring the break back. I was actually amazed that we succeeded. While we drove it for all we were worth, Hayden began missing turns to save his legs for the inevitable counterattacks and a crash thirty guys behind us split the bunch apart.
Once it was all together, Greg and I had to take a few laps 'off' at the back of the much diminished group while Hayden covered moves for us. My back was screaming at me, and the legs were rubbery, but I knew that Hayden couldn't cover stuff and sprint as well so I moved to the front again within a couple laps. One stretch of the course I was nicknaming 'Crash Alley' because swirling, gusting wind was bringing guys down left and right. A couple times I had difficulty just keeping my Ksyriums planted all by myself, I can't imagine using a deep dish wheel in this weather!
At two laps to go there was another big fall just entering Crash Alley, taking two of the top sprinters out: Davidenko and Dominguez. The break was shattered and for the remaining lap and three-quarters everyone was groveling to hold the wheel ahead of them as one by one we all welded ourselves back together. It wasn't a bunch kick (a field sprint) as much as a drag race. Phil Zaijeck (Saturn) was off solo in the closing laps but we weren't too concerned.
With an on-form Jonas Carney still in the group, Prime Alliance wasn't going to let Phil stay off. Jonas' teammate and one of the big threats in the NRC, Danny Pate, was doing the final lead-out and Hayden managed to get in behind Danny through the last corner. Hayden hesitated for a second and lost the initiative in the sprint, so the finish was Carney, Repinski, and Hayden. I'm proud of Hayden, he salvaged a podium finish for us when things were looking pretty dark at the halfway point of the race! And if we couldn't win, at least my good friend Jonas showed what us "veteran" bike racers can do.
At Fresh Fields grocery I started my usual US Pro week diet regimen. Every year this week I drink a Green Machine smoothie and have sushi daily. Weird, eh? Then we loaded up for the couple hour drive to E-Town (Elizabethtown, PA) and the Markham's house, our home base for the next few days.
Until Lancaster, then!
John
Email John at jlieswyn@cyclingnews.com