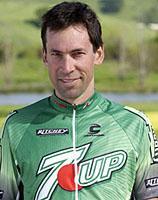 John Lieswyn
Photo: © 7Up/Maxxis
The John Lieswyn Diary
A pro racer who now mostly concentrates on the US domestic scene, John Lieswyn is one of Cyclingnews' most popular and sometimes controversial diarists. He has been racing since 1985 and a Cyclingnews diarist since 1999. John likes both criteriums and longer road races, and seems to particularly like it when the going is hard. He has raced in the Regio Tour, Peace Race, Tour of Poland, Vuelta a Guatemala, Tooheys GP and Commonwealth Bank Classic with success, as well as winning stages in the Sun Tour, Killington and Superweek. In 2003, he is once again riding for 7Up, this year co-sponsored by tyre maker Maxxis.
Training & racing in the sun - and a sideline as a barista
Team 7UP/Maxxis 2003 Pre-season training camp, Gainesville, Florida
Well friends and cyclingnews.com readers, it has been some time since I've written and much has happened since my hard crash in Brazil January 6th. I'm sorry to report my luck did not improve after that! About a week after returning home I did my first good training ride on a typical Iowa 20 degree F winter day. Psyched to be feeling good again and looking forward to seeing my wife after she'd been doing an externship at Ohio State's radiology department, I jumped in our 1995 Saab 9000 for the quick trip down to the Des Moines airport. Just as I left Ames the snow began to fall; twenty minutes into the drive I was creeping along at 30mph on the interstate as SUVs and rear wheel drives alike spun into the ditches.
In Des Moines I was waiting at a red light when suddenly there was a horrendous bang and I found myself tossed around the interior like a rag doll. When the violence was over, my car was forty feet into the intersection (thankfully devoid of traffic). Right away I knew that I had a light concussion and whiplash. The young woman who hit me with her 2003 Jeep Liberty was crying and mumbling about being lost and surprised that her SUV didn't conquer nature the way the advertisements purport they can. My car sustained over $10,000 damage and was totaled while her Jeep didn't crush at all. Chrysler built the front end three times stiffer than the Cherokee it replaced in order to score better on the Dateline NBC TV show "safety" ratings. Already anti-SUV, now I'm pretty much militantly opposed to them.
It took a week of riding easy before my headaches subsided enough to start really training again. I tried hard to follow my coach's (Adam Myerson of Cycle-Smart) plan. Compared to last winter I trained more regularly and more acceleration work, but less race pace intensity. It was hard to stick to the schedule especially with my training partners from last year more involved in their ISU educations than before. Having to shop for a replacement car only sucked up another week. I'm glad that the season is starting two weeks later than normal this year, and looking forward to our Florida training camp.
Sponsors
Many people have asked me how Cannondale's bankruptcy will affect the team. The short of it is that like Kmart, United Airlines, and many others, Cannondale's bike business will remain open. We already have our superlight 2003 CAAD7 frames with Time full carbon forks. Ritchey and Serfas are back, and for wheels we're running sweet Mavic Ksyrium SL's and Cosmic Carbons.
Big news for us is the co-sponsorship of the team by Maxxis tires. They are based in Georgia so we'll be looking for big results at April's Tour of Georgia. They have a complete line of high performance bike tires, and we've selected the second from lightest slick tire for our race wheels and a treaded mid level tire (which is probably nicer than most other company's race tires) for our training wheels. We'll be known as Team 7UP/Maxxis this season.
After fighting foot and knee pain for a few years now, I used this winter to address these problems through massage, strength training, and custom Rocket 7 shoes. Rocket 7 doesn't compete directly with Time since they are really for those few riders whose feet don't fit the norms and are willing to spend a lot of money on shoes. Reconciling sponsors' needs and my own has been a delicate tightrope that at times threatens my future in this sport. I will say that the new Time Impact pedal is a huge improvement over the old one, with class leading direct drive above the axle, great cornering clearance, and a wide stable platform. Every pedal manufacturer would argue this, but I think no pedal system can be optimum for every rider. Team 7UP riders are generally very enthusiastic about the Impact.
I started writing about my teammates and realized it is going to be all on the team7up.com website. I'll just say that we are excited to have Brice Jones, Jason McCartney, and Chris Pic on board.
Gainesville Grand Prix
Jeff and I ended up needing to make a decision between the Orlando National Triathlon Training Center and the Gainesville Lodge. I was pushing hard for Gainesville because I knew the roads and the Lodge is walking distance to a revitalized downtown. As it turns out, Chris and Tina Pic tell me that the training center wouldn't have been bad for training because it is actually in Claremont, which I had heard was overrun with sprawl but they say isn't too bad at all.
The Lodge is a motel owned by a very friendly and hospitable Indian family, under the shadow of an enormous cell tower and the equally imposing largest building in Gainesville, the 11 storey, century old Seagle building. Three blocks away is Main Street and the Hippodrome theatre district, with "New Urban" three storey commercial/residential developments around it. We've got a huge variety of locally owned eateries to choose from, but unfortunately they're not exactly Brazil prices. They all seem to have hip names like "Dinner" and "Establishment" and "Voodoo", and equally high flying prices. One of my favorites is "Pole Benders", offering Alaskan cuisine. Not much fresh seafood in Iowa! Then of course there is a Starbucks, Chesapeake Bay Bagelry, and no college town is complete without Hooters.
All of these businesses are surrounded by reproduction gas lamps and brick streets. Quite nice. Then two blocks away is the "ghetto" from which the whites have fled to West Gainesville. Some of these streets are really nicely fixed up with picket fences, new paintjobs, and classic steel roofs. But of course the lots are less than sprawling and the garages are one car, not three or four. And the residents are 90 percent black. And very friendly. Everyone on the team is impressed at how friendly everyone is in Gainesville, actually. We enjoyed a farmers' market at the courtyard adjacent to the imposing stone Hippodrome. The Gainesville Sports Organizing committee has provided fridges and some smart riders brought cooktops so we are set to prepare some simple meals in the rooms. I even brought an EBay purchased Saeco Profi espresso machine which is a big hit. Jason had helped me carry it through the airports on the way here, it was very heavy and barely fit below the seat in front of me on the planes. It'll stay in the trailer (mentioned below) from here on out. Just don't tell the other teams - I'm a bike racer not a barista...
Gainesville roads are super quiet. We've ridden miles without seeing a car along roads that are framed in moss-draped trees. Chris and John, our sponsors from Mavic, came down to ride with us for a couple days and even got to see an alligator (the mascot of the University of Florida is the gator). There is a rail to trail path fifteen miles long basically from downtown all the way to the town of Hawthorne, and we use the first half of it to get to the southern routes. Down towards Ocala there are rolling hills that get a rider out of the saddle long enough to break the monotony of otherwise flat terrain around here, and the horse farms are absolutely grand in scale. There is one huge new classically designed barn with three spires and more square footage than a mansion. The stock portfolio of the owner must have collapsed or he/she overbuilt because it and the surrounding acreage and buildings are all for sale.
We kicked off the camp with the NRC (national racing calendar) season opener, the Gainesville Grand Prix. For the inaugural event we were the only pro team in attendance, but it wouldn't be easy with some strong amateurs to contend with. Kevin and I broke away on stage one, towing a tough 17 year old named Keith. We weren't too concerned with him but we should have been. Kevin's form is far advanced compared to my own as he's been racing in Mexico already and I've been staring at my basement walls, so Kevin naturally took the win after dragging me around the course for an hour. As the race was a 'stage race on time', it didn't matter if we won the second and final stage or not, as long as Keith didn't amass a bunch of time bonuses or beat us at the finish. As it turned out this kid was unbelievably fast and we had our hands full holding on to first and second, never mind trying to stack the lower placings. Jason Snow (remember him? He was consistently top 10 at criteriums throughout the early '90s, and now on the comeback!) took the stage win but Kevin and I went one-two overall.
It was really fun taking the guys on some of the roads I grew up training on in the mid '80s. They took to making fun of me: "11 years ago, in 1944, there wasn't even a road here!" they'd intone in a falsetto voice supposed to sound like me. Haha. Gainesville has some of the best roads in Florida, especially down in horse farm country south of here where the U23 nationals were a couple years ago. Brice has been in Florida for some time now (his girlfriend lives here) and he's super fit. We've been hanging on to his wheel all week.
I blew off a little steam on Thursday night at a couple local clubs. Dan was the only guy to go out with me. Despite talking a big game, everyone else just hit the sack early. For the first time in my life I began to feel a little old, as the average age was about 12 years younger and I was the only guy not carded at the club entrances. Lots of you out there know what I mean! Somehow I got a bit carried away and suffice it to say I won't be touching any alcohol for a long, long time.
Zephyr Hills
Brice, Kevin, Dan and I headed two hours south to race a couple local events this weekend. My Thursday night excess didn't seem to affect me much as I soloed away from the 80 man field very early on in this 10 corner, completely dark, night criterium. I lapped the field and had time to turn around to watch the sprint between the three chasers. Kevin took out second.
Dade City
It rained all morning and deep puddles made the corners treacherous. Bricks between the first and second turns, paint lines, expansion joints, this course was hard. We missed the first move but Dan and Kevin brought it back. Brice got away with three others and I bridged up shortly thereafter. Snow was up there and he duly noted my reluctance to charge the corners, so he took to driving the pace and seeing if I'd get dropped. I wasn't willing to hang it all out this early in the season and chose instead to stay safe and just work harder closing the gaps I was letting open up in every corner. Snow probably spent so much energy trying to drop me that he didn't have much left for the finish, and despite crashing at about 15 minutes to go, Brice took the win fairly easily over Ricardo the Cuban rocket. Snow was third, an Argentine was fourth and I was last of the break at fifth. On our way home in Brice's new Civic Si (with Sirius satellite radio and a killer audio system) we got the word that due to no fault of his own Jason McCartney crashed hard at the end of a six hour ride to the beach and back. He spent eight hours in the hospital getting tests. Fortunately nothing is broken but his hand is really deeply lacerated and swollen up grotesquely. He'll be off the bike for a week or so, and he's bumming that he won't be able to cross country ski normally in all the fresh snow Iowa has been getting recently.
Chad brought in the team trailer on Monday. It's brand new, 16 feet long and tall enough to work in standing up. Our second mechanic Bob, the women's team manager Al, and Chad are working on outfitting it with internal bike and wheel holders now. It should make a big difference in efficiency for Sports Group Eleven teams (7up/Maxxis and Diet Rite) this year.
Email John at jlieswyn@cyclingnews.com