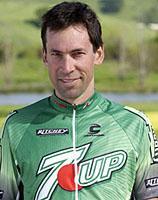 John Lieswyn
Photo: © 7Up/Maxxis
The John Lieswyn Diary
A pro racer who now mostly concentrates on the US domestic scene, John Lieswyn is one of Cyclingnews' most popular and sometimes controversial diarists. He has been racing since 1985 and a Cyclingnews diarist since 1999. John likes both criteriums and longer road races, and seems to particularly like it when the going is hard. He has raced in the Regio Tour, Peace Race, Tour of Poland, Vuelta a Guatemala, Tooheys GP and Commonwealth Bank Classic with success, as well as winning stages in the Sun Tour, Killington and Superweek. In 2003, he is once again riding for 7Up, this year co-sponsored by tyre maker Maxxis.
Tour of Connecticut - On the porcelain throne
Stage 1 - May 16: New Haven Criteriums, 2 x 30km
In the early 90's I rode a few races for the Boston Banshees, an NCL (National Cycle League) team. Those were extremely tough and fun events but ultimately they didn't capture the broad fan base the sponsors were looking for. One NCL race was in New Haven, actually on the same square as this evening's criterium. Due to the short course and size of the field, the organizer came up with a wacky format where he ran two heats for the jerseys but without it counting towards the time of the stage race general classification (GC). I have to say that cycling has developed over a hundred years. Let's not reinvent the wheel here!
I was in the second heat and the light was fading fast. There was a large storm grate on the left side of the road halfway down the backstretch. Somebody swerved around it in the dark and next thing I heard was a screeching crash behind me. Next lap we could see that the fallen rider was unconscious, and another lap later an ambulance showed up. We sort of continued racing (super wide road). Not that I was gung ho before but now I really didn't have the stomach for it. I only continued because I needed to turn the legs a bit after a long travel day.
Stage 2 - May 17: Waterbury Circuit Race, 100km
Wow. I scoped the course half an hour before the start and returned to the team van, proclaiming emphatically that this was the hardest course I'd ever seen. I guess I'm prone to dramatics and exaggeration because my teammates took my words with a grain of salt. They should have taken me at face value on this one! It was 15 laps of a 4 mile circuit; 2.5 miles of stair-step climbing followed by a bombing descent each lap. By lap 3 there were 35 guys left of the original 120, and by lap 5 there were 14 riders still in contention.
On one section of the course we were strung out single file, trying to breathe and see through a small cloud of dust stirred up by the lead cars and motorbikes. Street sweeping trucks just didn't get the winter sludge off the roads in time.
Horner did a bike change early on. I can't speak for everyone else but I think we all were on the same page; nobody was going to attack while he was switching bikes. Just not cool. As he was coming back up, he must have seen an opportunity he couldn't resist.
He flew by us as we were waiting on him! As he built a huge lead on us I was reminded of the Sunset stage of Redlands. Only this time he wasn't away with O'Neill and Danielson, and the Prime Allliance team was very strong. Eventually Horner cramped up and got caught, setting the stage for Clinger's devasting attack. I was actually on his wheel as he accelerated on a medium gradient hill, and initially I tried to respond. In retrospect, I wonder if it was a mental failure. To win races you have to dig very deep mentally and physically, and I don't think I had the whole package at that moment.
In the last kilometer Horner led out Ivan for third on the stage, and I heard Jeff's encouragement in my earpiece: "come on John, you can do this, you've beat Ivan before." That started a train of thought in my head as I followed Ivan around the last couple corners. Had I ever beat this guy in a sprint or not? I thought not. Ivan uncorked his wicked acceleration to take the sprint for third, and I narrowly took 4th over Mike Sayers.
Stage 3 - May 18: Housatonic Valley Classic, Danbury, 190km
After yesterday's race I spent equal amounts of time on the porcelain throne and in bed, clutching my spasming stomach. I don't know if I had a mild case of food poisoning or what, but I was miserable and it was very difficult to keep any food down. So I was wondering if I'd even be able to finish today. If it had been like the first two years of the Housatonic, I probably wouldn't have. Thanks to the new stage race format, this year's event would be controlled by the leading team of Prime Alliance. That meant a steadier pace, one that I could hang on to if I rode conservatively. I like to attack and race hard, so it was a bummer to just sit back and follow the Prime train. The couple weak attempts I made to get away just showed how much the stomach thing took out of me.
Email John at jlieswyn@cyclingnews.com