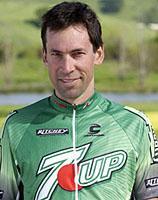 John Lieswyn
Photo: © 7Up/Maxxis
The John Lieswyn Diary
A pro racer who now mostly concentrates on the US domestic scene, John Lieswyn is one of Cyclingnews' most popular and sometimes controversial diarists. He has been racing since 1985 and a Cyclingnews diarist since 1999. John likes both criteriums and longer road races, and seems to particularly like it when the going is hard. He has raced in the Regio Tour, Peace Race, Tour of Poland, Vuelta a Guatemala, Tooheys GP and Commonwealth Bank Classic with success, as well as winning stages in the Sun Tour, Killington and Superweek. In 2003, he is once again riding for 7Up, this year co-sponsored by tyre maker Maxxis.
Georgia on my mind...
...and muscles, and heart, and lungs…
I didn't do daily reports for the Tour of Georgia because frankly I was too tired. To those who say: "John, you've got 17 years of racing in your legs, that should be a help!" I reply: 130 plus miles every day still requires endurance that most US riders (myself included) don't have. The flip side is that we should be better prepared for US Pro week, Beauce and Altoona stage races.
It's pretty amazing how talented Fred Rodriguez is. He finished the 250km Amstel Gold race on Sunday, flew Monday, and here he is winning two stages at Georgia. Three things kept him from really vying for the overall GC: jet lag, no TT bike for the prologue, and a 20 second penalty that he claims wasn't justified.
What is it like, racing in the Tour of Georgia?
Off the bike
We awaken around seven and are treated to the ballroom buffet, if we are staying at the main race hotel. Bags go down to the team vehicles 15-30 minutes before departure on bikes (if local start) or in the vans for distant starts. We have only our backpacks until we arrive at tonight's hotel. On arrival at the start venue, there's about an hour to choose the right clothes, put on our race radios, stuff our pockets with race food, and have Steph loosen the legs with a quick application of oil (or warming stuff if it's cold out).
The start area has been well attended by residents, local dignitaries and the press corps. For stage 2 a local musician who was a band member of the Allman Brothers and Eric Clapton honored us all with an awesome rendition of the Star Spangled Banner. The National Guard is on hand for presentation of the colors, and a local minister says a prayer for our safety as well as the safety of the US troops abroad.
After the race Steph is there at the finish line with water and directions to the van, which is usually in an adjacent parking lot. The race organizers provide Subway sandwiches that we wolf down while scraping layers of road grime off our limbs with little towels and spray bottles of something which used to be a cleanser but I swear is now just water for all of its effectiveness! If the hotel is close by, we'll ride there with our backpacks, but if it's distant then Chad and Bob put the bikes on the roof. Meanwhile Jeff checks medical control lists to make sure none of us are called up for that. One of the staff has gone ahead to the hotel hours ago in order to get keys, make room lists, and put our big bags in our respective rooms. Clean up, massage, dinner, an hour of TV or the newspaper, and that's our day.
On the bike
Stage 3 began in light rain with a neutral start through some park in the middle of the boonies. Our spectators consisted of two enthusiastic fans huddled under an umbrella (okay, maybe three) and a bunch of wildlife. The other days the start circuits were very well attended for an inaugural event. The neutral was maddeningly slow. At 14 mph all we are doing is wearing out our brake pads. 20 mph is a lot more relaxing, in my book. The park itself was so American in its design. This is just an impression, and I'm sure I'll get a dozen emails correcting me, but it seems like it's an hour by car from anywhere. The park sprawls over miles not with hiking trails but smooth, well marked vehicular access roads. It's as if the designers were creating a way for people who can't roust their posteriors from their car seats to see the streams and trees with the minimum of effort.
Leaving the park there was a palpable sense that we would be riding "piano" for a while considering the nearly 140 mile distance we faced. A Belgian ex mountain biker riding for Webcor wasn't on the same page and he took off immediately. The was no response at all and everyone was probably thinking the same thing: "seeya in 90 miles or so, have fun!" A Sierra Nevada rider waited too long to go and although he got several minutes on us he never linked up with the Webcor guy.
Anyway, I promised to tell you what it feels like, not a play by play. I also don't have the time or energy to do both.
This is what it feels like to me, remember I'm 34 and perhaps I'm just getting older: Climbing smaller hills you have to recruit different muscles because the main ones were fatigued days ago. Little aches and knee pains crop up but in general my muscles feel like a rechargeable battery - a steady power output is available throughout the day until a point at which they just go dead. This is as long as I stay conservative and don't attack like Jonathan Vaughters did. Now the race is over, I realize that I was riding for top three but never raced, never took a chance, and that's a regret.
The roads on most stages are wide highways, which contribute to the failure of each day's breakaways. On one high speed descent we are pelted by fine sand and pea gravel kicked up by the phalanx of escorting motos and cars. On another stage we climb over a long grade and break out of the trees to see a forebodingly dark sky. Chris Pic (our Georgian teammate) gets on the radio and warns us to get jackets from the car quickly. He's right… the temp drops 20 degrees and soon we are pelted by rain that feels like needles, perhaps fine hail even. That day we finish with three laps of an urban circuit. The hills are so steep that if you don't pick the perfect line you could find yourself crossing the painted centerline, whereupon there is an instant loss of traction on the wet road. This day I gutted it out from 70 guys behind to the front of the lead group (partly thanks to my teammate's hard work welding the splintering groups back together again for me) and yet couldn't capitalize when it came to the sprint, finishing a dismal 13th. Ten minutes after finishing the sun was out and as is typical for Georgia it was a balmy 80 degrees F almost instantly.
Through many of the towns there are huge crowds, and it seems like every school on the route has let its students out to cheer us on. I think that this is the perfect way to get our sport out in front of the average person, young and old. Sometimes we were going "piano" (slower) pace in front of 500 kids, other times I was following an attack up a slight grade at 50kph (30mph) inches away from a long line of enthusiastic military school students. Despite the effort of holding the rider's wheel ahead of me, I soaked up the sounds of the moment: the cheering, the "oohs" and "aahs", the camera motorcycle growling alongside, the clicks of gears changing, and the pounding of my heart.
Each day the finishing circuits are unbelievably tough, especially since we are racing for first (all breaks are caught) and the organizers have thrown in the biggest hill they can find in each town. Multiple sharp and sometimes off camber turns just add to the thrills (and spills). It's pretty much all I can do just to hold the wheel in front most of the time.
My final result, ninth on GC, is a letdown considering that I really felt that I could podium (top three) at this race. As it turns out I needed to have a little more help chasing the break on Saturday's decisive hill day. Prime Alliance and Rabobank were strong allies but it wasn't enough to catch the motivated US Postal/ Saturn/ Rodriguez breakaway. Then Freddy would have knocked me off the podium with all the time bonuses he was accruing, but this is all conjecture.
Just so you know how good Horner is: on one climb that we were riding at a somewhat controlled pace but it's still hard. He pulls over and takes a leak. Roland Green (USPS) attacks (for the heck of it?) and O'Neill goes after him, stringing out the field. McCartney and I hang on to O'Neill for a minute or so and then just let the wheel go, fading back a bit. Horner goes by the entire strung out pack (about a minute long) about 5 mph faster than everyone else, and gets to the front shortly after Green lets off the gas. Ridiculously strong.
After the race I rented a car for the drive to Asheville NC, our permanent home. Along the way I stopped for a ride and massage from my brother in law Dave Kingsbury (Kingsbury Sports Massage) in Greenville.
Rich Hincapie is putting on a few criteriums in the area this week and I'll try to do a few and hopefully make a few bucks and stay sharp for Shelby and Roswell this weekend. Re-leasing my Asheville house and the associated housework, recovery, and enjoyment of Asheville's eateries will occupy the rest of my time this week.
Thanks for reading,
John
Email John at jlieswyn@cyclingnews.com