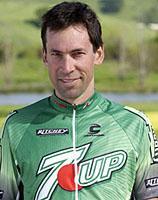 John Lieswyn
Photo: © 7Up/Maxxis
The John Lieswyn Diary
A pro racer who now mostly concentrates on the US domestic scene, John Lieswyn is one of Cyclingnews' most popular and sometimes controversial diarists. He has been racing since 1985 and a Cyclingnews diarist since 1999. John likes both criteriums and longer road races, and seems to particularly like it when the going is hard. He has raced in the Regio Tour, Peace Race, Tour of Poland, Vuelta a Guatemala, Tooheys GP and Commonwealth Bank Classic with success, as well as winning stages in the Sun Tour, Killington and Superweek. In 2003, he is once again riding for 7Up, this year co-sponsored by tyre maker Maxxis.
Sea Otter 2003, part 3: All squishy by the end
Stage 4 - April 12: Road race, Laguna Seca, 160 km
Well, after I left you all hanging as to which strategy I would take today, it was decided for me! Two minutes after the start we were climbing a steep 3km grade. My diesels weren't warmed up yet, so I watched helplessly from fifty guys back as Danny Pate (Prime Alliance) and Jacob Erker (Schroeder) just rode away. Saturn was happy to have a small break go away so early; it meant that they could feather the gap all day and have an easier time bringing them back at the end. Would have been nice to have a 7UP/Maxxis guy there to increase the pressure on Saturn. So we just rode behind the Saturn train for three hours as they held the gap at around two minutes.
It was a beautiful course reminiscent of the defunct Tour of Willamette BLM (Bureau of Land Management) roads. A steady drizzle kept the roads slick but the sun was out at the same time, and a strong wind was straight head or tail for virtually the whole race. With such a wind it was unlikely that any team(s) would try to come over the top of the Saturn train in an effort to split the race up. More crosswind would have brought that on.
To give you an idea of how confident and strong O'Neill and Horner were, they stopped to relieve themselves near the summit of a climb that their teammates were driving a fairly hard pace over, a tempo that had quite a few riders on redline. They took their time and still caught back on before the descent. Now we were doing 45mph /70kph in a cautious single file line, a cold wind helping to evaporate our soaked clothing. Over treacherous metal cattle guards and tight 25mph corners we descended. There was constant pressure on my right from an eager Webcor rider and while I'd prefer we all stay single file it's not much of a bother.
Chann McRae (Schroeder) and I had a brief discussion about the effectiveness of just two men in the break as far as putting pressure on Saturn. While I knew that hard attacking over the next hills and any crosswinds would spark it up and perhaps lose a couple Saturn domestiques, I had to admit that we weren't up to it. Going through the feed zone some newbie assistant must have just closed her eyes and held a mussette at arms length, clocking me hard on the right bicep. Just about took me down, and moments later the same woman caused a crash that brought down our Brice Jones temporarily. We were now cruising at 60kph with a strong tailwind, and still the Pate/Erker duo managed to maintain over a minute lead. Pate wasn't World U23 Time Trial Champ for nothing!
There was a constant battle for the last Saturn guy's wheel (usually Horner) and each team tried to line it up but the closer we got to the turn into Fort Ord (15km to go) the fight got to such a fever pitch that whole teams couldn't stay together. Hayden (Godfrey) took my excess baggage and got me onto Horner's wheel turning into the military reservation, and I felt great for the first time this year. On the main climb towards the racetrack Glen Mitchell (Navigators) came by and told me he was going. Perhaps my tire was already going flat or I just didn't have the legs I'd thought I had, but when he went I couldn't stay with him. Over the top it was down to a select group of about eight guys, and I did manage to stay in there. Entering the circuit Mitchell was caught but now I knew that my rear tire had gone very soft. Just before the first wide and wet downhill sweeper I overheard a Prime guy saying "go, Decanio, go!".
Matt went and there was no Saturn response. I think they were willing to see him take the stage since he was down on GC and the triumvirate just wanted to stay safe on the slick two laps of the racetrack. I knew I had to go immediately but when I stood up to go with Matt, the rear tire was so squishy I sat right down and started thinking about whether to change it or not. I decided to just protect my GC position and try to ride it out. It squished and wobbled under me on the two climbs but held just enough air to get me to the finish in the main bunch. It is a real bummer since I did feel pretty darn good today. I'm the unlucky one: we've had six to eight guys racing about 20 races this month and we've had just four flats, and I've had three of them. One at Solano that took me out of the winning break, one on the final climb up Oak Glen at Redlands, and now just at the finish of Sea Otter. Ah well.
Congratulations to the whole Saturn team for their strong defense; it was a sight to see. Suggestion to US race promoters: why don't we try to emulate the shorter Euro stage races and put the time trial last? If we had raced this road race course as stage 1 it would have had some big fireworks and excitement. As it was, it was eight guys riding the front all day.
This month has been fun. Solano provided one of the toughest and most beautiful point to point road races in the USA while Redlands came off without a hitch and introduced a cool new stage that I was lucky and happy to win. Both of those races are volunteer and yet very well organized. I'm really looking forward to Georgia, Minnesota, Beauce, and the International (Tour de Toona), all races with top organization, courses, and prizemoney.
Now for a rejuvenating nine days with Dawn, Doberman, and Bird. Training will be light since all the hay is in the barn now, as Corbett says. Until Georgia, then!
Email John at jlieswyn@cyclingnews.com