Recently on Cyclingnews.com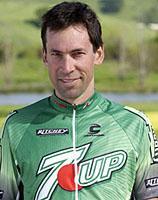 John Lieswyn
Photo: © 7Up/Maxxis
The John Lieswyn Diary
A pro racer who now mostly concentrates on the US domestic scene, John Lieswyn is one of Cyclingnews' most popular and sometimes controversial diarists. He has been racing since 1985 and a Cyclingnews diarist since 1999. John likes both criteriums and longer road races, and seems to particularly like it when the going is hard. He has raced in the Regio Tour, Peace Race, Tour of Poland, Vuelta a Guatemala, Tooheys GP and Commonwealth Bank Classic with success, as well as winning stages in the Sun Tour, Killington and Superweek. In 2003, he is once again riding for 7Up, this year co-sponsored by tyre maker Maxxis.
Sea Otter 2003, part 2: "Green light Tom." Oh-oh.
Stage 3 (or is it stage 2?) - April 11: Circuit race, Laguna Seca, 40 km/60 km
In the interests of having a harder stage race that ostensibly met the expectations of the UCI (who cares about UCI over here anyway?) the organizers subbed in the traditional Laguna Seca circuit in place of the planned Santa Cruz Criterium. So instead of having a stage where we could really mix it up it's to be another Saturn triumvirate special. Nobody must have told them that a criterium can be as hard or harder than a hilly circuit, especially when the circuit total distance is only 60km.
Enough whining on that. For the first couple laps I laid back to assess team strategies and my own level of strength. Apparently Prime Alliance wasn't giving up without a fight and continued to launch attacks. I wasn't worried until halfway through the race when Creed (Prime) and Danielson (Saturn) were the sole survivors of a larger break, and I moved up to Horner's wheel in time to hear him saying into his radio "Green light, Tom". Oh-oh.
The Saturn train on the front slowed way down and I immediately jumped hard on the hill. Legs feeling good today, I made good progress but just missed latching on to the break over the top. Pretty blown from the effort, I just tucked in for the 50mph corkscrew descent. After that I wasn't on my terrain (I'm pretty bad on the flats) and couldn't close the last 100m to Creed and Danielson. After a few hundred meters I shouted into my radio for Brice or Doug to go across. Either my radio wasn't working or they just couldn't do it. Nobody else tried either and the field went wide (slowed down sharply).
Creed and Danielson, who had figured the game was up, gave it another poke and found their gap growing quickly. Within a lap they were back up to a minute lead. On the final lap I entertained the faint hope that if we went really fast and the two ahead started messing around looking at each other that we might catch them, giving Greg a shot at the sprint for the stage win. I attacked first from the bottom of the climb, Zabriskie came by and I jumped on him. When he sat up, O'Neill came by hard and I jumped on him too. The field was strung out with huge gaps as we crested the hill but I hadn't been dropped. O'Neill turned around, saw me gasping like a fish out of water, all red faced, and said "Breathe, man!" Wise Guy! Like I wasn't trying to. I had some dark thoughts then, and wondered if he was so comfy why he didn't just keep going and drop me. We came within 30 seconds but not really that close. Once again we didn't quite get it together for Greg and he had to come from ten guys back in the sprint for the last podium spot. Creed took a well deserved stage victory.
After my last bit about USADA (inspired by the recent news about Moninger's suspension) I was ironically drawn for random full screen drug test. We made a quick stop for photos and handshakes over at the Cannondale booth and headed back on Monterey-Salinas Highway 68. It's a four-lane freeway at each city end, and two lanes for the rural middle section. It's a constant stream of high-speed traffic, and not the most pleasant ride around. In my mind I could see a high speed rail bringing the low wage service workers from the cheap Salinas housing in to work in Monterey, thereby alleviating much of the traffic congestion and pollution.
For tomorrow's road race we'll skip the ride to the start and drive in. After all, it is 165km. It's my last chance for a hard workout before the Tour of Georgia, my first big goal for 2003. I've two options: ride aggressively for training and the outside chance of success, or sit back for the fireworks over the final climb at 8km to go. I can hang tough and possibly do some real damage to the other mortals, but it's still only 4th I'd be working my way into. You all probably know what I want to do, eh?
Email John at jlieswyn@cyclingnews.com