The AIS Women's Team Diary 2003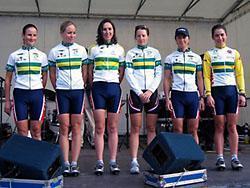 The team at Fleche Wallonne
Photo: © James Victor
Welcome to one of our more unusual diaries, with entries from the various members of the Australian Institute of Sport's Women's team as they conduct their European campaign.
With rising stars such as Oenone Wood and established power riders like Olivia Gollan, the team has been making a strong mark on the European scene this season. Under the management and coaching of James Victor that success looks set to continue for the year.
World track championships, Germany, July 30-August 3, 2003
Part 1: We're ready
Katie Mactier and Alison Wright are now preparing for Track World Championships with the rest of the Australian National team. Former National Road Champion, Mactier, is new to track racing this year, but has already experienced success, winning the Nationals Pursuit Championships in April of this year before heading of the US to race on the road with the Saturn team. Wright on the other hand, has a lot of experience on the track and is bound to be teaching Mactier a thing or two as they go along. Now riding for the Italian Roadrunner Guerciotti professional road team, Wright has spent many years racing with the Australian team both on the road and the track. In 1988 she got a silver medal in the pursuit at the Junior World Track championships and since then has represented Australia in three World Road Championships and two World Track Championships. From their training camp in Germany Wright and Mactier tell of their preparation before the World's.
Katie Mactier in action at the Australian titles
Photo: © Tom Balks

We are here in Buttgen a small semi-rural town on the outskirts of Düsseldorf, Germany. The Aussies have been using the Buttgen track as their base for the last 20 years, along with Jocky (head mechanic) who has not skipped a year and has witnessed the track program develop into the number one track cycling nation in the world.
We arrived here on July 7 with 20 other athletes, including sprinters and enduro riders, to make what we believe will be a team that can surpass the awesome achievements of last year.
Bringing together some very diverse personalities and sometimes butting heads, Michael Flynn does the amazing but not enviable job of managing the team. For what it's worth the 'peace pipe' has not been required to date, as Flynny prefers alternative tactics such as a round of mini golf - or a return airfare back to Australia.
As I'm sure you can imagine from our description of Buttgen, there is not a lot to do here in-between our track sessions. But we are an imaginative bunch and have managed to fill our spare time with dips at the local pool, putt-putt golf challenges, after-dinner Pictionary sessions, and of course long afternoons in front of Eurosport watching the Tour de France.
Alison Wright in road mode
Photo: © Tom Balks

But please don't be fooled into thinking that we are left with an abundance of time. Macca (Ian McKenzie, Track Endurance Coach) and Marv (Martin Barras, Head Coach) have us training twice a day most days, so the hours in between are usually spent lying on our bed with our legs up on the wall trying to recover to be in time for the next day's grueling session. In saying that, this seems like an appropriate time to introduce our masseurs/chiropractors Yvie Lees and Marg Barry. With 22 athletes here they've got a lot on their hands, but still manage to give us all recovery rubs when we need them and fix any aches and pains.
The Buttgen velodrome is fairly renowned for having steep banks. It's 250m with 47 degrees banks are often quite daunting for newcomers. Luckily, Katie was forewarned after hearing about Ali's incident back in 2001. It was Alison's first ever track training session with the senior Aussie track team. Needless to say she was a bit nervous, wanting to make a good impression. After her first turn, she swung up going too slowly, and immediately slid straight back down, T-boning and concussing Luke Roberts yet coming off unscathed herself, apart from a much-bruised ego. To date Katie has not caused such an incident, however with a week to go until World's there is still time!
The countdown is on, only seven days until the start of the championships, and the atmosphere is becoming more tense and exciting as the days go by. The velodrome and dining hall is also being shared by the Dutch team, including reigning World Champ Leontien Van-Moorsel and also the Polish team. Although it's a friendly atmosphere, using the same facilities as your competition just boots everyone's arousal level up a little bit more!
On the whole, we are looking forward to yet another successful World Championships. With the level of coaching and management, Australia is on the forefront of innovative ways to be the best. Providing everyone is healthy and in one piece there is no reason why we can't go to Stuttgart and do some damage.