An interview with Deirdre Demet-Barry
Fly Like a Butterfly
By Phil Marques
Deirdre "Dede" Demet-Barry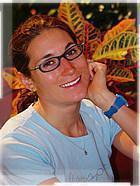 Photo: © Phil Marques
Born: October 8, 1972
Place of birth: Milwaukee, Wisconsin
Lives: Boulder, CO
Marital status: married to US Postal rider Michael Barry
Height: 5ft 8 3/4in (1.75m)
Weight: 137lb (61.6kg
Max HR: 180
Resting HR: 38
Watts/kg: "Around 5 watts/kg when I am fit
Favourite movie: "No favourite, but I love movies of all types
Favourite magazine/book: "I read mostly non-fiction. I like to read about people, places, history, I love to read the Sunday New York Times. Vanity Fair has some interesting features usually.
Favourite vacation spot: I like to explore new places all the time
Favourite music: Techno and classical, but I appreciate just about every type.
Favourite food: I love to cook and I make muffins like every other day. Michael and I do a lot of cooking together.
Two years ago, during the HP Women's Challenge, then 27 year old Deirdre Demet announced that her retirement from cycling would come at the end of the year. Many were surprised that the former junior road world champion would hang up her cleats at such a young age, and all the tell-tale signs pointed to burnout. For Dede (as almost everybody calls her), racing was no longer fun, and she was longing for a change in her life.
Being passed over for a spot on the US Olympic teams on both the Atlanta and Sydney teams made the decision that much easier. And just when it seemed her final season was about to go out in high style with Dede helping team-mate Nicole Reinhart win the largest purse in women's cycling in Arlington, Massachusetts, tragedy struck. On a fateful Sunday in September 2000, Reinhart was killed in a freak accident on the final lap when she lost control of her bike and hit a tree. Dede would eventually recover and go on to an impressive seventh in the World Championships road race, the best showing of the US team on the day, which also included the US Olympic Team.
I caught up with Dede after the Liberty Classic in Philadelphia to ask her to share some perspectives on her career, her comeback, and the two years in between some might call a Michael Jordan working retirement. You can take the racer out of cycling, but you can't take the cycling out of the racer.
Looking for a quiet place to chat, we headed for the lobby of the five-star Franklin Wyndham Plaza Hotel. Mistake. After greeting Dede in the lobby, I turned around to find a vampire confronting me - the Transylvania type, staring at both Dede and me in a rather eerie way, complete with fanged canines, a whitish complexion, oiled-back hair, and black cape. I said that it seemed to be a little early for Halloween, but this guy was probably accustomed to heckling, and it didn't phase him despite the sun streaming through the glass ceiling. He started to talk to us in a rather aggressive way. I wasn't listening to what he said mostly because I couldn't get past the get-up, and much like in a race, Dede made the first move and asked the vampire to leave us alone. Saved me the effort. I admit it wasn't very chivalrous of me to let a woman take care of the monster, but I was never one to look under the bed as a child when I went to sleep and heard a noise.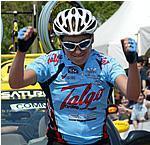 That Montreal comeback moment
Photo: © Jon Devich
When I first saw Dede, I thought she looked a lot different than what I remembered from all the photos I had of her back when she was racing in the late 90's. For one thing, she looked taller, and a bit thinner. But being a photographer, I know that photos can add the proverbial 10 pounds. Of course, she won't have actually grown in the last few years but she definitely looked slimmer, not something one would usually expect to see in a recently 'retired' pro cyclist. Most male European pros are almost unrecognisable within a year of hanging up their cleats - their faces balloon out to, well, the shape of more normal looking people of their age.
But the woman before me was ultra-fit, as I should have expected from someone fresh off a World Cup win in Montreal that most people would have considered as likely as Pantani winning the Tour again. Her hair was pulled back in a conservative way, and her academic librarian-like glasses made her look a bit on the innocent side. She wore a pastel blue T-shirt embroidered with the logo of Italian scooter maker Vespa, the sort of thing you might find on a lot of Parisian teens at a Britney Spears concert. It was a nice clash of fashion statements, albeit a confusing one. Which one did I have in front of me - the conservative virgin-until-marriage librarian, or the funky teen doing a Days Go By techno-handwave club dance move like the beret girl in the Mitsubishi commercial? Our limited time, and my inability to find a quick parking space would leave this enigma unanswered.
What I did find was a very down-to-earth woman, who certainly doesn't eat, breathe, and live her life around bike racing, at least not anymore. The un-retired - for lack of a better word - Dede was a woman I didn't see in the TGIFriday's poster that every young male racer in the US had tacked to his bedroom wall at one time or another. To that she deflected the innuendo with grace as a married woman would be expected to do. "I was on the placemats in all the TGIFridays across the country. I rode for the team for two years."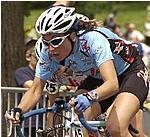 Powering at First Union
Photo: © Rob Karman
"I've been racing since I was 14 - I didn't race a lot when I was really young. I was on the national team and junior worlds. I quit speed skating when I was 19," she said in what I thought was a rather terse synopsis of a five year period in which many considered Dede the best junior female racer the US ever produced. In fact, she managed the Junior World road championship title in 1989, the same year she rode for 7-Eleven. That was back in the day when the 7-Eleven dynasty only supported a few elite junior riders outside of the flagship pro men's team. Wearing that jersey as an amateur instilled abject fear in opponents.
Currently studying at the University of Colorado, she has changed her major from biology to international affairs and French. "It's a mixture of economics, geography, and political science." She has one more year of college before she completes her undergraduate degree, having already finished two years at Marquette and Colorado College.
When asked about her premature retirement, she looks down momentarily, and reminisces: "It was the phase that I was at in my life. I wanted to go back to school. Honestly, it was just where I was at. I spent six years on Saturn. It was a great experience, but I was going back to the same races year after year, and I wanted to learn new things."
How does she explain the recent success? Coming out of retirement to win a World Cup against the likes of Lyne Bessette and the Machine from Lachine herself, Geneviève Jeanson, in their own backyard is almost unheard of these days, especially when you consider her new Mariposa bike didn't arrive until the day before, and she was racing with the small, underdog Talgo team.
"Well, I learned a lot with Allen Lim. I ride with a Power Tap all the time. He's a physiologist at the University of Colorado. He's been a great resource physiologically. He's real knowledgeable and easy-going. I feel like I've learned a lot of new things from him. He's helped out my husband. He also taught a class I took at the University of Colorado last Fall. He's very much scientific-minded. " Although the recent data acquired from the Power Tap is rendered somewhat moot because she concedes she had no baseline numbers to compare to from her racing years with Saturn. "None of the power equipment companies were a sponsor, so we couldn't use them."
Breathe less oxygen, go faster
For an endurance athlete living at altitude in Boulder, Colorado - the mecca of many US pros - the lower concentration of oxygen is going to take away some power. "Less from an endurance athlete than a strength athlete," noted Demet. "I train with a Power Tap all the time now, and I know I can get a higher wattage at sea level than at altitude," she said. "I spent a couple weeks in an oxygen tent. Colorado Altitude is sponsoring us [her and husband Michael]. It's big, it covers our whole queen-size bed."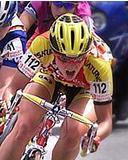 Riding for Saturn in 2000
Photo: © HP
She then expounded a bit on the technical aspects of what's more accurately known as a hypoxic tent. "It basically sucks oxygen out of the air. The normal O2 in the air is like 21.9 percent...so it brings it down." When asked about any dangers of sleeping in an oxygen-deprived environment, she was quick to add, "Well, if you have it on the wrong setting then yeah there's a danger. But I've been taught by the people at Colorado Altitude. You can bring it up to simulate over 28,000 feet." Smiling, she recounted a recent dare. "I had a friend who stopped over one day and was like, 'Hey Dede, let's try to take it up as high as it will go. I was like, 'No, I don't think I want to have a headache all day.'"
Quick to discount that it's all about the oxygen, Demet acknowledged, "It's interesting because when I said to some people at Montreal that I was sleeping in an altitude tent, they were like, 'Oh, that's why she's going so good.' But that's not necessarily the key to my success. The big thing is I'm fresh and I have a new perspective. I've had a break from travelling and racing. I do a lot of new things for training that I've never done before. I do a lot of running in the mountains and skiing. I just love being outdoors - running, hiking... it's pretty spiritual for me. When I'm in school, those are my hobbies. It's been really good for me to have change of pace - I'm having fun with it. The biggest reason why I'm racing really well these past weeks is because I'm just having fun with it."
So much fun, in fact, she approached Talgo to race for them in Montreal, not the other way around, as some might think. "I knew I was going to be out here [in Philadelphia] with Michael, so that's why I wanted to do these races. I might do both Nationals [time trial and the road race], we'll see. But I just signed with a new team and will be racing the Tour Feminin. [the Grand Boucle]." That team turned out to be T-mobile, a deal that was announced a few days after we spoke.
In a moment of reflection, Demet points to her youth as harboring her fondest recollections in cycling. "I think my best memories come from a kid when I went to the velodrome in Kenosha [Wisconsin]. I use to go out there with my dad and race there on Tuesday and Friday nights when I was a kid. We'd go for burgers afterwards."
When asked about her specific training now, other than using a power meter and sleeping in a MIR space station capsule, she said she trained a lot with her husband and his US Postal team-mate Christian van deVelde. "Before Montreal I rode with those guys, and it was good for me." Evidently.
Away from riding, her downtime these days is spent in a combination of cooking, reading, and going to the movies. She's even taking two internet courses - a geography and a science course. "I'm doing a little bit of research for my honor's thesis next year. I'm probably going to do a cost-benefit analysis of whether or not Switzerland should join the EU [European Union] - kind of from the cultural perspective, a cultural-economic perspective."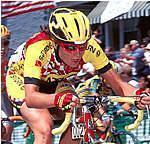 Manayunk, 2000
Photo: © Jonathan McElvery
"I also bake a lot of bread and muffins. I like to cook a lot. That's a big hobby of mine, and hang out with Michael." As for pets and other things that crawl, the 29 year old was confident in her answer. "We'd love to have a dog. I think the dog and the kids are going to come at the same time," she says with a laugh. "For sure, I'd love to have kids. But right now we can't do it because of our lifestyle."
Goals
The Olympic torch burns somewhere within Demet, and it would be hard to see her making a comeback without that being on the 'to do' list of races down the road. "Athens - it would be neat. It's still along way away. Honestly, I'm just taking it one step at a time. I'm just living in the present. Things can change pretty fast. I don't know where I'll be two and half years from now. It would be a really neat experience to do the Olympics for sure."
The state of women's cycling is another subject Dede is passionate about. "You know a lot of the women complain that there's not enough money. But one gripe I have is a lot of the women are scared to race. Yesterday's race [Liberty Classic in Philadelphia] was another good example of a race where there weren't too many attacks. They were just waiting to get dropped on the [17 percent grade Manayunk] Wall. With Saturn's dominance I think a lot of teams feel defeated before the race ever starts. And that kind of bothers me."
Surely, though, there's a difference in fitness between the Saturn pros and the de facto semi-pro lifestyle of most of the women's peloton. "It is a matter of fitness, but you get fitness by riding aggressively, not by sitting in the peloton and getting dropped. It's real easy for people to say 'we don't have the funding; we don't have the big budget.' You don't need a big budget to do great things. It would be neat if more women tried to take risks - you might fail 20 times, but you also might succeed. They don't put on a good show. Women complain, 'Oh we don't have as much prize money,' but for one thing there's not as much depth in women's cycling as men's. The biggest thing that has changed in women's racing since I started racing is the level is so much higher nationally, but internationally, it's a lot higher."
Demet cites an interesting example, given the subsequent announcement of her new squad. "This new T-Mobile team is a really good example of it. USA Cycling is finally stepping up to the plate and providing support for some riders." She liked the idea so much, she joined the team.
Remembering Nicole
Looking back, the death of Nicole Reinhart was one of the significant moments in Demet's life. I asked her just how important that awful day had been.
"It's hard to believe it's a reality," replied Demet, "the whole experience was surreal. I remember everything about that weekend so vividly. I remember riding with Nicole the morning of the race. She planned all these trips with her boyfriend. She was so excited. She just signed her contract with Saturn [for a reported $40,000 for 2 years]. Going for that $250,000 prize, that was her day.
"That day, it was hectic, but we were totally in control. I never felt stressed. Everything was on target until that last lap. Everything from there is pretty crazy. I stopped right away. It's pretty hard to look back on because on one hand I think it's beautiful that she was doing what she loved when she died, but then on the other hand, she had so much ahead of her, so much ability. It's hard not to feel that she missed out on some experiences. She touched so many people in her life. After she died....the biggest thing I take from her is her smile. She was really positive about things. That's what I take with me.
"Her parents are such good people. It was so neat seeing her parents on the podium yesterday. Her dad was leading us in prayer at the hospital. They have such a great perspective. It's got to be so hard for them. I can't imagine losing a child.
"It was a freak accident. It was a reminder of that you never know how long you are going to be here and you need to live every day to the fullest. And I think that's what Nicole did. That's why when you talk about the Olympics - you realize that you just have to take every day - it's a greater priority to enjoy each day than go to the Olympics. I love being able to go to school and learn, being able to ride my bike each day, to spend time outdoors in nature. I feel fortunate to have Michael in my life. He's an inspiration to me in every way. He's my best friend.
"We're both going to Spain. We have an apartment there. I was in school and he was racing a lot in Europe. We're both experiencing such great things right now."
Now and tomorrow
Returning to the present and future, Dede sees herself as a road racer first and foremost and isn't likely to repeat her junior experiences on the track. "I raced [track] as a junior - it was pretty low key. I did junior world pursuit one year and placed fourth. For some reason I was magnetized to the road. I just like being on the road, I like being in the mountains. You don't see too many new things on a velodrome. Part of the thing about being on the road is you see new things all the time."
As a road cyclist, Demet will no doubt find herself again racing against Team RONA's young star Geneviève Jeanson, a rider whom she already has a great deal of respect. "I raced against her in the Tour de Snowy in 2000. I think she's one of the most talented riders in the world. She has a good head on her shoulders and from what I understand is very hard working."
Demet's own reputation for hard work means that it hasn't taken long for sponsors, some old, some new, to get behind her. The Mariposa bike is a new feature, though. "Michael's dad and his buddy Tom Hinton made the bike for me, my Mariposa. It's steel, Reynolds. Mariposa means butterfly in Spanish. Campy parts. Talgo gave me the components. I've had a lot of support. Pearl Izumi has been really supportive. Oakley has been awesome - they've supported me basically my whole cycling career - I'm pretty fortunate in that sense. They've been super good to me."
That Campy group must seem like a great investment to Talgo after Demet rode it to the Montreal win and the First Union podium. Sadly for Talgo, Demet won't be staying with them, though she speaks highly of the squad. "I only made a commitment to ride this week with them [Talgo]. The girls on the team are great. The reason I came here was because I was going to be up here with Michael anyway. I thought I could be fit for Montreal and maybe help Sue Palmer."
The next stops on the schedule will be US Nationals, then "I'll do the Tour Feminin. And then, possibly the World Cup in Plouay, France. This will allow me to still go to school. So it's like a perfect opportunity to me. I'll be stationed in Colorado, but with Michael I'll be in Europe. And then at the end of August I'll go back to school full time. I have one year left, but I think I want to continue on."
And the Worlds in Zolder? "I don't know how that all works with selections... it would be cool to race there (Zolder). It fits into a good time slot with me. I don't even know how all that stuff works, but hopefully I'll get to do it."
It's clear that her two-year break has yielded a rejuvenated Dede Demet-Barry. She's fit, focused and having fun both in racing and in life beyond the bike. Is she happier than five years ago?
"I'm totally happy, my life has changed a lot."
The clock showed we were well past our schedule and it was time for Dede to catch the shuttle to take her and her husband out to Philadelphia International. "I'm wasted today. It's been a rolling week. It's been a chance to see a lot of people I haven't seen in a while."
And we're sure to see more of Dede.