An interview with Fredrik Modin
Sweden's newest (and lightest) star
By Gabriella Ekström, cyclingnews.com correspondent
Fredrik Modin

Photo: © Mälarenergi
Born: May 4, 1980
Place of Birth: Ludvika, Sweden
Lives: Ludvika, Sweden
Height: 1.70 m
Weight: 52 kg
Teams: Mälarenergi (2001-)
Major results
2002
1st stage Cinturón Ciclista Internacional a Mallorca
2nd stage Postgirot Open
5th stage Postgirot Open
3rd Postgirot Open general classification
Winner U23 competition Postgirot Open
2001
10th Vuelta Alicante
13th Stage 4 Skövde-Huskvarna Postgirot Open
4th Skara elite GP
7th Hjälmaren runt
10th Stage 3 Ringerike
1998
3rd Junior WC MTB
2rd World cup race MTB
1997
1st World cup race Junior MTB
3rd Junior EC MTB
During the Postgirot Open, Sweden's biggest cycling race, a new star emerged in the sky. Young, ambitious and well spoken is a good way to describe Fredrik Modin from Ludvika. The 52 kg climber's results in the Postgirot Open-Tour of Sweden exceeded everyone's ambitions, his own included.
His whole team could sense that something was going on when he only lost 1'16 to the bigger guys in the first day's time trial. He then struggled and survived in the strong winds and in the hard pace seen in the first two road stages. Then on stage three, he made his move. On an inventive circuit in Skövde, he launched his attack just as the front riders reached the climb of Billingen. He created a front group together with the more experienced riders from division I and II teams. He climbed along with them with ease and sat comfortably in the group all the way to the finish. He climbed 47 places in the general classification, finishing fifth behind René Haselbacher (Gerolsteiner) who won the stage thanks to Jacob Piil's (CSC-Tiscali) over-ambitious celebration of his to-be stage win.
Modin's ambitions before the race had been to place top ten in some stage, and the team's ambition had been to get a top ten placing in total, and maybe the white jersey. A realistic goal for division III Team Mälarenergi. However with Modin's success in stage three, he set up higher goals. He was now top ten in the G.C and had a fifth placing in a stage. He wanted at least another top five placing on stage four, with its cruel finish. The course went over the climb of Klevaliden four times, a climb that has been compared to Mur de Huy by Erik Dekker himself. Could he possibly climb even higher in the total rankings?
As expected, a break went early that day, and Modin had a team-mate, Fredrik Johansson in it. The rest of the team could concentrate on preparing Modin for the climbs. The break was caught as they entered the finishing laps, and again Modin climbed with ease. With envy in their voices, his teammates joked about it after the stage. About how his mouth had hardly been open while they had been struggling, punishing their bikes up and over the climb. This was what he had been training for, and this was his one and only chance to prove himself on home soil in Sweden, a country not known for its high mountains.
As the riders started to disappear out the back of the group, the big favourites had already come to acknowledge this young rider. René Haselbacher could not follow the pace set up by Modin, Colombian rider Ardila and the race leader to be, Kurt Asle Arvesen. Neither could Marcus Ljungqvist, who was a great favourite for the race before the start, just coming from his overall win in Tour of Luxembourg. With a few hundred metres to go, Ardila attacked, and despite the frantic cheers from the Swedish spectators, he was not to be caught.
"At first, the first minutes after I finished, I was upset," said Modin and hugged his team manager Patrick Serra. "I always want to win, even if I didn't dream about being here at the front of the race before it started."
After a few minutes, at the press conference, he had settled down and was happy to tell the press that he was pleased, very pleased indeed. After a nervous wait, when seconds had been counted, the result was released. Modin was third in the general classification, 33 seconds after Kurt Asle Arvesen and just six seconds behind René 'Hasi' Haselbacher. Suddenly he was a household name, and people from everywhere wanted to congratulate and talk to the new star of Swedish cycling.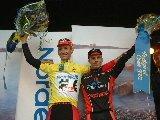 Photo: © Mälarenergi
His team, Mälarenergi, suddenly had a lot more to deal with than what they had expected. They did get the blue combativity jersey, thanks to all the attacks by Fredrik Johansson, they took the lead in the team classification, ahead of teams like Rabobank, Index-Alexia and Tacconi Sport, and they also got the white youth jersey. To quote the man of the day, "I hope it comes in size small!"
Results like these are of course a tremendous success to a division III team with a very limited budget. Until the end they were nervous that they would lose what they had built up, but thanks to hard work and help from the sprinters' teams, the peloton stayed together over the line at stage five, and they were welcomed to the prize ceremony to celebrate their biggest success, both as an amateur team and now as a third division team.
"We have had good results before," said director Serra, "but this is the most outstanding result we have ever got, and it exceeds my wildest expectations. I am very pleased with the whole team and Fredrik might very well be our next superstar in cycling. We are already into discussions with professional teams, and I'm talking division I. It is important that Fredrik ends up in the right team, because with the right team he could go far. He is very modest, and he has set up goals many years in the future, but I think big things will happen much sooner."
"After this we will race abroad and try to find perfect races for Fredrik. Klevaliden is a tough climb, but if it was five times tougher, Fredrik would be five times better."
So from where does this little climber come?
"I started to ride and race MTB when I was 13. In 1999 I got the opportunity to race as a pro for Team Cyclepro. I was third in the European junior championships in 97, and I was third in the junior world championships in 1998. I rode the Nordic Championships as a junior when I was only 15, and I got fourth. Then I had heard that you could do the World Championships if you paid for it yourself. So I went to Germany, and I bought a tent where I could live during the race."
"The results? Oh, I abandoned the race, I couldn't last the distance."
"Anyway, I was supposed to keep riding as a pro mountainbiker, but my team got into economical problems, and I was told in January 2000 that I was without a team. I couldn't afford going to the World Cup races on my own, so I got the idea that I could do some road racing instead."

Photo: © Mälarenergi
"Team Cyclepro spoke to Patrick Serra and he got me a place in VC Cahors in France. After that I came home to go back to mountainbiking, but I crashed in the worlds and broke my thumb. I lost a little of my drive then, and since a part of my rehabilitation was to ride on the road, I started to get in to it more and more. Patrick asked me if I would be interested in riding with him, to see if I would fit in. I was interested, and I tried, and I did fit in. In 2001 I was offered a place in the team."
"Being with Team Mälarenergi has taught me a lot of things I need to know in my chosen career. When I first came to them I didn't know anything about road racing or tactics, no more than what I had seen on TV. I hope the results I have had in this race will open the door to a professional career. The racing style in the professional races suits me better and I am dreaming about the mountain stages in the major races, and I hope that one day in the future I will be there."