Recently on Cyclingnews.com
An interview with Laura Van Gilder
How fast (or far) can I go?
Laura Van Gilder
Age: 37
D.O.B: December 11, 1964
Place of birth: Pocono Pines, PA
Residence: Cresco, PA
Height: 5'2"
Racing weight: 130 pounds
Turned pro: 1992

Major Results (1998 onwards)

2002 - Trek

1st overall, Pro Cycling Tour
1st GC, 1st Stages 1 & 2, Nature Valley Grand Prix
1st GC, 1st Stages 2 & 3, Le Tour du Montréal
1st, Chris Thater Memorial Criterium
1st, San Rafael Criterium
1st, Stages 4 & 5, Sprint Jersey, The International (Tour de 'Toona)
1st, Tour of Somerville
2nd, Univest Circuit Race
3rd, National Criterium Championships
5th, Housatonic Valley Classic
5th, National Road Championships
7th, Rocky Hill Road Race, Sequoia Cycling Classic
7th, Xclerate Twilight Criterium
10th, Stage 3, Solano Bicycle Classic

2001 - Verizon
1st GC, 2nd Stage 1 & 3, Wendy's International Cycling Classic
2nd, US National Criterium Championships
3rd Stage 2, 1st Stage 4, Fitchburg Classic
3rd, Clarendon Cup
3rd, San Rafael Cycling Classic
3rd, Tour of Somerville
3rd, Xcelerate Twilight Criterium
4th, Capital Cup
4th, Stage 2, Solano Bicycle Classic
5th, Chris Thater Memorial Criterium
5th, Housatonic Valley Classic
5th, Visalia Criterium, Sequoia Cycling Classic
6th overall, Pro Cycling Tour
6th Stage 2, 2nd Stage 4, Sea Otter Classic
6th, Stage 4, Cascade Cycling Classic
6th, Timex International Women's Open
7th, Stage 3 & 3rd, Stage 6, Tour de 'Toona

2000 - Schwab
1st, US National Criterium Championships
2nd, La Paz County Park Criterium
2nd, McLane-Pacific Bicycle Classic
2nd, NYC Women's Challenge
3rd overall, USPROTOUR
3rd Stage 2, 6th Stage 4, Wendy's International Cycling Classic
3rd, Clarendon Cup Criterium
3rd, Stage 2, Sea Otter Classic
4th, Syracuse Criterium
5th, BMC Software Criterium
5th, Stage 6, Tour de 'Toona
6th, Capitol Cup Criterium
6th, Visalia Criterium, Sequoia Cycling Classic
7th, Chris Thater Memorial Criterium
8th, Stage 4, Fitchburg-Longsjo Cycling Classic

1999 - Navigators
1st Stage 2, 4th Stage 3, 5th Stage 5, Superweek International Cycling 1st, Tour of Somerville
2nd, BMC Tour of Houston
2nd, Clarendon Cup
4th Stage 4, Fitchburg-Longsjo Classic
4th, Athen's Twilight Criterium
4th, BMC Software Austin Downtown Criterium
5th GC, Wendy's International Cycling Classic
5th Stage 3, 1st Stage 6, Tour de 'Toona
7th, Chris Thater Memorial
8th, Liberty Classic, WC #6
9th, LeFleur Criterium
10th, NYC Women's Challenge
Classic

1998 - Navigators
1st, 89er Criterium
1st, Street Sprints & Brick Criterium, A to Z Classic
2nd GC, Bermuda GP
2nd, Road Race & 3rd, Criterium, Tour LeFleur
2nd, Stage, Fitchburg-Longsjo Classic
5th, Thater Memorial Criterium
7th, Athens Twilight Criterium
7th, Tour of Somerville
19th, Liberty Classic, WC #2, Philadelphia

Personal stuff

Movies: "Arthouse films, Amelie was great."
Music: "Techno before a race, alternative music such as fringe rock and roll off the bike."
Food: "I'm not a health food or organic nut and I don't count calories, but I try and eat as healthily as I can and make sure I eat properly pre and post race. I'm a big ice-cream fan, so if I have a great race, I'll reward myself with a big burger or steak and treat myself to an ice-cream."
Other hobbies: "I have four dogs - Duke, Punkin, Meg and Fred - and my neighbours have four dogs, so I like to spend time with them when I'm home. And I like to clean - I know that sounds ridiculous, but cooking and cleaning are also my hobbies. Before I can sit down and put my feet up, I need to feel that all my chores are done!"
New Saturn signing Laura Van Gilder is fast. So fast in fact that she won this year's Pro Cycling Tour without really trying. And as Anthony Tan discovers, she can also hold her own in an arm wrestle. Now that's talent!
A number of preconceptions enter my mind before I phone Laura Van Gilder.
You see a sprinter's aggression on the bike and straightaway you imagine it is going to be the same off the bike. Maybe it's also got something to do with those photos I saw of her recently, arm-wrestling with Becky Conzelman.
However, what I hear is a calm, softly spoken voice - though not timid in any way - and at the same time, I am both relieved and pleasantly surprised.
First question: "How's the shoulder feeling?"
"It's feeling fine," laughs Van Gilder. "It was all in good fun and for a good cause; we're both built the same and pretty muscular women, so everyone got a hoot out of that in our evening wear!"
"Is that the best you've got?"
Photo: © Michael Tamayo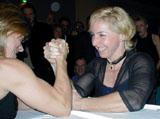 Last weekend's Nicole Reinhart Foundation Dinner Dance was something close to Van Gilder's heart. Reinhart, a former professional with Team Saturn, and Van Gilder lived near one another, racing together for several years before Reinhart was killed in tragic circumstances. "We sort of secretly cheered each other on, even though we were trying to win races against one another," says Van Gilder. "It's still a hard thing to accept thing to accept that she's gone and the circumstances surrounding it."
Something Van Gilder also has trouble understanding is her phenomenal success this season. Consistently winning national level events, including the San Rafael Classic and the overall in the Pro Cycling Tour at 37 years old - the latter event without really trying at first - is no mean feat, and describes her rise as a "breakthrough".
"Physically, I have to say I'm surprised that I managed to make a breakthrough this year with my sprinting and climbing. I kind of thought I was at the peak of my physical capabilities, so it was awesome to have that breakthrough and continue to improve," she says.
Like many athletes who do not originate from the heartland of cycling in Europe, Laura Van Gilder entered the sport of cycling just for kicks. "I only participated in fringe sports, but I never really found my niche." She began riding by participating in fundraising rides for multiple sclerosis - an affliction carried by her mother, and cruised around on a mountain bike, racing occasionally at the sport level.
Wins... a lot
Photo: © Rob Karman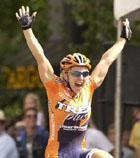 On one ride, she met a guy (who still is her guy, adds Laura). This guy, Rick Ball, was a Cat 2 racer, and knew immediately he was onto a good thing. Rick saw both a kind heart and a potential sprinting superstar.
The latter is exactly what Van Gilder has developed into. In her first season, she went in 70 races, and was successful right away. At 5'2" and 130 pounds, the pocket rocket from Cresco, PA, maintained her success as she galloped through the ranks - quickly moving from a Cat 4, to 3, to 2 - turning professional in 1992 for Navigators, where her ambitions moved in line with her success.
Van Gilder says she has always wanted to win the Pro Cycling Tour. This year, however, she knew it was going to be difficult. Her race schedule conflicted with one of the eight events she was likely to do well in; and with the World Road Championships on a parcours tailor-made for sprinters, the Pro Tour was, on more than one occasion, placed on the backburner.
Explains Van Gilder, "I had to keep racing to get the results in order to be selected, and maybe in the end I wore myself a little thin. Next year, that's going to change."
"We'll talk more [with Saturn Team Manager Giana Roberge] at our training camp in January, but they're really looking at winning the overall in the Pro Tour, as well as topping the National Series again and being the dominant team in the US. Those goals have always been high on my list, so it's a good fit - and with the team they've brought on for next year, I think that's certainly achievable," she says.
In Saturn colours next year
Photo: © Credit

Asked if she envisages any potential conflict with a number of other sprinters on Team Saturn, notably Ina Teutenberg, Van Gilder dismisses the thought, revealing she's in fact excited to be racing with a sprinter the calibre of Teutenberg. Furthermore, Van Gilder rightly mentions the team has always had more than one sprinter - which has never hurt their ability to win before.
So does she consider having a "breakthrough" year at 37 years old a touch odd?
While it was a surprise, Van Gilder says she's not necessarily shocked. She cites Jeannie Longo as inspiration for her continued passion in the sport, and with Mario Cipollini crowned World Champion at age 35, Van Gilder doesn't see why she won't have at least another five good years ahead of her.
"It's inspiring to line up against riders like Jeannie Longo and see her riding people off her wheel at age 43," she says, her tone one of admiration. "It's hard to put a number on it, but I still have a lot of passion cycling and I don't feel like I'm placing my career on hold, so those things aren't dictating my time in the sport."
LVG (far L) with the Reinharts
Photo: © Michael Tamayo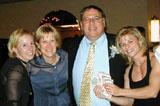 "If I can really focus and stay true to the sport, I believe there's goals out there that I can achieve which initially I didn't think were possible."
You go girl!
Editor's note: Laura Van Gilder will be writing a diary exclusively for Cyclingnews.com in 2003.