An interview with Kimberly Bruckner
Time for a change
Kimberly Bruckner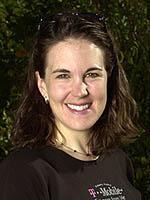 T-Mobile, casual style
Photo: © Casey Gibson
Place of birth: Chicago, Illinois
Lives in: Boulder Colorado since 1994
Teams
2001-2: Saturn
2000: Autotrader.com
1999: Cox Cycling
Selected palmares
2002
1st, Stage 2, Solano Bicycle Classic
2nd, Tour of the Gila
2nd, Sea Otter Classic
3rd, HP Women's Challenge
3rd, Solano Bicycle Classic
5th, Tour de Snowy
2001
1st, Tour de Suisse Féminin & Stage 4 win
1st, Time Trial & road race, US national championships
1st, Road Race
1st, Housatonic Valley Classic
1st, Mountains Classification, Solano Bicycle classic
1st, Tour de Snowy & Stage 6 win
2nd, Tour of the Gila
2nd, Sea Otter Classic
2nd, Redlands Bicycle Classic
2000
3rd, Tour of the Gila & stage 3 win
1999
1st, Tour de Gila & Stages 1 & 2 wins
2nd, Red Zinger & stage 2 win
3rd, Tour of Willamette
Personal info
What was the last movie you saw? Harry Potter and the Sorcerer's Stone. It moved too slowly for me. I think I was in the mood for something with a bit more action.
What are you reading at the moment? "Still Waters" by Jennifer Lauck. It's the second of two books by this author regarding her life. It's amazing one girl's life could be so fraught with bad luck, but inspiring to see how she handled it. My friend Cheynna loaned them to me and I can't put it down.
What CDs are you listening to? Lately, my fix has been Ibiza Euphoria. I love listening to that music while riding.
What are your other interests? Running and hiking in the mountains, having dinner with friends, and Nordic skiing when the weather's too bad to ride.
Favourite ride? Anything heading west from Boulder into the mountains. On a clear day with snow on the mountain tops, there's nothing better.
Favourite cycling food? Dede Demet-Barry introduced me to these great muffins sold at a co-op in Nederland at the end of a ride one time, and now I can't stop going back there for muffins!
2001 US road champion Kimberly Bruckner recently announced her move from the mighty Saturn team to the potentially even more mighty T-Mobile squad. Kimberly talked to Gerard Knapp about the switch, her hopes for the 2003 season and racing against a Lido dancer in the Grand Boucle.
Cyclingnews: Can you explain the transfer process from Saturn to T-Mobile? Saturn claim that they had a signed agreement with you. When did T-Mobile first approach you?
Training for 2003
Photo: © Casey Gibson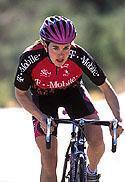 Kim Bruckner: What I signed with Saturn was a "letter of intent", not a contract. These are used to build rosters and are not to be mistaken for the actual formal contracts.
I had been talking with T-Mobile throughout the whole season. I had first talked to them about joining the year before, but after some thought, figured it wasn't the right fit for me at the time. This year was the right time. I knew I had signed the letter too hastily with Saturn as negotiations with T-Mobile continued. I immediately realized my mistake and contacted them within days of signing it. As it turned out, this was a great time for me to switch to T-Mobile. The Saturn women's team has taken a very different direction for the upcoming season.
With only two of the original team members returning, so much has changed and it was a good time for me to try something new. Our group of girls for the 2002 season meant so much to me... we really shared something incredible. Everyone... Judith, Ina, Jessica, Petra, Suzanne, Kim Davidge, Kristy, Cat, and Anna... together we were an incredible team and with leadership from Petra, Anna, and Ina, we achieved the overall World Cup title and #1 team title. None of us will ever forget that nor will our friendships end. We had a great team and the girls are still my closest friends, but it was time for me to move on.
CN: People in US cycling have questioned the combination of USAC and T-Mobile, to create a very strong full trade team. Critics believe the national team should be a development-oriented squad - what are your thoughts?
KB: Who are these critics? I believe T-Mobile and USAC have done a tremendous job focusing on both aspects of elite development and developing athletes for the future. T-Mobile Global is a powerful trade team with the top American talent. The focus of this squad is to develop international caliber athletes capable of winning some of the world's top races. The T-Mobile National team will focus more on bringing up new talent, offering them the opportunity to gain experience through the NRC racing scene with more mature athletes guiding them. They've got the best of both worlds. With the involvement of elite athletes working with the younger girls, it's a better national team situation than just having a team of young, new girls. T-Mobile also has a list of girls they want to bring into the fold at certain events and camps. This will only help to raise the level of domestic women's racing.
CN: Do you believe that the 2003 T-Mobile team has the right combination of experience and youth?
New uniform
Photo: © Casey Gibson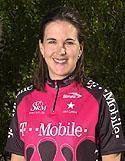 KB: Absolutely. We've got great experienced riders like Dede Demet-Barry and Mari Holden alongside younger champions like Sara Hammer. I think the younger riders will thrive riding with and learning from more experienced girls like these.
CN: Have you set out your program for 2003? Will you be competing in the major stage races in Europe next year? Are these your goals?
KB: Yes, our director has sent us a tentative schedule and goals for the upcoming season. My coach and I are currently working on putting together my schedule for the upcoming season. We've got some of the big European races and American races on the schedule. This team has big goals. Our support is so amazing and with that comes the desire for some great wins. We've got the Women's Challenge in Idaho in June, the women's Tour in France in August, Redlands, Sea Otter, Nationals, and Worlds... we've got big goals this year.
CN: Given T-Mobile's presence in other territories around the world, is a strong showing in Europe equally important as the US scene?
KB: Yes, for sure. Bob Stapleton, who is Vice-Chairman of T-Mobile here in the United States, has put so much heart and soul into this team. He truly wants to see this team reach its potential. And it does make it easier for him to sell German Deutsche Telekom, the parent company, on our program when we are doing well in Europe. Everyone can relate to T-Mobile in Europe with the Deutsche Telekom and Team Telekom connection. People recognize the pink.
CN: At this year's Grand Boucle there was a whole new level of racing introduced for women. The race itself almost seemed cruel by comparison to US races, such as the HP Challenge, which purports to be the toughest women's race in the world. You've done both - what are your thoughts?
Climbing in the Tour de Snowy, 2002
Photo: © Jeff Jones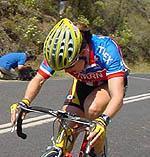 KB: The Grande Boucle was definitely the toughest race I've ever done. Fourteen days, 15 stages, nasty weather, incredibly tough terrain... it was great! Plus, we were competing against the best women in the World... which in turn brings out the best in me as an athlete. My team was so incredible there... everyone worked so hard. We started with 7 riders and ended with 3. That shows you how much the race takes its toll.
But what a time we had! I like that the promoter of the Grande Boucle isn't afraid to put women to the test. We want that. We deserve that. It brings out the best in us as well. Jim Rabdau of the women's challenge in Idaho does the same thing. The big difference in the two races is depth. In the Grande Boucle, every team invited is among the best in the world. So the competition is that much deeper and the organization can provide even tougher courses. Regardless, the Women's Challenge is a great race and one of the best organized races I've ever been to. So it was great news to hear that the Women's Challenge found a new sponsor in ConAgra for 2003. Jim's race is a classic in women's cycling in the United States. We're so lucky to have race directors like that.
CN: Did you feel the European women were on another level? Some of them seemed impervious to cold. Is there anything you can identify?
KB: The thing about female European cyclists that makes the biggest difference is that they've been riding for so long. They have so much more experience than the typical American female cyclist. I was the only American on my team at the Grande Boucle last year, so it was a little intimidating! Petra, Ina, Anna, Cathy... they had all done this race before and knew what it was about. But it doesn't mean that American women can't compete and do well there. Amber Neben (T-Mobile) finished 9th overall in the Grande Boucle... and it was her first time. I ended up 10th overall. Dede Demet-Barry won the Montreal World Cup this year. Mari Holden is a former World Time Trial Champion. It shows that American women can be on the same level. We want to go back to the Grand Boucle this year and shoot for even higher goals. Little by little, we are working towards becoming one of the top countries in the world.
CN: Were you satisfied with the level and standard of doping tests?
Cooma World Cup
Photo: © Tom Balks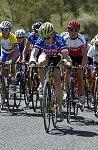 KB: I was disappointed with the irregularity of the doping tests. Some days they tested, others they didn't. The day that Ina won a stage, they didn't test her and she was really disappointed. She wanted to be tested, so that no one would question the validity of her win. Not that they would, she's incredibly strong in her own right. But they should have been testing every day. I hope that changes in the future.
CN: At the same time, the GB had an element of farce with the "Lido dancer" Cynthia Compain being helped on the climbs (although she did tough it out to the finish). How was that handled among the more serious riders? The old "all publicity is good publicity ... "?
KB: I don't believe all publicity is good publicity. I think all the publicity on her, the Lido dancer, took away from the seriousness of the race. Pro men don't just ride the Tour de France just to say they rode it. There's a purpose to everyone being there, whether they are there to win or help their team-mates to stage wins or the overall. It should be the same thing in women's cycling. Yes, it's a great feat just to finish a race like that, but this isn't Ride for the Rockies. It's a serious, tough race and the women take it seriously. We want fans, spectators, and readers to take us seriously. It's difficult to do that when the person getting the most press is the Lido dancer who finishes last every day.
CN: How about Canada in October - is that on the program?
KB: Absolutely. It's one of our top goals. The whole T-Mobile/USAC idea is to work towards winning World titles and Olympic titles. And the fact that it's practically at home this year is an even greater advantage. We're already looking forward to that.
CN: This year: the high point? The low point? Did you take time off the bike for a rest? What kind of training are you doing now?
KB: It's difficult to pinpoint just one high point... there's been many this year. I've been fortunate. I think the biggest one was getting engaged to Chris Baldwin. (Not your reporter!) He rides for Navigators. It's a match made in heaven.
A racing high point that stands out in my mind was when Petra won the New Zealand World Cup. It was one of the toughest races I ever competed in. Everyone was out to beat us. And we were totally exhausted by the end... but Petra still did it. She made it all worth it. Some others were when Petra, Judith, and Ina won stages at the Grande Boucle, and Jessica won Nationals. Low points? Definitely the falling out I had with Saturn at the end of the season. Before Worlds, Saturn refused to give me my time trial bike, even though it was my own personal Javelin frame. Finally, the day before Worlds, their mechanic broke down the bike and brought my frame over to our US National mechanic to build back up with our own group. So I hadn't ridden it at all before the race and had a hard time focusing. That was a really big disappointment for me.
After Worlds, I took four weeks off the bike and stayed busy hiking, running, and skiing. Now I've started up my training again and have a good solid training schedule ahead of me.
CN: Tell us about your background. Where were you born, when, where and why did you into cycling?
With Autotrader.com in 2000
Photo: © HPWC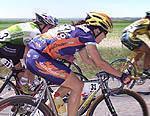 KB: Born in Chicago but raised in Wisconsin near Green Bay. Growing up, my parents would take my brother and me on family vacations and they were always "active" vacations. We were always hiking, camping, rafting... it made Andy and me appreciate being outside and being active. We often vacationed in Colorado, camping just outside Rocky Mountain National Park. So Andy and I always wanted to end up back here. I earned my Bachelor's degree at Valparaiso University, Indiana in International Economics and French. I went straight to graduate school at the University of Denver and earned my master's degree in International Environmental Policy.
Throughout high school and college, I competed in cross-country and triathlon. I was always strongest at the run. When I moved to Boulder after grad school, I kept up the running but certainly not at any professional level. My brother moved to Boulder in 1998 and became a professional triathlete. I really admired him for following his ambitions and goals. And after seeing how much fun he was having with it and the great friends he was making, I decided to give it a try. I stunk at swimming so I started riding more and more. In '98, I competed in my first cycling races around Colorado and then went to the Killington Stage Race at the end of the season and did all right. The following year I competed as a professional duathlete and joined the Cox Cycling team, which was a women's development team. In 2000, that team turned into Autotrader.com. Finally, in 2001, I quit the running/ cycling combination and turned to cycling full-time. I raced with Saturn in 2001 and 2002... and that brings us to the present time and my new team of T-Mobile:)
CN: Do you ever think about life after cycling? Will you stay in the sport?
KB: I have a number of different ideas for what to do after cycling. Before I even got into the sport, I earned my M.A. in International Environmental Policy, so perhaps I'll fall back on that. I've met so many interesting and intriguing people through the sport of cycling though that who knows? Maybe something will come out of that. I never expected to be a professional cyclist, so I don't plan my future too seriously. I can only guess what may come up next.