An interview with Laurent Jalabert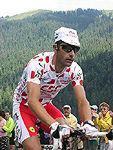 Wearing the KoM jersey in the 2002 edition of his favourite race
Photo: © Russell Standing
Laurent Jalabert
Born: November 30, 1968
Nationality: French
Height: 1.76 m
Weight: 68 kg
Marital Status: Married
Professional since: 1989
Teams: Toshiba (1989-1991), ONCE (1992-2000), CSC-Tiscali (2001-2002)
Selected palmares
2002
1st KOM classification Tour de France
1st Classica San Sebastian
1st Tour du Haut Var
1st Coppa Agostoni
1st Stage Paris-Nice
2001
1st Two stages Tour de France
1st KOM and combativity classifications Tour de France
1st Clasica San Sebastian
2000
1st Tour Mèditerranèen + stage
1st stage Tirreno-Adriatico
1st Setmana Catalana + stage
1st stage Dauphinè Libèrè
1999
1st Setmana Catalana + stage
1st Vuelta al Pais Vasco + 2 stages
1st Tour de Romandie + 3 stages
1st 3 stages Giro d'Italia
1st stage Tour de Suisse

1998
1st Vuelta a Asturias + 2 stages
1st Classique des Alpes
1st 3 stages Tour de Suisse
1st French Road Championship
1997
1st Vuelta a Mallorca + stage
1st Paris-Nice + 2 stages
1st Fléche Wallonne
1st Vuelta a Burgos + stage
1st 2 stages Vuelta a España
1st World Time Trial Championship
1st Milano-Torino
1st Giro di Lombardia
1996
1st Vuelta a la Comunidad Valenciana + stage
1st Paris-Nice + 2 stages
1st G.P. Midi Libre + 2 stages
1st Classique des Alpes
1st Route du Sud
1st 2 stages Vuelta a España
1995
1st Paris-Nice + stage
1st Milano-San Remo
1st Criterium International + 2 stages
1st Fléche Wallonne
1st Volta a Catalunya + 2 stages
1st stage Tour de France
1st Green Jersey classification, Tour de France
1st Vuelta a España + 5 stages
1994
1st 7 stages Vuelta a España
1st stage G.P. Midi Libre
1st stage Volta a Catalunya
1993
1st Vuelta a Mallorca + 2 stages
1st stage Paris-Nice
1st 2 stages Vuelta a España
1st 2 stages Volta a Catalunya
1st Vuelta a la Rioja + 2 stages
1992
1st stage Bicicleta Vasca
1st stage Tour de France
1st Green Jersey classification, Tour de France
1st 3 stages Vuelta a Burgos
1st 3 stages Volta a Catalunya
If a rider of the modern era deserves the over-used tag 'legend', it's Laurent Jalabert. Jalabert has 168 professional victories to his name, including stages of almost every major tour; overall victories in the Vuelta a Espana, Paris-Nice, and Midi Libre, among others; plus Classics such as Flèche Wallonne, Milan-San Remo and San Sebastian.
Jalabert began his career as a sprinter. A serious crash in the Armentières stage of the 1994 Tour de France didn't immediately dampen his taste for shoulder-to-shoulder gladiatorial dashes – he won the Tour de France green jersey the following year – but in the last few years he has reinvented himself as a climber, twice winning the King of the Mountains jersey in the Tour de France. He is therefore only the second rider ever to win both the points and the mountains jerseys, and also only the second to have worn all three major Tour jerseys: yellow, green and polka dots.
Signing up
Photo: © Sirotti

Jalabert's announcement in July that he would retire this year came as a surprise, especially as he'd said just a few days before that he would continue for another year. At the conference announcing his retirement, Jalabert said, "my wish is to stop whilst being a respected and respectable racer." He went on to prove he still had the right stuff by winning another Tour mountains jersey.
Marion Clignet
Photo: © AFP

Marion Clignet, a former world champion on the track and women's Tour points jersey winner, caught up with Laurent Jalabert at the restaurant Le Belge in downtown Toulouse after Jalabert had raced the local annual pro criterium, the GP de Toulouse.
Cyclingnews: Here we are in Toulouse, your last race here, it meant a lot to you to race this criterium in particular, why?
Laurent Jalabert: When I first started racing I was part of the Blagnac racing team run by Georges Gay (now deceased). Mr Gay organised the Grand Prix at the time so I am attached to this race. This time every year I was invited as an amateur to race in the Grand Prix de Toulouse. It meant racing with the pros – wow, my idols! – and it was my first contact with the pro peloton. I've always tried to be present for this race if nothing else to thank those who've helped me along the way... and it is sort of my neighbourhood.
CN: What's your favorite race?
LJ: [with a big grin] The Tour de France.
CN: What race is missing on your resume?
LJ: Winning a road race world title would have been nice but I honestly never had the occasion to do so. The most important race I never won is probably Liege Bastogne Liege. With the form I had all I was missing was a tad of luck, as I was twice second.
CN: Did you ever imagine as a youngster that one day you'd wear a polka-dotted jersey?
LJ: No, never. It was an evolution, a transformation in my life, and in my career. When I was younger I had more punch, I didn't need to train much to do well – things seemed easy. Before I became pro I never trained in the mountains, I had never ridden the 'big climbs'. When I first turned pro, I didn't really like these long mountain races but everything can be appreciated over time. With time I also eventually became wary of group sprints, especially after losing my teeth in the Tour finish in Armentière.
Podium resident
Photo: © Sirotti
After that crash I progressed a lot, I changed my training methods, worked harder. The mountain jersey wasn't destined for me but over the years, I've learned how to manage my efforts differently, I've changed my habits and really become pro, I got a bit leaner and all of this helped . I evolved, progressed... I believe that where there's a will there's a way.
CN: What's your biggest frustration in pro cycling today?
LJ: Probably when racing, being at my best and not being able to win a certain race because I was marked or raced.
CN: You are more popular than ever these days. How do you handle that?
LJ: It's ok – takes a bit of organisation. The public is nice and I like people so that makes it easy... [it] takes time.
CN: Are there big differences between la ONCE and CSC-Tiscali?
LJ: At la ONCE the rider was a bit of a machine – you sort of lost your personality because decisions were made for you and you were there to pedal. At CSC-Tiscali I have more freedom, more responsibility. I answer the press directly where as at la ONCE they said yes or no to the interviews.
CN: What are the biggest changes you've seen in cycling.
LJ: Big changes in equipment. I've witnessed disc wheels, automatic [clipless] pedals, 650 wheels, brakes without the cables, and the roads are a lot smoother. They used to be rough whereas now, especially on the climbs they're velour. More roundabouts as well, and the mentality has changed. A bit too serious now as compared to before, people laugh less, or maybe I'm getting old and I find it too serious. Cycling took a hit but it's taking off again. The frontiers have really opened up. It was once a European sport but now there are a lot more Eastern bloc countries, Americans, Aussies, and so on. It's nice to see.
CN: If you weren't watching a bike race what would you be watching?
LJ: I like soccer, rugby and I really like Ferrari even if they're above and beyond. I like all sports and would love to see all of these live. Mechanical sports fascinate me, I'd love to pilot though I doubt I'd be any good as a racer, I don't have the qualities for it though I like to drive fast!
CN: Next year?
LJ: A change, a change that I have to navigate, to orient myself properly. The most important thing is my family, but I'm sure I'll be close to the cycling community as well. Why not be directeur sportif for a women's team? I like women's sports, I have two daughters and I encourage them to participate in sports, it's a good school. As for women's cycling, I regret that the media considers it less important; the effort is the same. It's a shame that the media separates the two disciplines – I enjoy women's sports as well
CN: If you had a few questions to ask Laurent Jalabert?
LJ: In my life, I don't really ask myself too many questions about what I'm doing. I decide, I go, maybe by instinct but I move forward and so far... it seems to be working
CN: At Zolder you're riding the TT and road?
LJ: Just the road. I've taken too many thrashings in time trials lately and there are other French guys more motivated than me, so I'd rather just concentrate on the road.
CN: Are there any new Jajas or Armstrongs in the peloton?
LJ: There are a lot of newcomers that have the quality, if they're well-handled, well-managed, not over-raced and so on. There are some really good fighters. They have all it takes, and over the next four or five years they'll get there. Just behind there seems to be a small gap, but time goes on and at the end of one era another begins.
CN: Was there anything in particular that made you say, 'stop'?
LJ: My family really. My daughter is 11 and soon she may have boyfriends and I didn't really see her grow up so I want to be around. I'm lucky to have a family that has allowed me to live my career to its fullest, now its time for me to give some back.
Jalabert's results in 2002
2002
1st Tour du Haut Var
1st Stage 3 Paris-Nice
1st KOM classification Tour de France
1st Coppa Agostini
1st Clasica San Sebastian
Also see: Laurent Jalabert's fan site