Rider Interview and profile: Emma James
From industrial chemist to industrious cyclist
Welcome to Cyclingnews.com's newest female diarist, Australian Emma James. Emma's enjoying her first year as a scholarship holder with the Australian Institute of Sport (AIS) road cycling team, managed by coach James Victor. She's a gutsy rider who's decided that she'd rather be testing the waters of professional cycling than testing the salinity of the Sydney's waterways as an environmental scientist - which used to be her previous occupation before Emma decided to take the plunge.
By Anthony Tan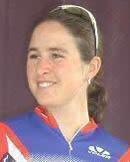 Happy camper
Emma James
Born: September 7, 1976
Lives: Longueville, Sydney, NSW, Australia (2002 road season with AIS road squad based in Tuscany, Italy)
Team: Australian Institute of Sport (AIS)
Club: Turramurra Bicisport, Sydney
Bio-data
Weight: 60-62 kgs
Height: 172 cm
VO2max: 62 mL/min/kg
Max RPM: 180
Resting HR: 30-40 bpm
2002 Palmares
Major UCI Races
Australian Road Championships: 3rd
Tour de Snowy: 1st stage 3, 7th GC
Tour de l'Aude Cycliste Féminin: DNF (abandoned stage 7 after crash)
World Cup
# 1: Cooma - Thredbo, Australia: 20th
# 2: Hamilton City, New Zealand: 20th
# 3: Primavera Rosa, Italy: DNS
# 4: La Flèche Wallonne, Belgium: DNS
# 5: Castilla y Leon, Spain: DNS
# 6: Montréal, Canada: DNS
Current WC standing: 66th
Cycling ambition
"I want to achieve as much as I can in this sport, tactically outwitting the opposition to win. I want to time trial as fast as I can physically go. I want to be a key member of a strong team that can ride aggressively and win and make other riders suffer in pursuit."
Ever since the Australian national road team based themselves in Italy, the lads from the laidback land down under have been quietly churning out more and more top quality road cyclists from a nation better known for its obsession with various codes of football.
The AIS program has been particularly successful for the men's squad managed by Shayne Bannan, and the close links with Georgio Squinzi's Italian mega-squad Mapei-Quick Step have allowed Aussies Cadel Evans and Michael Rogers to reap the benefits of this alliance.
Unfortunately Dr Squinzi's interest in sponsoring cycling teams doesn't extend to women; however this hasn't precluded talented female cyclists from furthering their professsion abroad. 2001 World Cup champion Anna Wilson and former national time-trial champ Kristy Scrymgeour are key members of the Saturn Cycling Team, and both were AIS scholarship holders.
And while the natural choice for English-speaking female cyclists is to head to the more prominent US domestic road scene, three former AIS graduates currently ride for non-US teams: Kym Shirley rides for Russian team ITERA, Margaret Hemsley is with German squad Nürnberger Versicherung, and Katherine Bates rides for Dutch outfit Ondernemers van Nature.
Emma James plans to emulate her compatriots' success, following the wheels of her successful predecessors.
Top ride at Snowy Tour
Photo: © CN/Tom Balks
She's certainly heading in the right direction so far: a podium place in this year's Australian Road Championships, shortly followed by an aggressive stage win on stage three of the Tour de Snowy on a mountain-top finish demonstrated the maturity of a rider destined for greatness - and simultaneously guaranteed her seat on the flight to Italy with the AIS women's road squad.
Cyclingnews: Was cycling always your first love - weren't you a keen rower in a past life?
Emma James: I used to enjoy long distance running - always endurance stuff, never sprints or 100m events. I took up rowing as soon as I could through school and Mosman Rowing Club. My father has always been an enthusiastic rower, so I wanted to give it a go.
Knows how to suffer
Photo: © CN/Tom Balks

I had a bit of success at the school/state level, and went to the 1994 national championships in Tasmania to compete in the schoolgirls coxed four event. I continued rowing when I went to university, but the challenge of organising crews always slowed our progress.
I was on the upper end of the lightweight category - which would have required serious nutritional understanding (read: sacrifice!) to be able to compete at the right weight sensibly while studying full time. Talk of no-carbohydrate diets scared me off a bit, and I had discovered a passion for bicycles - and at the time, no awareness of the importance of power to weight ratios for climbing!
CN: So when did you first take up the pushy - what was your first bike?
EJ: After I left school in 1994, I decided against an alcohol binge at Surfers Paradise, and went on a Contiki bus tour of the South Island of New Zealand. From the bus seat I could see touring cyclists carrying everything up huge bergs (what they call hills in Belgium - Ed) like Arthurs Pass, and it was then I new that I wanted to get on a bike. I returned to Sydney, saw some female bicycle couriers in town, and my enthusiasm got me a job with Mailcall.
Making up for missing out on "schoolies week" six years ago
Photo: © CN/Anthony Tan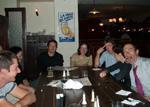 I bought a $1500 Trek hybrid bike, based on a brochure that featured a girl saying she found this bike perfect and now rides it everywhere. I did the same, riding as a courier for a few months before university started, and from then on as almost my only form of transport to uni and rowing, as well to to visit friends. Public transport or cars just could not compete with the independence and freedom I found though the bicycle!
CN: What did you do before deciding to take up road cycling full-time?
EJ: I completed an Industrial Chemistry degree at UNSW (University of New South Wales) in mid-1999, and then worked full time for Sydney Water as a graduate in a sewer planning/computer modelling role. It was interesting work, but did not entirely satisfy my environmental interests. It is hard to devote sufficient time and energy to work, riding and a social/home life - you end up doing them all not as well as you would like.
It was important for me to spend a few years focusing some energy on my work to help me consider my future career path after cycling. It is now equally important to take the opportunity I have been given to understand what full-time/professional cycling is about - and to devote all the energy I have to achieving something particularly rewarding. I want to test my limits physically, and with all the support from the AIS, I will do the best I possibly can.
Enjoyed Holland, but no time for frites and mayo
Photo: © Frans Meijer

CN: How did you get on the AIS program - what was the turning point?
EJ: Last year, I took six months off work to race full-time and moved to Holland. The National level racing in Belgium, Holland and France was challenging and satisfying. I found I could compete with these girls and knew what I needed to do to improve my racing ability. This gave me more hunger and desire to become a better rider.
The truly international level races, such as the Grande Boucle Féminine and the ladies Tour of Holland, showed me that there was still a great deal to learn. Cycling seems to reward those with years of experience… and I felt like a very small fish.
Returning to the Australian National Series racing at the beginning of 2002, I was interested to see how my year in Europe had developed me as a rider compared to the other Aussie girls. Not everything went to plan in the early season, but I was very satisfied with my third place in the National Road Championships. I think it was the podium placing in the National Road Race and the fact that I had raced in Europe for most of the 2001 season that got me the scholarship with the AIS.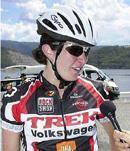 Modesty the key to success
Likes and dislikes
Family: My father rowed for Great Britain in the 1964 Tokyo Olympics, and won a silver medal. His family were keen sailors. My mothers family in New Zealand are active in the NZ Coast to Coast endurance competition, which involves kayacking, running and cycling.
Cooking: I love cooking - almost anything, as long as there are people around to appreciate it!
Cleaning: I hate household cleaning on my own, especially when it is beautiful weather outside.
Hobbies: I really like sailing in lasers (small 4-man yachts - Ed) in strong winds on Sydney Harbour. I also read a fair bit: news/current affairs, science (New Scientist mag), environmental stuff.
Riders: Both Aussies of course! - Anna Wilson & Sir Hubert Opperman.
Any others? I have heaps of admiration for many pro cyclists, both men and women, including Lance Armstrong, Jan Ullrich, Bjarne Riis, Viatcheslav Ekimov, Jeannie Longo-Ciprelli, Mirjam Melchers, Leontien Zijlaard-Van Morsel and all the Saturn team.
CN: How did you go in your debut races with the AIS before they signed you up - have you noticed a big difference racing on a well-drilled team?
EJ: For the Tour de Snowy, I raced for the NSWIS/Trek team [the New South Wales Institute of Sport team, partly sponsored by Trek Australia - Ed], but I had been training with my AIS team mates in Canberra and Jindabyne for a few weeks beforehand.
We were sure that to compete against the Saturn team, the Australian riders could not afford to work against one another. The Aussies got four of the five stage wins, and all through some awesome teamwork. The breaks that succeeded only got away because of the aggression and counter moves by other teammates. My position on GC in the Tour de Snowy was much better than in previous years.
Some familiar race buddies from last year
Photo: © CN/Tom Balks

The main difference with being with the AIS was the ability to ride as a team of strong riders, rather than as individuals trying to match it with the best of the European riders.
The start of the final road stage into Cooma was awesome: Saturn was riding aggressively and the Aussies were up there, ready to go with anything and marking the three Saturn riders who were trying to get enough time to get the yellow jersey from Melchers. It was perfect racing; however I do wish I'd gone with Judith Arndt when Liz Tadich covered that attack - it was the perfect time to go, just after a break I was in with Cathy Marsal was brought back.
CN: There definitely isn't the same money or profile associated with women's cycling. Do you think it's possible to make a living from the sport?
Show me the money!
Photo: © Christophe Podevin

EJ: If you mean "make a living" as key source of income source or financial support - then I must say I haven't seen a bright financial future just around the corner from cycling! - I still haven't received the prize money that I won from my first decent win. Women's cycling at the level I am at is not about money - I could easily earn more in any office job. The satisfaction of pulling off a good result and having things go just right, pushing yourself as hard as you can, and feeling like there was nothing more to give, learning more about yourself in the toughest physical tests… that is what I am here for.
CN: That is your ambition then?
EJ: Yes - I want to achieve as much as I can in this sport, tactically outwitting the opposition to win. I want to time trial as fast as I can physically go. I want to be a key member of a strong team that can ride aggressively and win and make other riders suffer in pursuit.
No specific goals - just to live her life to the fullest. Sounds like the plans of an astute bike rider and a great person. Buona fortuna Emma!