Recently on Cyclingnews.com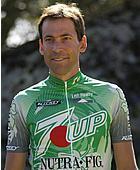 John Lieswyn
Photo: © Phil Jolley
The John Lieswyn Diary
A pro racer who now mostly concentrates on the US domestic scene, John Lieswyn is one of Cyclingnews' most popular and sometimes controversial diarists. He has been racing since 1985 and a Cyclingnews diarist since 1999. John likes both criteriums and longer road races, and seems to particularly like it when the going is hard. He has raced in the Regio Tour, Peace Race, Tour of Poland, Vuelta a Guatemala, Tooheys GP and Commonwealth Bank Classic with success, as well as winning astages in the Sun Tour, Killington and Superweek. In 2002, he is riding for 7Up/NutraFig.
Training tomorrow's riders - and a New Year Resolution
USA National Development Camp, Olympic Training Center, Chula Vista, CA, New Year's Eve, 2002
Coach John
Photo: © Jeff Rose

My last entry of 2002 and first of 2003! Thanks to everyone who has encouraged me to keep writing these cyclingnews.com diaries. I'd like to share one of my New Year's Resolutions with you. The story behind it starts with a Mexican rider for team Mercury by the name of Jesus Zarate, who earned his way to the top level of the US domestic pro scene a few years ago. All I knew about Jesus was what he looked like, and I'd never taken any opportunities to socialize with him.
At the Vuelta Sinaloa in Mexico this year I had my first real conversation with Jesus, and the gist of it was that he felt personally slighted by me. He said that I'd never made an effort to acknowledge him. In my mind, I was a friendly enough person to those whom I had an opportunity to spend time with. My knee-jerk response was that he was equally at fault. But his statement has haunted me in quiet moments of reflection ever since, and it was at Christmas mass that I finally saw the validity of his point. I immediately resolved to make a greater effort to reach out to those I meet, especially foreigners in my own country.
The slow-growing US economy has put a squeeze on sports marketing dollars and cycling teams aren't immune. With Mercury's withdrawal, supply and demand means that everyone is scrambling for jobs. While it's for my bosses to make the announcement of the final 7UP team roster, I will say that despite losing Charles we will have a fearsome team for 2003.
At the US development camp
Photo: © Jeff Rose

My own preparation got a big boost when US National development director David Mayer Oakes, an old acquaintance of mine from the Vuelta Guatemala '97, invited me to be a rider coach at the Chula Vista (San Diego) ATB/Road development camp. Dawn and I left my parent's Ohio house on December 26 and she dropped me off at Chicago's O'Hare airport for the cross country flight. December 27 I was riding in shorts, yee-hah! I've gotten in a solid 20 hour week of training, met many new friends, and shared my experience with the 15-22 year old athletes on the bike as well as off. The coaches (Jeff, Mike, Clark Natwick, Jeannette, Steve Madden, and Trek ATB pro Neil) are truly patrons of the sport. They've taken time away from their families on a major holiday to hold the camp now, which is virtually the only time these kids can get away from school.
For teenage riders I'm fairly adamant that they emphasize quality training over quantity. I'm reminded of a story my coach Adam Myerson told me about how hard he trained for a junior stage race in Canada once. On one day he finished second to a European rider, and up on the podium he asked the other guy what he did for training to get so good. The Euro kid replied that his coach wouldn't let him train more than the short distance to and from school each day. Adam says the guy developed into a star rider, winning stages in three week tours.
Of course there are many different physiques, but I'm constantly fielding comparisons to my weekly training hours and having to remind the kids that their longest race is bound to be less than 3 hours. Today Neil and I led the two dozen riders on their longest single ride of the week, a 3:20 trek northeast from the OTC towards Alpine and back, finishing on a six mile dirt washboarded and loose dirt road called Proctor Valley.
Setup
Photo: © Jeff Rose

San Diego County has been consumed by residential development. Neil and I figured that there were 50,000 new homes lining both sides of the six-lane Telegraph Canyon Road. Telegraph is just one of numerous six lane super speedways funneling commuters to their $300,000 McMansions. Lest you think I'm exaggerating about the speedway bit, I've had a few motorcycles and low rider imports scream past me at well over double the posted 45mph speed limit. "Fast and the Furious" influence, by chance? I wasn't worried they'd hit me, thanks to the super wide bike lane the county has mandated. Proctor Valley Road won't be dirt for more than another six months before it too is swallowed whole by the massive subdivisions. Grading trucks were on it today, in fact.
We were hoping the dirt road would help develop skills for "Roubaix" style races such as the Saturn Classic, and also that it would be one of the few roads away from the obnoxiously constant and loud traffic here. Unfortunately some hick kid in a shiny 4x4 truck came upon us in Proctor Valley, and decided to use our peloton for full soda cup target practice. The idiot hit and soaked Anthony as the truck passed us one way, then turned around to nail Daimeon going head on at us. Our coaches in the follow van were probably busy changing one of our many flat tires and missed it all. Truck or 4x4 driving boys under 30 seem to be the largest constituents of the cyclist harassment population, eh?
Listening in
Photo: © Jeff Rose

Other than that incident and Zach's downhill echelon crash (he got up virtually unscathed after a perfect tuck and roll) the ride was fun and quite scenic. Alpine has really changed. When Daimeon, John and I went on yesterday's reconnaissance ride of today's loop we stopped in this formerly sleepy mountain town for a coffee. Apparently new residents aren't the least bit daunted by a nearly one hour commute each way on the nearby Interstate 8, and have made Alpine the latest chic bedroom community. The coffee shop was perhaps a bit too kitschy, with the gas log fireplace twinkling away on a 65-degree day.
The kids all want to stay up late and do something fun for New Year's Eve tonight. After having logged an extra hour with Neil I'm pooped out and planning on hitting the sack early. Not having Dawn around also dampens my enthusiasm to celebrate the New Year. On January 2 she'll pick me up at the airport, but I fly back out for the Brazilian Copa de Americas January 3. After that I'm looking forward to five consecutive training weeks at HOME sweet HOME in Iowa.
Happy New Year to all my readers and friends, but especially to my friends in Asheville, Ventura, Fitchburg, Boulder, and Ames!
Until next year, then!
John
Photography
Images by Jeff Rose