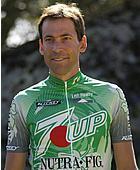 John Lieswyn
Photo: © Phil Jolley
The John Lieswyn Diary
A pro racer who now mostly concentrates on the US domestic scene, John Lieswyn is one of Cyclingnews' most popular and sometimes controversial diarists. He has been racing since 1985 and a Cyclingnews diarist since 1999. John likes both criteriums and longer road races, and seems to particularly like it when the going is hard. He has raced in the Regio Tour, Peace Race, Tour of Poland, Vuelta a Guatemala, Tooheys GP and Commonwealth Bank Classic with success, as well as winning astages in the Sun Tour, Killington and Superweek. In 2002, he is riding for 7Up/NutraFig.
Mexican hospitality, and a bit of hail
3rd El Debate Vuelta a Sinaloa, Mexico
September 28, 2002: Stage 8 Culiacan to Mazatlan 157km
Last night one of our assistants, Jose Luis, invited us over to his house (he lives in Culiacan) for dinner. We rode in the back of a pickup to get there and got a great feel for a surprisingly vibrant, beautiful, and clean city. We rode past colleges, huge churches, shopping centers, and down wide boulevards. At one point we drove past a street party of immense scale with a bungee jumping crane towering above. Rock music pulsed through the crowd and we slowed enough to see someone take the plunge.
Jose Luisīs wife is a nurse and couldnīt make it but his sister prepared an awesome meal. I think both the organizer and Jose Luis were embarrassed by last nightīs (and probably the only really lame one this week) meal of white bread with mayo and ham chunks. So tonight we dined on chicken cordon bleu and mexican rice, finishing with an awesome trio of desserts. His house was absolutely beautiful. It wasnīt particularly sprawling, but it had terrazo floors, plaster walls, grand cove and door mouldings, and antique furnishings. I forgot my digital camera on this trip or Iīd have taken pics for you all. Instead Iīm making do with a disposable 35mm tourist camera. Maybe next week Iīll post pics from this trip when Iīve had the film converted to digital images. Come back and check it out.
Weīre up earlier (0545) this morning for breakfast of yogurt and cereal in our rooms. Speaking of rooms, this tour has amazingly good accomodations for our $15 entry fee. Four star hotels on average! After breky, itīs a 60km drive out of town and down the divided super tollway towards Mazatlan to our start in the middle of nowhere. The start is just a bunch of cars pulled over on the side of the road. The police are shutting the tollway down completely for the event.
From the word go the attacks are on. Weīve missed the first break, itīs going away quickly, and when we hear that there are 3 Chocolates in it I organise a bridge move.
Kev takes us flat out for 300m and then I go, with Jason on my wheel. Unfortunately the race leader Aldape, third overall Valenzuela (good! need him for sure) and a couple others tagged along, but we couldnīt sit up now. It took a couple K's of hard work mostly by Jason and we got across. Soon the gap was over a minute.
While on first analysis the break seemed awful for us, with the leader having three teammates there, it was better than him having 11 teammates. The field didnīt sit up though and after half an hour we were brought back. The next break didnīt have any 7UPs in it but it did have the highest placed guy from Tecos-Turbo in it, forcing Chocolate-Mayordomo to chase. Over the next couple hours the break got up to six minutes before the leaderīs team kicked it into full chase mode. Around that time, and with 40km to go, the cloudy skies turned black and dumped hail and rain on us all the way to the finish.
Christian Valenzuela and I tried to attack and counterattack the leader while our teammates kept the pace alternately fast and slow to try and break the Chocolate team. We came close to isolating him but no cigar. I struggled with eyewear. Sunglasses too dark, fogging up, canīt see anything. No glasses, no good either. Too much road spray. The wind was slightly from the right keeping any shelter seeking rider hard against the median barriers, where the rain was deep enough that I began thinking about skis and surfboards.
Jason was absolutely on fire. He must have attacked twenty times, and often attacked so strongly that nobody could think of following. Finally he got away with one Mercurio rider and they built a solid lead that looked to be a race winner. The Mercurio guy hung onto Jason and promised to take second if they stayed away. Now we had a dilemma. In the morning Iīd confidently predicted that I wouldnīt get beat a second time in a head to head battle with Aldape. So Gustavo, Kev and Charles did a fantastic leadout right to 300m to go. It meant sweeping up a guaranteed stage win with Jason but gave me the opportunity to retake the overall race lead.
Charles pulled off and I hit out for the line. My legs felt like I was pedaling in mud. Nothing like my usual end-of-100miles crushing sprint. Aldape came by me slowly but surely and beat me by a wheel. I feel terrible about it after my teammates sacrificed everything for me. They each could have won the stage in their own ways and we had to try, but I let them down again. I shook Aldapeīs hand on the podium but he knows what I think of their team tactic from four days ago.
While they managed to eliminate Charles, Kev and Gustavo in one flat plagued stage, Iīve hung on to take the lead and lose it in 24 hours. The fact is that Aldape is faster. After a bonked (out of energy) 5km ride to the beach and down the divided hotel-beachfront strip road (which is tomorrowīs hot dog circuit course) I got to the Hotel Playa Marina, or something like that.
Another four-star beauty. There was a fountain out front and I just climbed in bike and all for a quickie bike wash. Lunch was awesome and race-provided again: seafood and rice. Itīs a four-block walk to this little internet store filled with local kids playing computer games and looking at internet cartoons. The streets around the hotel are still flooded from the storm.
Our hopes for Mazatlan teeming with beautiful beachgoers and nightclub action have been replaced with the reality of a waterlogged and mostly closed for business tourist trap. Eighty-five Ļmas o menosĻ guys are left in the race for the final stage. Hereīs hoping it is brutally hard, or else I will once again finish second.
Results