Recently on Cyclingnews.com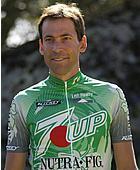 John Lieswyn
Photo: © Phil Jolley
The John Lieswyn Diary
A pro racer who now mostly concentrates on the US domestic scene, John Lieswyn is one of Cyclingnews' most popular and sometimes controversial diarists. He has been racing since 1985 and a Cyclingnews diarist since 1999. John likes both criteriums and longer road races, and seems to particularly like it when the going is hard. He has raced in the Regio Tour, Peace Race, Tour of Poland, Vuelta a Guatemala, Tooheys GP and Commonwealth Bank Classic with success, as well as winning astages in the Sun Tour, Killington and Superweek. In 2002, he is riding for 7Up/NutraFig.
Tarantula!
3rd El Debate Vuelta a Sinaloa, Mexico
Stage 5 - September 25: Guachimil Circuit, 100km, (8 turns per 5km lap)
Again a dusty, bumpy course. We began the day with four men in the hunt for the overall and a good team GC position. The short story is that Charles flatted early, the team dropped back for him, he got a slow wheel change, and Zarate's team Chocolate/Mayordomo gave it full gas to ensure Charles' elimination. I stayed with the leaders during this full bore 55kph action, and repeatedly asked Zarate why he would resort to such unsportsmanlike conduct. I used the analogy of Lance not attacking Ullrich when the latter crashed in the mountains, as if an analogy was necessary. He explained that this was simply the way it is done in Mexico. Crashes and flats are occurrences to take advantage of, and it is not considered dishonorable to do so. For a while I tried to argue with him, knowing his experience in Belgium and the USA should be enough to contradict what his team was doing.
It did no good and eventually I calmed down and shut up, while my four guys fell further and further behind. For Chocolate/Mayordomo it may have backfired, however. They were pretty cooked from setting such a fierce pace and when a dozen riders got away they only had two in there, one of whom was far down on the GC. I made it, Zarate did not. Despite my best efforts I could not control the group when the attacks started with 20km to go, and had to let two riders who were low on GC go away. For third place I was unwilling to show my cards - my sprint speed - so I did not contest the finish.
At our hotel one of the assistants who I will call Croc Hunter after the famous Aussie came into our room. He was holding a black rubber spider and shaking it to scare us. I know that trick and was not scared at all. Until he threw it on the floor, yelled "Tarantula!" and it came to life and scurried across the room. He quickly retrieved it and I was FREAKED out. It was a tarantula. Apparently this guy is so brave or crazy he stops on bike rides to pick up poisonous snakes and wrap them around his arms. Just cause he can. [As it happens, tarantulas aren't dangerous to humans, according to the American Tarantula Society. Sydney funnel webs, on the other hand... - Arachnophobe Ed]
Stage 6 - September 26: Guachimil to Culiacan, 100km
Hilly, beautifully smooth and clean road, gorgeous scenery.
We were screwed yesterday. All my teammates except myself had flatted and it cost us in team and individual placings. We are here not only to enjoy a race in a cool country but also to make money, and maintain fitness for our end of season races. For me those will be Ft Smith, Greenville and the Southland Tour in NZ. For Charles, the world championships. For Kev, the Herald Sun Tour in Victoria and the Southland Tour. So to make money we now have stages and my own overall position still to consider. I woke up even sicker than before, but I have been there and know I can perform even when my sinuses and throat tell me to stay in bed.
At 40km to go and 3km to the base of the biggest hill of the day I followed an attack that contained Christian Valenzuela, one of the seven men I am tied with for the overall race lead. I felt great and helped him drive it hard although four guys were not assisting us. One of those sitting on was no.62 from Chocolate Mayordomo, and he was also tied with us for the lead. We swept up the early breakaway including the Spaniard who rides for Mapei, he has been very aggressive in his efforts to repay the sponsors who brought him here. Thankfully Christian had two teammates in this now nine-man move, and they helped us maintain a minute advantage over the Tecos- led peloton.
At 10km to go I felt tapped out but knew that it was all or nothing at this point, as our lead was down to 35 seconds. Five kilos to go and the field was 10 seconds behind us, and the break disintegrated under the pressure of attacks from those who had been sitting on. Christian and I kept it going and found ourselves with no.62 and another guy. Three kilos to go the other guy went clear by himself. Two to go we have caught him, still just Christian and I doing all the work. No.62 refuses to help. One to go, roundabout. I tag a road reflector and feel my rear tire go instantly soft. Great.
600m to go, we can see the finish line, and I decide to go it early. I get a gap but with 150m to go Christian has brought the other two up to me and it is a four man horse race. Neck and neck, my rear wheel is sliding all over the place but it is not on the rim yet. A final kick and I have won the stage a few seconds ahead of the hard-charging peloton. My boys have done an excellent job policing the front of the peloton in the final kilometers and managed through their feints to slow the bunch just enough to allow me to take out the stage. I am now the new leader, and the press wants to know if I think we can hold on for the last three days. Now we finally have the jersey it will attract the attention of all the teams here who do not want to see a gringo win. It will be very difficult to hold on to the lead, but as I have not won a stage race since 1989 I would really like to win here. I know it is not a huge race, but it is very well run, very well compensated, and very competitive.
Culiacan is a city of a million people and we are in a really nice high rise hotel and the race is a full-on event. These guys have it all, photofinish cameras, computers, full-on press facilities, camera bikes, helicopters, everything. It is not the Vuelta but it is quite a production. more soon!