Recently on Cyclingnews.com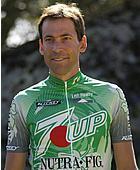 John Lieswyn
Photo: © Phil Jolley
The John Lieswyn Diary
A pro racer who now mostly concentrates on the US domestic scene, John Lieswyn is one of Cyclingnews' most popular and sometimes controversial diarists. He has been racing since 1985 and a Cyclingnews diarist since 1999. John likes both criteriums and longer road races, and seems to particularly like it when the going is hard. He has raced in the Regio Tour, Peace Race, Tour of Poland, Vuelta a Guatemala, Tooheys GP and Commonwealth Bank Classic with success, as well as winning astages in the Sun Tour, Killington and Superweek. In 2002, he is riding for 7Up/NutraFig.
Tired of crashing
3rd El Debate Tour of Sinaloa, Mexico
Stage 3 - September 23: Guasave Circuit, 100km
A hotdog race today - two 180 degree turns and a median strip on another dusty urban street. We actually saw a street sweeping machine but it seemed to be just stirring the dirt up, not actually removing it. We would be washing our bikes in the shower again that evening...
Lap one: The same guy from Tecos UAG attacked over and over, never actually going anywhere. Skinny kid with bib number 1 [Arquímedes Lam - Ed]. I followed him 'cause I could and next thing I know he led us all over what was essentially an unmarked speed-bump on the right side of the road. There was a ferocious crash behind us and then seven of us were away, including my teammate Gus Carillo. What is fairly typical of breakaways here happened again: once riders get a small gap, they all sit up. Gus and I drove it hard for a while, averaging 50kph, but Zarate cracked the whip and his team brought us back in short order.
The next break of the day had Jason in it for us, and he sat on it since he was a minute down in the overall. At a points sprint he attacked but got reeled in and countered so then there were two Mexicans away to take the top stage honors. Jason, Gus and I led it out for Charles and Kevin. We don't want the lead just yet so Charles led Kev out for the third place and time bonus seconds. Charles is going so well right now that he had to hit the brakes for Kev to come around, still taking fourth in the race!
After the race I realized that I was coming down with another sinus infection. I'm going to see an ear nose and throat specialist when the season ends - perhaps I have a deviated septum or something causing these problems. I slept most of the afternoon and skipped the 100 degree van ride to and from lunch and dinner, opting to pay for my meals in our hotel's air-conditioned restaurant.
Stage 4 - September 24: Guasave-Sin. de Leyva-P.Blancos-Guamúchil, 120km
Thirty kilometres up the highway towards Los Mochis, back again to Guasave, and then 40km to our next stop in Gauchamil. Inventive, you ask? There are lots of smaller interesting roads but they're all dirt, so we'll take the smooth highway pavement any day! Perfectly flat like all the stages. I didn't hear or see any crashes today. Gus says that is typical. At some point everyone just gets tired of crashing and elects not to fight for the wheels as aggressively. Finally.
We had to do a 10km, 60km/h team chase today to get back a dangerous break that would have cost us a shot at team GC. Just when we caught it Gus flatted and thanks to us having blown the race apart the team van was WAY back. Jason waited for him and while they eventually caught back up, the remaining three of us had our work cut out for us following half an hour of constant attacks on the wide highway. Despite feeling sick I had good legs and we managed not to miss anything too dangerous. The race finally settled down and the two leading teams (I call one the Zebras, the other is Chocolate Mayordomo, the team of Zarate) set a hard chasing tempo behind three guys who had built a two minute lead on us. They were caught at 15km to go, and two new guys got away. I timed it wrong and we started our chase-leadout a kilometer too late. Charles came in third about five seconds back. If we'd caught them then Charles was going to lead out Kevin for the win so we'd stay out of the jersey for another day.
Lunch was awesome, in the shade of huge trees by the river, all the teams ate together. Local TV showed up to film the 'party'.