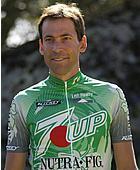 John Lieswyn
Photo: © Phil Jolley
The John Lieswyn Diary
A pro racer who now mostly concentrates on the US domestic scene, John Lieswyn is one of Cyclingnews' most popular and sometimes controversial diarists. He has been racing since 1985 and a Cyclingnews diarist since 1999. John likes both criteriums and longer road races, and seems to particularly like it when the going is hard. He has raced in the Regio Tour, Peace Race, Tour of Poland, Vuelta a Guatemala, Tooheys GP and Commonwealth Bank Classic with success, as well as winning astages in the Sun Tour, Killington and Superweek. In 2002, he is riding for 7Up/NutraFig.
Yeah!
2nd San Francisco GP, USA, September 15, 2002
I'm hoping that writing this (and time) will help me stop thinking about the SFGP in every waking moment. That was COOL.
Fueling the fire
Before the race Charles repeated to all of us that we had to make up for our disappointing ride at Philly. I felt that the media's pre race prognostications were shockingly shallow, naming favorites who were performing well months ago but not noticing how strongly team 7UP/Nutrafig has come on in the past weeks. In fact, they didn't mention our team at all, and that was added fuel for my fire.
7UP's teamwork
Reading the post race reports online I've found statements like "Dionne won almost single-handedly" and descriptions of the mid part of the race that left our team completely out of the action. Credit goes not only to myself for policing the dangerous early move but also to Doug for marking a powerful break of nine late in the race. There's another cool team 7UP dynamic here: Charles unhesitatingly sacrificed a likely win at Downer's Grove to put Kevin into the USPRO Criterium jersey. Kevin returned the favor by dragging Charles through the wind into the base of the Fillmore climb for the crucial last lap.
After Doug's move came back, Charles and I both made a big 20 man selection in which we took turns marking attacks. After Hincapie's solo break I did significant work attacking after him (always marked by Armstrong or another USPS rider). It was a combination of attacks like mine and the strong winds that finally put paid to Hincapie's bid for victory.
Charles Dionne
Charles had to fend for himself for the last 3 1/2 small laps (17 miles) when he was our only representative in the final 15 man selection. As Vogels graciously noted to the press, Charles was the only one matching Ekimov's accelerations on the final five laps up Taylor Street. .
The Crowd
I love the quote from Vogels: "the road vibrated when Lance got to the front". This was definitely the biggest crowd I've seen at a race in America, rivalling those in the World Championships I've been to. Armstrong said he was surprised he finished. Anyone who rode the race knows why he finished. The crowd was so amazing that the cheering almost literally carried you along. It motivated me to continue even when my legs seemed to stop turning halfway up Fillmore, the little voice in my head saying: "awww, come on, you covered the early break, your job is done, you can drop out now!" Another voice countered: "you drop out of the coolest race you ever did and you'll regret it instantly!"
The early move
Friends and fans asked me why I seemed to be doing so much work in the early move. Their perspective coming from the action on the climbs, it may have seemed like that. In fact I sat on the back of the break at least a third of the time. The break had two Mercurys, three Saturns, two Prime Alliance riders (Russell Stevenson was there- not Danny Pate mentioned in some erroneous reports), three Navigators, and two USPS. Cesar for Jittery Joes, Ben from Sierra Nevada, and I were the only guys without at least one team-mate in the break. Beginning on lap four I started attacking the break on the climbs, hoping to get it down to one of each team (which occurred) and then have Charles or Doug and a few others bridge up (which didn't, instead we were eventually caught by 45 riders).
The elusive big win
I'm VERY happy for Charles and for the team. Personally I'm disappointed that I couldn't maintain enough motivation to get into the final split of 15. How cool would two 7UPs in the final selection have been? The only thing holding me back was my mind telling me that after my efforts in the first seven laps that I shouldn't have anything left, that my job was done. I positioned myself poorly going into Fillmore the last big lap and could only watch from too far back as the bunch split. There was one more chance: Livingston and Horner went across at the start/finish line on the Embarcadero - and I didn't even see them go. Another lapse in concentration thanks to my early efforts. In fact I felt pretty good and was able to attack strongly from the demoralized second group and solo in for a minor top 20 placing.
As I wrote in my last entry, reliable consistency isn't enough; I HAVE to get a big win before I hang up the wheels. I'd hoped it would be the SFGP, but somewhere deep down I didn't think I could do it. While the result proves that theorem, something deep down in me has changed. Perhaps it's Charles' youthful 'can do' enthusiasm that has erased years of cynicism on my part, or perhaps it's how good I felt at the end despite all the early work I did. And the fact that my preparation has been predominantly 90 minute criteriums, but it didn't matter. My Y2K ride at Philly is another proof for a more positive theorem: a domestic pro can compete against Euro-pros, if only for one day.
I'm reminded of a little story our team director Jeff told as we sat around in the hotel room, decompressing from the elation of the win. A few weeks ago the organizers sent all the team managers an email with the forms that would need to be filled out should the team win the Saturn ION car being awarded for first place. Jeff certainly believed Charles or I could podium, but like everyone else he figured the top step was such a long shot as to be nearly impossible. "DELETE" key and the file was gone. Guess Jeff will have to raise his bar of expectation now.
Several people have asked me about Charles' quote "hopefully this will open doors for me" and wondered if we'll be as good should he relocate to a Euro team. I think Jeff has become a canny selector of raw talent, like my former bosses Pettyjohn and Scioscia. (For Jeff's sanity, I have to insert this caveat now: Don't apply unless you've been top five at an NRC event.) We have a good thing going and with the cooperation of our sponsors we'll be even better in 2003.
Everyone tells me that if I trained, really trained, that I could be a far better cyclist. I'm now motivated to redouble my training efforts this coming winter and come out SWINGING in 2003. Any coaches want to take on a "veteran" like me?