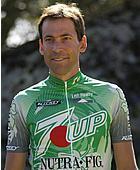 John Lieswyn
Photo: © Phil Jolley
The John Lieswyn Diary
A pro racer who now mostly concentrates on the US domestic scene, John Lieswyn is one of Cyclingnews' most popular and sometimes controversial diarists. He has been racing since 1985 and a Cyclingnews diarist since 1999. John likes both criteriums and longer road races, and seems to particularly like it when the going is hard. He has raced in the Regio Tour, Peace Race, Tour of Poland, Vuelta a Guatemala, Tooheys GP and Commonwealth Bank Classic with success, as well as winning astages in the Sun Tour, Killington and Superweek. In 2002, he is riding for 7Up/NutraFig.
A happy birthday
US Pro Criterium Championships, August 18, 2002
The peloton in action
Photo: © Marvin Boehm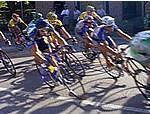 What a year this has been. After not hitting the deck once in 2000 or 2001, I can't seem to keep my feet in the pedals this season! I bet I have a few detractors who are laughing about it. It's also been a year of ups and many downs - unfulfilled promises. As I kept telling my teammates, this race was ours. Mercury won the Boulder-Breckenridge, Saturn won NYC, Navigators won Philly, USPS won the USPRO road race title, and Prime Alliance is the number one ranked team with riders in number one and two on the NRC. It's 7UP/NutraFig's turn.
My cycling buddies from my hometown of Asheville called a few days ago. They wanted to do something for me that would give me the extra edge to win, seeing how this is the last chance to earn a national title in 2002 and they know how much that means to me. They wanted to pay for a room for me at a really nice hotel. I had to decline since the team is staying together but I was really heartened by the gesture. Thanks ABRC!
I talked to Chann McRae (USPS) for a few minutes at dinner the night before. He had just flown in from Spain. Apparently he's raced almost every day since NYC and hardly finished any of them. He rides 100km and then goes to the front with the rest of the team to chase or set tempo for Roberto Heras or another leader, does 50-100 km on the front, and drops out, job done for the day. He wasn't complaining but I knew that he was frustrated. After all, he's a rider who has been fifth in the World's Road Race and three times US National ChampionÉ
In the morning Kevin, Chuck, Dan and I rode downtown to get a coffee and watch the end of the women's race. Our sister team, Diet Rite was riding awesomely. Tina won Saturday's warm-up event and today there were Diet Rite riders on every dangerous move. Tina took the mid-race $500 prime. At about four to go there was a crash right in front of our viewing point. We hurriedly clomped out into the street in our cycling shoes and helped pick up bikes and bodies. One rider's glasses had shattered, causing a deep laceration on her forehead. For a couple minutes nobody moved her while she sat, head leaned forward and crying. She was bleeding profusely, a river of blood running into the gutter. Paramedics were nowhere to be found. Based on her movements I guessed that she hadn't broken a collarbone or anything and decided that she had to lie back instead of forward, and we needed to put a compress on the cut. I gingerly hoisted her up by the armpits and moved her the two meters to the grass. Mike, her manager, held a handkerchief to the cut. She was going to be fine, but later I found out it required a plastic surgeon and 40 stitches to fix what was caused by a pair of sports glasses.
Meanwhile Ryan Guay (Navigators) was using water bottles to try and wash the blood out of the road. He said that if his national road race champion and Saturn team rider girlfriend Jessica saw the blood on her next lap through, she might quit the race on the spot. Diet Rite lost Mina in the crash but she was okay, as were the other downed riders. By the time the pack came through the roadway was clear. We moved to the first corner to watch the final sprint and gave each other hi fives as Tina Mayolo-Pic convincingly won the National Championship for Diet Rite!
Lunch was at Panera Bread Company, where several people commented that there would be no excuses about a bad lunch affecting one's performance since it seemed that every pro team ate at the same place. I made a bit of an error in prerace prep by having just two bagels for breakfast and a medium sized Panini sandwich for lunch. I would pay later.
In the prerace meeting I talked about having won the sprint jersey and numerous primes before. The money is nice but it isn't something you can wear on your back, and it isn't something that impresses your sponsors. I said I wanted to drive home Sunday night as a member of the winning team. Frank Scioscia (Shaklee DS) used to tell us that if we went for prime money it was going straight to the Katie (his daughter) college fund. He meant that he didn't want us to lose by an inch because we'd been going for primes. Jeff (7UP DS) had a twist on this: we were dedicating Oscar and Hayden to the three-sprint Hot Spots (sprinter) Competition because it meant $1000 AND a podium appearance.
The race began very casually. Despite the accounts I've read by several reporters, there were no serious attacks for the first 10 or 15 laps. The peloton was calm and smooth and I remember commenting to Doug Z how nice it was that nobody was bumping wheels so early on. Charles Dionne later agreed with me, saying he cruised halfway back in the 96-rider field, looking at the crowd and talking to competitors. Everyone knew it was the calm before the storm.
The pace increased as the first of three hot spot sprints approached. Oscar took second and I was fourth. For the second hot spot we made a critical error. Neither Jeff nor I called for it but it seemed that everyone on the team wanted to help and next thing I knew we had five guys working for Oscar. Even Kevin. I didn't have the breath to tell Kevin to get out and rest. Oscar took first and I was second.
Jeff was warning us to watch the counter, and it came as soon as we passed the finish line. Saturn lined up a big attack. It was the first real breakaway of the day, about 10 guys with at least one of every team except us. Our prime hunting put us on the defensive! Doug Z pulled for a couple laps to keep us within 20 seconds of this dangerous break. I got up to Greg and together we bridged the gap, putting two 7UP's into the move. There were four Saturns in this move and they were less intent on going for the final hot spot than on the success of this break. So taking the third sprint and the Hot Spot title was really easy - Ivan didn't even contest it. But now that Saturn had such a numerical advantage nobody else would pull. As is the way with this race the break self-destructed. You might be wondering why would I be concerned at all with covering moves for 7UP, if all breaks are doomed anyway? The one time you miss the move is the one time the general rule is broken and a dozen guys ride away for good. So for the next half hour I killed myself covering moves.
With about 10 laps to go I found myself in another bad one: ten guys including two Saturns, two Mercurys, and two Navigators. USPS had Dave Zabriskie in there. I tried to rest on the back but three man moves (one of each major team) kept rolling off the front of the break. Should I let such a combination get even 5 seconds the rest of the break would sit up and look at Zabriskie and I. Essentially I was on the defense and working 100percent of the time while the other major teams took turns attacking. Jeff was rallying the troops behind but we were out to a dangerous 30-second lead. Then Zabriskie clipped a pedal in turn two, right in front of me.
What happened next was both slow motion and too quick to avoid. In a split second calculation I decided that I couldn't turn in sharper to avoid the fallen USPS rider. I straightened out my line but didn't have time to lift the front wheel. Bam, right into his back! I did a Superman as my bike hit the curb below me. Next thing I knew I was hugging a hay bale in my outstretched arms. A spectator jumped the fence and tried to get my chain back on. I patted myself down quickly and realized I didn't have a scratch.
Now, I haven't crashed that often in my career so I was wondering aloud on my radio whether an incident wherein rider and bike are uninjured qualifies for a free lap. Jeff and Charles yanked me out of confusion and I headed back to the pits for a free lap. Chad held me up while I sucked down a gel and some Cytomax. I told Jeff that I was getting one-two'd in this break and if I didn't get some help soon we were going to get screwed. Off again! A few laps later I was relieved to see three teammates go by as the peloton caught on. Yes! I figured I had a lap or two to drink and recover for the final lead out or a personal sneak attack with a lap and half to go.
Five laps to go: raucous cheering accompanied the announcement of a massive $1500 crowd prime. On the descent off the hill the peloton was flying at about 70kph and it wasn't even close to single file. We went into a wide right-hander all bunched up, ten abreast. $1500 prime, 70kph, 4 1/2 laps to go, and bunched up in a turn. Nice recipe for disaster. Someone dived under Jonas Carney where there was no "under" and took Jonas out. JC slid all the way across the road, hitting the opposite curb full speed and cutting a swath through the peloton. I was right in the middle of the carnage, guys falling down all around me, but somehow I skidded to a halt rubber side down. I stood there dazed with tangled bikes blocking every path. Voices pierced my reverie as when someone interrupts a dream. I was standing there with my heart rate at 180 and nowhere to go. Jeff or Chad was pushing me as bikes were cleared and voices were shouting, "you have to chase, no more free laps!" I'm finally underway again, but the race for the championship has gone up the road and with just four laps to go there is no getting back into it. Nineteen front running guys made it through the monster crash.
For the $1500 Ryan Guay is narrowly beaten by iTeam Nova's Rogers, who can't believe his good fortune. He later told the press that there are never such rich lap prizes in Australian races.
I'm on autopilot now, just finishing so I can claim my Sprinter prize and mop up a few dollars. Chuck Coyle, Hayden Godfrey and I are 10 seconds behind the second group. 75 percent of my attention is on listening to the action over the radio, 10 percent on riding my bike, and 15 percent on pursuit of a very minor placing. I can hear Jeff telling Charles whether or not Kevin is still "on" his wheel. Last lap and Hayden does a big turn to finally get me on to the second group, which I promptly and successfully attack on the hill. They aren't too motivated anymore, and neither am I, but a dollar is a dollar.
After the finish I stop to tell the hundred or so people at the second corner what happened. They don't have a race PA speaker so it must have looked strange to them when one lap over 70 guys came through and the next time 19 guys were left. Riding backwards towards the first turn I happen upon retired US star Peter Stubenrauch, who looks not a day older than last time I saw him about five years ago. He's got one year to go in medical school and we chat about the pull of pro cycling versus the pull of "normal" life. I'm very pleased to see Peter but at the same time I'm dying of suspense. Did Kevin win the jersey or not?
It is clear that Henk Vogels, an Australian for Mercury, has won the race but who is the first American across the line? It is a dead heat between Kevin and USPS's Robbie Ventura. Like both Kevin and me, Robbie has been chasing a national championship jersey for years and been so very close so often. It must be fully 15 minutes after the finish that I hear the announcer confirm what both riders suspected: Kevin Monahan is US PRO Criterium Champion. With a quick goodbye to Peter I roll down to the stage to congratulate Kevin. Kevin gives Charles big thanks and a hug on the podium for a great lead-out. The crowd is still huge long after the finish and there is a battery of TV and still cameras in the front row.
Kev has been really on form the latter part of this season, including a fine (and unassisted) fifth place finish at the NYC Championship. I think part of it is getting out of a draining personal relationship. Athletically he has been a new person. Mid-season he'd been talking about how disheartened he was, with so much invested in the sport and so little return. As training partners in Massachusetts I saw how much effort he was putting in. He can't quit now!
Leaving the parties at an early 9:30pm, I drove home at a leisurely 75 mph through squalls of hard rain and a sky animated by fierce lightning. Today is my 34th birthday and it was a great day. I cranked up the music to stay awake and contemplated my feelings. I'm very happy for Kevin. I last saw him in the bar, holding a constantly ringing cell phone in one hand and a beer in the other. I thought about that national championship I've been chasing for a decade, how it might feel to win a big one. I didn't achieve any of my goals yet this season, but there is still San Francisco. Now that is a BIG ONE! Enough typing. Time to go training!