Recently on Cyclingnews.com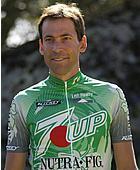 John Lieswyn
Photo: © Phil Jolley
The John Lieswyn Diary
A pro racer who now mostly concentrates on the US domestic scene, John Lieswyn is one of Cyclingnews' most popular and sometimes controversial diarists. He has been racing since 1985 and a Cyclingnews diarist since 1999. John likes both criteriums and longer road races, and seems to particularly like it when the going is hard. He has raced in the Regio Tour, Peace Race, Tour of Poland, Vuelta a Guatemala, Tooheys GP and Commonwealth Bank Classic with success, as well as winning astages in the Sun Tour, Killington and Superweek. In 2002, he is riding for 7Up/NutraFig.
USPRO Criterium Championship
Promos
Four 7UP/Nutrafig riders and three Diet Rite riders plus our managers went to the promos at Cedar Rapids area grocery stores for our respective drink sponsors in the two days prior to the crit championships this weekend. We took it all in stride, but definitely eased off on pushing soda Friday. It was like "Cherry and diet Cherry on the left, Lemon Lime and Diet on the right, help yourself" with our feet up. There were few cycling fans clamoring for autographs at HyVee and WalMart! This isn't really the point though - our presence helps the bottler leverage thousands of extra cases of product through a dozen stores. I got in a few good rides too. On Friday I managed 100km mostly on a hardpack dirt rail-trail and really enjoyed myself on the bike for the first time in weeks.
August 17: Extran Pro-Am Challenge warmup race
I figured going for it in a short 50km race wouldn't hurt me for Sunday so when the bell rang for primes I jumped for them. After the first $100 I found myself 15 seconds ahead of the remainder of the unmotivated breakaway I'd been in. I forged on ahead, listening to Jeff as he instructed me how hard to go. When Greg Henderson made it up to the break behind me, Jeff had me sit up and wait. Once Greg, Mike Sayers & Gord Fraser (Mercury) and Mark Walters (Navigators) caught on, I cracked open the throttles again.
We established quite a good lead but the others couldn't or wouldn't maintain our speed on the hill. Another $100 was offered and Walters took it from me in a hard-fought sprint. Saturn and PA had missed it and Pate took a huge pull to shut us down. He dropped out after that but all he had succeeded in doing was set up another move that this time had three Mercurys in it. I was there with Charles Dionne and I liked Charles' chances so between me and Eric Wohlberg (Saturn) we kept the pace high. I took a few hundred in primes during this second major break, which continued to swell in numbers until it was too unwieldy to succeed.
At two to go we were all back together, and I began a slow slide backwards, unwilling to risk a crash. Then Kevin Monahan came up to my wheel at 1 1/4 laps to go and asked for help. Yeah! I slammed it hard going up the start/finish hill with one to go and passed everyone with Kevin in tow, then dropping him off with Charles at 1/2 lap to go. While the official results listed over a hundred guys as DNF that wasn't accurate at all. Not that I care as I finished around 40th, pleased that my boys delivered second and ninth for us.
As Chris Baldwin reports for CN, the restrictor plates are off for tomorrow!