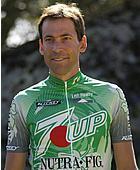 John Lieswyn
Photo: © Phil Jolley
The John Lieswyn Diary
A pro racer who now mostly concentrates on the US domestic scene, John Lieswyn is one of Cyclingnews' most popular and sometimes controversial diarists. He has been racing since 1985 and a Cyclingnews diarist since 1999. John likes both criteriums and longer road races, and seems to particularly like it when the going is hard. He has raced in the Regio Tour, Peace Race, Tour of Poland, Vuelta a Guatemala, Tooheys GP and Commonwealth Bank Classic with success, as well as winning astages in the Sun Tour, Killington and Superweek. In 2002, he is riding for 7Up/NutraFig.
Tandeming, Superweek and Toona
Dawn and I decided on Chequemegon National Forest for our three day tandem bike-camping expedition. It turned out awesome, although on the first day we got chased out of the woods by biting flies. A night at the Bon Nuit Motel (a veritable bargain at $40 including taxes) and a bottle of DEET insect repellent and we were back at it. Our seven year old Dobie Closer managed 45 miles of trail running next to us in those three days. He defended the tent from all manner of wildlife we couldn't see at night, but his barking did freak us out a bit. I never saw "Blair Witch Project" but Dawn and I have both read a book called "Bear Attacks". In one 24 hour period we saw only one other person in 14 miles of forest trails. Driving out the last day we spotted a mountain lion cub!
On to three days of Superweek to try and find my legs for the upcoming 'Toona stage race. At Green Bay I had hopes of perhaps repeating my victory a decade ago, but sleeping in a tent isn't the best prep for a 65 mile criterium. I took some cash primes and dropped out. Sheboygan was a slight improvement. An epic race in a light rain, with a sprint in near darkness. I lapped the field with ten others but could manage no better than 6th. Joe Papp won, with one of the powerful Belgians second. Kenosha was blazing fast and it became apparent there would be no breakaways. I took the biggest cash prime of the day with 3 to go and pulled the plug, very short of breath. A harbinger of what was to come…
The International (Tour de Toona 2002)
Stage 1 - July 29: Altoona Individual Time Trial, 5.67km
With a more than $50,000 purse for each of the main events (men and women) we could expect top competition. Unfortunately USA Cycling or whoever oversees this stuff has overlapped Toona with the new, huge NYC race and U23 Nationals. Nevertheless the Div3 and smaller teams that have shown up are fielding very strong riders who in the absence of Mercury, Saturn and Navigators are anxious to earn their part of the prizemoney.
I took my vitamin C and Echinacea and tried to catch up on sleep, but I knew that the itch in my throat was bad news. During the prologue my legs were great but I couldn't seem to breath deeply. 4th place, 6 seconds off winner Svein Tuft. Not bad, but I was disappointed in myself.
Stage 2 - July 30: Johnstown Circuit Road Race, 118.4km
I started Zithromax antibiotics today - I haven't taken antibiotics in years but my lungs feel just like they did at Beauce/Fitchburg earlier this year. All breaks were brought back in very aggressive racing today. Our average speed was 50kph! We led out Charles, dropped him off at 250m to go, and he took the stage for us!
Stage 3 - July 31: Johnstown to Altoona, 161.6km
Most of the money in this race is in the team GC, and today proved to be our undoing. Overconfident. Doug, Charles and I planned to stick close to each other on the major climb of Blue Knob Mtn and chase down the expected strongmen climbers like Pate and Decanio later. Unfortunately my teammates had a really off day, dropped a bit too far off the pace, and by the time I realized this Pate and Decanio had built too much of a lead. I took fifth but now I'm about two minutes off the pace.
Stage 4 - August 1: Hollidaysburg Circuit Road Race. 96km
"I didn't even have a chance to fight it, I went down like a sack of bricks. "
Three laps, rolling hills with a 2km climb just before the finish line each lap. Chuck policed a strong early move of eight guys for us. There wasn't much time to do anything but grimace and hold on to the wheel ahead of you today, but a few guys were joking around, throwing full bottles at road signs to scare the rest of us into thinking the resulting clang was the beginning of a crash.
I wouldn't be tossing bottles today - the 95degree heat forced me to drink a bottle every 15km. The heat was my undoing as it was in Cascade, but in a different way. Instead of getting heatstroke, it was sweaty, slippery hands - I'd forgotten gloves today. GoMart and the Colombians had brought back everyone in the break except for an amazingly strong Jason McCartney. Jason still had a minute's lead with less than 10km to the finish, and we went to the front to pull it back for Charles.
Chuck and Oscar did stellar rides and Jason was nearly caught as we turned onto the final climb. I was 10 guys back, on Charles' wheel, anxious to do a good job leading him out today. Pate was attacking from the front of the stretched single file peloton just as I hit a pothole and my sweaty hands slipped from the bars.
I didn't even have a chance to fight it, I went down like a sack of bricks. Plowed from behind, a wheel in the back, helmet knocked askew, glasses flew off. Sorry to whoever I took down - I feel bad!
I scrambled to my feet, straightened my wheel and brakes, and remounted. Oscar was waiting for me and gave it everything to tow me to the back of the rapidly disintegrating peloton. Together we leapfrogged dozens of riders who were blowing sky high, and with 200m to the summit I took the deepest breath I could and sprinted all out to close the last major gap to the front half of the bunch. Down the descent I went nuts, no brakes, passed another ten guys, and then gritted my teeth to hold on for the final kilometre.
At 250m to go and now on the final hill before the finish I could finally ease off, assured that I would get "pack time" and not slip in the overall standings. The best part of the day? Charles took care of himself for the final 2km and won convincingly. A bit of redemption for our team performance yesterday!
Stage 5 - August 2: Martinsburg Circuit Road Race, 128km
Easy day for Charles, Doug and I since Oscar and Chuck both made the break. Danny Pate (PA) made it as well and stood to take the leader's jersey off his teammate Matt Decanio, should the break succeed. Team Sierra Nevada chased long enough to keep the gap close on laps 2 and 3. Lap 4 Prime Alliance took over to keep their 1-2 lock on the overall intact, but obviously didn't want to bring it back all the way. Going up through the forest I got tense just listening on the team radio as Jeff issued suggestions and encouragement to our boys in the break. Radios make following what's happening up the road almost as much fun as reading Cyclingnews live race coverage! Oscar did a great job selectively matching attacks up there and ended up with a fine second place to Erik Saunders (Ofoto). Luckily the race was held early today so the heat wasn't as much a factor in our race as in the women's.
Stage 6 - August 3: Altoona Blair County Road Race, 152km
I rode up to Doug and asked how much do we lose if I blow sky high or don't finish? He gave me a sideways look and replied: "About two grand."
This is the classic course, but as introduced last year it includes the ascent of Blue Knob Mountain for KOM #1 at 70 kms. It was between this climb and the gravel road KOM #2 that the breakaway I was powering was misdirected last year, costing me my chances of winning a stage race. This year with a major deficit to such strong riders as Pate and Decanio I'm once again going for the minor placings. By virtue of yesterday's breakaway a Colombian rider has passed me and I'm now 6th. Today we're hoping I can move up in the GC, go for the stage, and perhaps our other guys will climb fast enough to hoist the team back up in the team classification.
By the end of the first rather slow hour I was wondering if I could achieve any of these goals, or even finish. Heart and head pounding, sweating profusely, I was trying to just maintain balance. Am I nuts riding this sick? Recalling what I read last night about Tyler Hamilton riding sick the last week of the Tour, I just kept telling myself to hang on and see what the next hour would bring. I've lived most of my professional life on a bicycle and suddenly it seemed so hard to just keep from running into the guys next to me on the winding roads of central Pennsylvania. We were leading Charles out for the intermediate sprints (he won them both and closed some of his deficit to Andrew Randell) and I was barely able to go 45 kph. At the second sprint (an uphill drag to the same finish line used in the Hollidaysburg circuit), Charles encouraged me to get on his wheel to try and prevent Andrew from scoring points. It seemed like Charles wasn't even breathing hard while I was so blown I had to shake my head "no"… this wasn't very good for my confidence!
At the first feed zone just before Blue Knob, I rode up to Doug and asked how much do we lose if I blow sky high or don't finish? He gave me a sideways look and replied about two grand. OK Doug E, break this down for me: Whatta I hafta do, four miles hard; I can do that, right? He replies: "Yeah! In fact, we are just rolling out of the house. We just stopped for a café and bagels, and you've only got to ride four miles and then there's a big descent to recover on!" (never mind that there's still two more KOMs and 80 more kms to ride). With Prime Alliance already having a solid grasp on 1-2 overall we knew that they wouldn't be trying to ditch their own domestiques in a bid for time on the climbs today. Repeating to myself "I can do this, I can do this," I shrugged off negative thoughts and positioned myself second wheel as we turned into Blue Knob State Park and began the climb. The mind has such power over the body - I felt far better than during the first hour and nobody was attacking, although Hamblen and McCartney did dial up the pace a couple times. I even took a few mountain points at the top! Had a few gulps from a cold cola proffered by a fan at the summit, zipped up my jersey, and slipped into an aero tuck for the descent.
There were only 16 riders left in the lead group. Doug and Charles were in the second group of 25 less than a minute back. Another Colombian bridged across to us over a roller and now numbering four in the lead group they proceeded to drop the hammer. With vastly improved confidence from Blue Knob I managed to stay with the lead group (which dwindled to 11 riders) and even throw in a few attacks all the way to the finish. Jason McCartney attacked with 30 km to go and soloed in to a well-deserved win 20 seconds ahead of us, while I led out the sprint too early and had to settle for 5th today. Afterwards my teammates and Jeff joked with me, feigning disbelief that I didn't win when I'd been claiming sickness. I have a rep for saying how bad I feel and then winning the race. Actually I'm probably known as a major hypochondriac.
I'm relieved tomorrow is just a 50 km criterium. I can hang on for an hour no matter how sick I feel - although maybe stating that today is akin to my predictions about TT nats :)