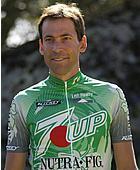 John Lieswyn
Photo: © Phil Jolley
The John Lieswyn Diary
A pro racer who now mostly concentrates on the US domestic scene, John Lieswyn is one of Cyclingnews' most popular and sometimes controversial diarists. He has been racing since 1985 and a Cyclingnews diarist since 1999. John likes both criteriums and longer road races, and seems to particularly like it when the going is hard. He has raced in the Regio Tour, Peace Race, Tour of Poland, Vuelta a Guatemala, Tooheys GP and Commonwealth Bank Classic with success, as well as winning astages in the Sun Tour, Killington and Superweek. In 2002, he is riding for 7Up/NutraFig.
Heat, hydration woes and a win
Cascade Cycling Classic, Bend, Oregon, July 10-14
We've endured record-breaking, triple digit (F) temperatures all week here. A local ER doctor who had several cyclists come in for IV's and heatstroke was quoted in the newspaper "in some cases, the athletic challenge outrides the sensibility".
My host housing mates Mike Ley (Jittery Joes) and Chuck Coyle (7UP) and I have come here without team support. Normally this wouldn't be too much of a liability. Wash your own bike, go without massage. Unfortunately this race happens to be the hottest race I've ever done, and it is quite impossible to consume enough of the (hot) plain water provided by Mavic neutral support to stave off heat exhaustion. I was quite envious of the teams who were getting ice cold bottles of electrolyte mix.
Stage 1 - July10: Mt Bachelor Road Race, 102 miles, 4000 ft climbing total.
We got a 22 man split off that was nearly all pro, but with Mercury having the odds advantage nobody else would pull. From a maximum advantage of 2:30 the gap dropped quickly after the first climb. When it came back together, three riders from the peloton went by instantly and just kept going: Vogels (Mercury) Fisher (Saturn) and Tuft (Prime Alliance). Navigators put in a hard chase for about ten minutes and didn't make a dent in the threesome's lead. They threw in the towel, hoping that the heat and distance would put paid to the escape. The break's max advantage was around six minutes but Horner put his troops on the front to contain the race for his overall chances. On the last climb, Fisher came back looking quite miserable, pedaling squares. Over the top Andrew Bajadali punched it hard and blew the dwindling lead group into tatters. I was in the front split of 4 or 5 guys and we had it maxed out on the descent. We got within 20 seconds of Vogels and Tuft but without a fully coordinated chase it would get no closer until those two began playing cat and mouse in the final 2K. Meanwhile the peloton slowly grew as group after group rejoined on the descent. Forty guys fought out the sprint for third, just 5 seconds behind a victorious Vogels.
Stage 2 - July 11: McKenzie Pass Road Race, 72 miles
Two climbs again today, 7000 ft climbing total. I stopped to relieve myself about 10km from the first climb and had a long chase back on. Apparently Klasna (Saturn) decided that either he really didn't like me or it was a particularly good time to attack, because the moment I pulled over from the front of the pack, he led a breakaway of 7 guys. Once again Prime Alliance (despite putting a man in the break) set the tempo to contain the break. All riders were caught as we crested the forested part of the climb and broke out into the surreal lava fields at the top. At this point the field (watching race leader Vogels and Horner) missed another big split. I was away with a dozen guys including four Mercury, two Prime Alliance, two Navigators.
I halfheartedly contested the KOM sprint, edged out for third by Pate (in defense of his teammate and KOM jersey wearer Creed). We plummeted down off Mt McKenzie and let me tell you the 45mph breeze felt great after a sweltering climb (even if it was tree shaded, it's again 102 degrees today). Wherry (Mercury) asked for help and I tried to convince everyone to roll through with Mercury. I took two very short pulls on the front with Sayers and Sbeih (Mercury) to see if anyone else would join in, but no dice. Back to the back, and sit on for the final climb.
We had just under two minutes to the Prime Alliance-led peloton as we left Sisters and began to 20km (12mi) long final climb to the mountain top finish. At this point, hot water wasn't doing it anymore. My skin stopped sweating and I started getting chills and a bad headache. I had fantastic fitness and strength but I really needed a cold Cytomax. At 5km to go I could no longer hold the pace of the leaders. Kluck (Saturn) and I came off. Then one after another riders from the peloton overtook me and I lost huge chunks of time. One K to go (at least four minutes at my broken down pace) and I called the Mavic car up for an illegal feed. "if I don't get a drink now I'm going to pass out!" I said somewhat overdramatically. I downed half a bottle in seconds, and instantly my dry skin was pouring rivulets of sweat. Crazy. It went right through me.
Our hosts are Debbie and her teenagers Lindsey and Brady. Lindsey has a classic VW Thing (you know, the boatlike convertible with vestigial doors and seats) Hers is yellow. She took us out in it to go to dinner. Good fun. Mike was standing on the back seat "I'm on top of the WORLD!" (remember Titanic?) I couldn't resist a couple ice cold beers with my salmon dinner. Caffeine and alcohol aren't good things to ingest when you are racing 3 or 4 hours a day in triple digit temps, but everything in moderation, right?
Stage 3 - July 12: Pilot Butte Time Trial, 1mile
I gave it some stick, but having lost so much time yesterday I wasn't too motivated anymore. We've all day before tonight's downtown criterium so we decided to seek relief from the heat with some mindless entertainment at the theatre. Mr. Deeds. Suspend all belief and just grin. Came out of the theatre, it felt like stepping into an oven. The river is full of townspeople trying to beat the heat.
Stage 4 - July 12: Bend Criterium
We got there in time to see the end of the women's race. Maynard Hershon was telling me about how it became the Nicole Reinhart Memorial. Apparently when Nicole did the CCC in her final year, she stayed with a local host family. They were so impressed with her as a person that after her death they decided to fund the women's criterium at the CCC in her memory. Nicole's parents flew out this year to be with the family and watch the race.
Bend has the highest per capita dog ownership of any northwestern city. Last year's women's crit was cancelled after a stray dog took down a third of the peloton, so this year safety efforts include more fencing and stricter enforcement of leash laws. Nevertheless, I did see a golden retriever on the race course side of the fence. We were halfway through our race and positively hauling at 52kph down the finish straight. Someone was holding the freaked out dog by its collar, through the fence. It was straining to get free as we streaked past it at an arm's length. Late in the race I felt pretty good and decided to bridge up to a Saturn and Prime Alliance breakaway. Kirk O'Bee (Navigators) came with me and then there were four. We had a maximum lead of just 15 seconds on the powerfully-led Mercury peloton.
With dark clouds overhead, the late evening light gave way to deep shadows and darkness. The four of us couldn't seem to get on the same page and our average speed wasn't enough. With 6 laps to go we were caught and all I could do then was hang on around 20th and watch Mercury school everyone with a fine 1-2 finish. Vogels' second win in three days. A hot rain began to fall and the wind whipped up dust dervishes as I cooled down, looking for our host family for a ride back to the house. Eventually Chuck, Mike and I decided to ride back to the house cautiously, in the pitch darkness. It was midnight by the time we'd wound down enough to sleep.
Note: I don't know Soren Peterson (Saturn) well, but all of us got a chance to see his sense of humor today. He showed up at the start line with elbow bands and a (ink marker) tattoo, in a great imitation of colorful Matt DeCanio (Prime Alliance).
Stage 5 Tumalo Circuit Race Saturday
11 laps of a 7 mile circuit, two hills per lap. It's supposed to be cooler today, just 99 degrees. Woohoo. Our host Lindsey has the day off and is bringing coolers, ice and tons of electrolyte mix to the feed zone. So maybe I can be competitive today! It is a stage where huge time gaps are possible, but it all depends on how strong Mercury is and how Wherry decides to defend his lead. I'm going to try, but most of the fourteen guys ahead of me on the GC are going to be tough nuts to crack. This stage race was made on Stage 2 and I can't fix the damage done there.
OK, so much for sticking to the plan. I'd thought that sitting behind the Mercury train and watching the early suicide break fail was the best strategy.
On the start line all the Mercury guys had ice packs stuffed in the front of their shorts. Good idea that I adapted later on with an ice pack between my shoulder blades. Right from the start Russell Stevenson and Michael Creed (both Prime Alliance) took off. Mercury let Creed go, probably figuring that if he wanted to score points for his KOM jersey let him do it and cook himself in the process. He is somewhat dangerous to Wherry (Mercury) on the overall as he's about a minute down, but Mercury put their whole team on the front and seemed to have things in hand. Sierra Nevada was assisting in the chase for their guy Ben who was in 2nd on KOM points. The whole front of the peloton missed a corner, the course marshall stood right in the middle of the road with a flag drooping between his legs, wearing a confused expression.
Mercury got their men back to the front on the next descent, which felt like a 42mph blow dryer set on HI HEAT. Four guys escaped on the next hill, and Mercury seemed content to let a non-GC move go. I had an internal war between my plan and the little voice saying "c'mon, let's mix it up" which lasted about 5 seconds and I set off in pursuit. I latched on at the base of the big climb and the five of us chased down Creed (Stevenson had been dropped back to the peloton already). A lap later, with a lead of 1:20, we got word that Tim Johnson (Saturn) was just 18 sec behind us and chasing alone. Huge! We sat up to wait for him, taking the time for extra rehydration. I tried to captain the break by setting a tempo that kept everyone rotating smoothly on the flats and downhills. I knew that Mercury was going to feather the gap around 2 minutes or less so it seemed pointless to run at 90 percent power in the early going.
Eventually it was just Creed, Johnson and me with our lead coming down rapidly. Creed's teammate Svein Tuft bridged up and lent us his considerable power until the last time up the hill. Down to the 3 of us again and we had less than 30sec lead with 10km to go. Gonna be a nailbiter. The energy I'd been saving all race was going to good use now; Johnson and I were taking really hard pulls. 3Km to go and Creed stopped helping on orders over his radio to go for the stage win. Over our shoulders we could see the much depleted peloton (20 guys left?) hot on our heels. 1km to go and I went back to 3rd wheel, Johnson committed to leading it out. I took the win by a couple lengths over Creed, quite surprised that we'd stayed away all day.