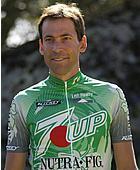 John Lieswyn
Photo: © Phil Jolley
The John Lieswyn Diary
A pro racer who now mostly concentrates on the US domestic scene, John Lieswyn is one of Cyclingnews' most popular and sometimes controversial diarists. He has been racing since 1985 and a Cyclingnews diarist since 1999. John likes both criteriums and longer road races, and seems to particularly like it when the going is hard. He has raced in the Regio Tour, Peace Race, Tour of Poland, Vuelta a Guatemala, Tooheys GP and Commonwealth Bank Classic with success, as well as winning astages in the Sun Tour, Killington and Superweek. In 2002, he is riding for 7Up/NutraFig.
Making the break
NRC Fitchburg Longsjo Classic, Fitchburg, MAJune 27-30, 2002
Stage 2 - June 28: Aubuchon/Gudden Circuit Race, 123 km
Rode over to the course through brief rain showers. Still drizzling at the start line. My hopes of attacking from the start were a pipe dream, as when the race gets going my body feels like it's been hit by a truck and all I can do is hold the wheel ahead of me. Lap one on the descent. I'm on the left center, a third of the way back, and I see the left head of the peloton swerve sharply right to avoid a hay-bailed median strip in the road. The guy right in front and to the left of me cuts right across my wheel and I'm hard on the brakes to back out of the impending crash. He continues swerving right and takes out the Navigator rider who was on my right hip a second ago. The 'gator has it saved for a split second, then he goes down in a heavy thud. I lose the taste to race as a dozen guys hit the pavement behind him.
Since there are no free laps on this 5km course, we all start calling to the front of the pack for a courtesy slowing of the pace. Those riders at the front don't know what has happened and don't hear the calls so the pace doesn't let up. The next few laps we have to pass by a couple busy ambulances and I still don't have any desire to race. Between this and feeling weak I stay out of the action until the second half of the race, when a couple of my team-mates who have been lapped because of the crash start motivating me to hold their wheels to the front for the climb each lap. Next thing I know, I'm in a ten man break that also has 7UP/NutraFig's Oscar Pineda in it.
Figuring he'll be good for the sprint and I'm more interested in the NRC points that go with the overall, I help drive the break with Horner, Pate (Prime Alliance) and Baldwin (Navigators). How I go from hanging on to the wheel of the guy ahead of me to driving the break I don't know. After having monopolized the first half of the race, Saturn only has Tim Johnson in our break and so they take over the chase from Phil Z's Mercury men.
One lap to go we've got 55 seconds but coming into the final high speed turn a barrier has been pulled across the centre of the road. Getting around it lops a good five seconds off our time up the hill, which turns out to be crucial towards the overall. I finish fifth on the stage won by Horner, moving up to seventh overall. Of course I'll have to climb well on Mt. Wachusett or it was all for naught. Still coughing and sickly, I just remind myself it's really just one more race to struggle through. Sunday's crit doesn't count, I can hold a wheel on a flat course for 50 miles even on my deathbed.
Our hosts, the Bernhardts, have a home theater and a hundred DVD's so when we aren't racing we're putting in movie after movie.
Stage 3 - June 29: Unitil/FG&E Road Race, 167 km
Nine laps, on the last lap we are to head up to the summit. I "won" this stage last year but we didn't go up the mountain on the last lap thanks to a lightning storm, so it didn't really count.
First lap a break including GC threats Wohlberg (Saturb) and Zarate (Mercury), our Doug Z is in there to represent us in the unlikely event they are able to stay away for 160km. Navigators is defending Baldwin's lead with a steady tempo to control the gap. They give the break 2:45 maximum. I'd have let the break have four minutes.
Just under three laps to go and Prime Alliance throws in a few men. Now the break is faltering thanks to the heat, distance, and hills.
One to go, it's all back together, PA controlling the front and a battle for Horner and Pate's wheels ensuing just behind them. Kevin, Hayden and Charles are keeping me sheltered- I feel great. Over the feed zone climb it's Walters (Navigators) and then me. Wherry (Mercury) throws in an attack which I mark and pull through on, but Wherry doesn't work it after my turn and we are quickly brought back.
Into the Wachusett Park and the base of the mountain. Charles takes me right up to the front and onto Pate's wheel. Here 's where I get fooled: Horner puts in a huge turn and swings off convincingly. I figure he's done. Pate goes next, and I match the acceleration. He sits up and goes again, and again. After the third acceleration all I want to do is lick my wounds and recover for a second, but as we make the left onto the last steep climb and two kilometres to go, Horner jumps by and there is no response. I'm too close to redline to even look over my shoulder.
The last kilometres is a blurry memory. I was at 192 bpm trying to hold Leaper's (Navigators) and Pate's (Prime Alliance) wheels. Not quite successful. The last 300m Pate jumps hard to try and overtake Leaper for second and I'm left swinging in fourth, nobody else is in sight behind me. I do remember wishing the pavement was smooth -- when you are riding so hard that blackness is closing in on your vision, having to figure out how to keep the rear wheel planted over bumps is the last thing you want to be doing.
The thing is, I know that Horner was as redlined as I was. He just knew when to jump and went for it. The moment he jumped at 2km to go was my last chance, I wasn't quite redlined at that point and I missed the opportunity to try and go with him. Perhaps I was afraid of blowing up. After struggling this past week, today's finish went a long way towards restoring my confidence.
Tomorrow I'll have to hope we start on time and go really fast or else I'll miss my flight home. Incentive, perhaps, to drop the hammer should we slow down.