Recently on Cyclingnews.com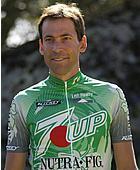 John Lieswyn
Photo: © Phil Jolley
The John Lieswyn Diary
A pro racer who now mostly concentrates on the US domestic scene, John Lieswyn is one of Cyclingnews' most popular and sometimes controversial diarists. He has been racing since 1985 and a Cyclingnews diarist since 1999. John likes both criteriums and longer road races, and seems to particularly like it when the going is hard. He has raced in the Regio Tour, Peace Race, Tour of Poland, Vuelta a Guatemala, Tooheys GP and Commonwealth Bank Classic with success, as well as winning astages in the Sun Tour, Killington and Superweek. In 2002, he is riding for 7Up/NutraFig.
Unraveled at Beauce, hopeful at Fitchburg
GP de Beauce, June 17-23
After such a promising start to this campaign with a win in Minnesota, my form unraveled in Canada. The GP de Beauce is big time stage racing the likes of which the USA no longer has. The courses were difficult as usual, the weather superb, and the competition between the Euro teams for the UCI international points was stiff. These things make it a great race but the best part is the scenic natural beauty of Quebec.
With Stephanie's therapeutic help, the strained tendons from crashing a few days ago in Minnesota were healed by stage three. Stage four I could feel the onset of yet another sinus infection. Stage five I gave it everything in the time trial and held the early fast time until German National TT champ Thomas Liese smoked the course. I ended up ninth but very much encouraged by how close I was to the few Americans who edged me out (except Phil Z - I just gotta hope he slows down by the time US Nationals roll around)
I asked my veterinarian doctor wife Dawn what she thought of my constant sickness this year. She maintains that it's brought on by allergies. While I've fought this problem my whole life, this year it's gotta be the worst. Something to work on with a specialist this winter. Anyway, I bagged on the final stage of Beauce and hoped to recover in time for Fitchburg.
NRC Fitchburg Longsjo Classic, Massachusetts
Stage one TT
Legs feel much better but my sinuses and lungs are all congested. Nothing to be done about it, I'm here now and anxious to race. Last year's 14 mile course has been halved to avoid traffic issues. For some reason they've decided to have us cross the region's only major highway and do a U turn to get back to the finishing climb, making quite a headache for the police and course marshals. Many riders reported having to swerve or stop for vehicles entering and exiting at the highway ramps. Heavy sporadic rain hampered some riders as well. I had no such problems but still could do no better than 21st. It took me a third of the TT just to get going, so I'm still optimistic for nationals which is far longer at 40km. None of my teammates broke into the top 10 either so we are going to have to be very aggressive on the next two stages to get back into the overall.