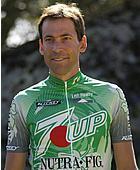 John Lieswyn
Photo: © Phil Jolley
The John Lieswyn Diary
A pro racer who now mostly concentrates on the US domestic scene, John Lieswyn is one of Cyclingnews' most popular and sometimes controversial diarists. He has been racing since 1985 and a Cyclingnews diarist since 1999. John likes both criteriums and longer road races, and seems to particularly like it when the going is hard. He has raced in the Regio Tour, Peace Race, Tour of Poland, Vuelta a Guatemala, Tooheys GP and Commonwealth Bank Classic with success, as well as winning astages in the Sun Tour, Killington and Superweek. In 2002, he is riding for 7Up/NutraFig.
Responses to Cyclingnews readers
Editor's note: John's last diary entry provoked some strong responses in our most recent letters page. It's in the nature of a diary entry that it tells the story of events in the heat of the moment, and John admits that sometimes things get written that wouldn't be after a day's sober consideration.
As John put it in email discussion of reader reactions, "I think the bit about having a Cat 2 World Championship (meant tongue in cheek) called Crash Fest 2003 was an unnecessary bit of venting on my part. The fact is that a cat 2 only race would be far safer: all guys of similar strength level. It wouldn't be any more of a crash fest than any other category on that eight turn course. So in this respect it wasn't appropriate for me to write."
That said, we think John provides a valuable insight into life in the trenches as a working pro, and the rough-and-tumble of armchair debate is as much part of cycling as the rough-and-tumble of a bunch sprint.
On that basis, here are John's responses to some of the points made in Cyclingnews reader letters.
Memorial day races responses to reader letters
"difficulty moving-up"
It's not the difficulty of moving up past 140 guys, it is the safety. I had no problem (physically) passing the whole pack in 5 laps. Whenever 21 guys are lining up for treatment at the medical tent, and all day long in every race there are constant pileups, the course isn't safe. Taking 2 to 4 turns out could help. Limiting the fields to 100 would too. My "complaints" are most often voiced when safety is an issue. Watch a few friends or colleagues die on a bike and maybe you will put safety first too.
"Who causes the crashes in the fields that only have pros?"
Crashes are part of cycling. Massive and numerous crashes shouldn't be. Again, Safety First. Have you been to the hospital, lost teeth, had to take time off work, because of someone taking their HOBBY too seriously? Ridiculous, isn't it? I wouldn't say to everyone "stay home". I'm sure that given another chance to not be a paraplegic Christopher Reeve wouldn't have chosen locking himself up in the house over being an equestrian. Nevertheless, is it worth taking stupid chances (with your health and mine) at 20 laps to go just so you can say you beat a pro?
"I'm betting that making a little nicey-nice before the big event with the announcer/organizer would get you called up where you probably belong. ... introduce yourself to the man holding the microphone"
As regards being dissed by the callups, we do have press kits and a marketing machine. We did speak to the organizer about having one or two representatives of our team called to the line along with USPS and Jelly Belly. We were left out because Pepsi sponsored Quad Cities. Why do you figure they wouldn't call the winners of the previous two races?
I'd be just as happy if they called up Hayden and Greg. Then, with 7UP represented in the early action, I could gradually make my way up to the front. I'll admit it, I got caught up in competition and in the "need" to get to the front and represent the team in any breaks, I took a few chances in passing riders in corners. I didn't put anyone in the fences, or ride into the back of anyone, in doing it.
Interestingly, our Diet Rite women's team was announced as the "Diet Coke girls". Something akin to mistaking the team Saturn jersey for team Saab.
"And before you berate race-organizers for their apparent ineptitude in the ABCs of race-organizing"
I congratulated the organizers and officials in my diary for working so hard in the face of such a good turnout in all categories. I've used my diary often to praise organizers, and many organizers and officials will tell you that I regularly ride past the stage and thank them for putting on the race. I even stop to thank volunteer course marshals.
"instead of cherry-picking the money of local amateurs in regional cycling events... / for the opportunity to take my racing to a higher level...their first opportunity to test their legs against some top-notch competition / your other option, go to Europe to race against strictly Pro's / If you don't like racing with cat2's"
We pros can't leave the amateur money for the amateurs and provide a racing challenge for 1s and 2s at the same time. I've no problem racing against 2's or 3's, such as every local race I do. (example, Burlington Road Race 2 days earlier). I have a problem when their unnecessary inclusion (ie, there are enough of them to have their own race) becomes a safety hazard on a tight course.
"John, it is ironic that you have no problems putting a Cat 2 or a fellow Pro in the gutter, but when the shoe is on the other foot you complain"
Hmm. I certainly didn't have any problem being in the gutter. In 5 laps I'd luckily made it through and went on to animate the race. Which race were you in or watching?
"that isn't on the NRC list (yet you're there for the prize $$)"
If you had read my diary, you'd notice I was there to get in some competition as a tune-up for US Pro Week. I personally could care less about $200 prize money.
"he gets up early, goes to work, trains 3 hours after work, goes home, eats and get ready for the next day, repeat five times"
In my postscript I write that Cat 2's must work or go to school and thus have less time and energy for racing and training. Hey, I was there (1996-97) and will be there again soon, as I wrote.