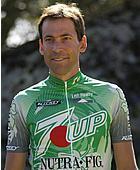 John Lieswyn
Photo: © Phil Jolley
The John Lieswyn Diary
A pro racer who now mostly concentrates on the US domestic scene, John Lieswyn is one of Cyclingnews' most popular and sometimes controversial diarists. He has been racing since 1985 and a Cyclingnews diarist since 1999. John likes both criteriums and longer road races, and seems to particularly like it when the going is hard. He has raced in the Regio Tour, Peace Race, Tour of Poland, Vuelta a Guatemala, Tooheys GP and Commonwealth Bank Classic with success, as well as winning astages in the Sun Tour, Killington and Superweek. In 2002, he is riding for 7Up/NutraFig.
Double cold trouble
2nd Annual Housatonic Valley Classic, Danbury, CT, May 19, 2002
A freak Canadian front has blown in and weather records are falling all across the northeast USA this weekend. Snow fell in parts of Connecticut! For training we managed just 30km on the damp, windy and cold Saturday afternoon.
It's been said before, but now is a good time to repeat it. The hardest part of being a professional athlete is staying healthy and injury free. For me, despite the weird throat thing and food poisoning I had going on after Solano, I was feeling invincible this season. So it was quite a surprise when during the race I recognized the onset of head cold symptoms. Even for very fit "normal" persons, a cold generally takes a couple days to develop from itchy throat to full blown symptoms. For the pro athlete, it's like this: One hour into the race I got a headache and swollen glands, and by the fourth hour my heart rate had dropped off 20 beats, my power was gone, and I felt like I'd been run over by a train. With this in mind, I decided after about two hours of racing to use what power I had left for my team's chase effortsÉ
A break containing Tony Cruz (US Postal), Alex Candelario (Prime Alliance) Mark McCormack (Saturn) Tom Leaper (Navigators) and Henk Vogels (Mercury) and a few others was away. We (7Up-Nutra Fig) had nobody up there and the pace was shutting down. Doug and I tried to bridge the gap when the break was still in sight on one of the many climbs of the day. It's never easy to stay motivated when you think you are going warp speed and hurting people, and someone like Wherry just flies by just because he can. If he was trying to discourage us, it worked pretty well!
Absolutely devoid of abrasions or evidence of a crash, his shorts are ripped from the chamois to his waist, as if sliced by a knife edge, and held together by pins. He's a safety pin away from violating indecent exposure laws! Apparently he'd been involved in a crash just a mile or so into the race. Back to the chase. We decide to attack instead of chasing, so Clark makes a big solo effort and gets within 20 seconds of the break. I think about telling Moninger (Mercury) to radio up to Vogels that we have a guy closing fast and to wait up, because with Clark up there we would quit chasing and the break would have a much better chance at success. Then Davidenko (Navigators) fires off the front and I figure that if Clark can hook up with him, they'd have a good chance.
Unfortunately Clark isn't having a good day and Davidenko goes right past. Both of them end up not making it. An hour later the break is up to 2:45 and gaining time rapidly, so I organize the chase. We were hoping to have three of the six of us make it into the lead group for the 13 final Danbury circuits, but having missed the break we have to sacrifice another guy, and it would have to be me. I reserve Oscar and Charles for the finish. Four of us and the Cannondale/Wheelworks team get the chase really rolling. We chase for forty minutes and completely change the outcome of the race, just for those of you who read other reports that will probably leave 7UP completely out of the accounting. When the gap is down to a minute and word comes back that Vogels and McCormack have left the rest of the break behind, Prime Alliance take over and the break's fate is sealed.
After a solid recovery from his broken collarbone, Doug Z is back on form and he pulls double duty for us by not only driving in the chase but making the lead group of about 30 riders on the circuits. Oscar and I aren't as powerful and while we are only six seconds back on the first circuit, our group loses steam every lap and when it becomes apparent that we aren't going to rejoin the leaders I pack it in. Maybe saving something will help me recover from this cold quicker.
It's hard to watch the final laps as I desperately wish I was out there: this course is tailor-made for me and I can't be in the action today. Doug and Charles are outnumbered and unheralded but they work well together. Charles is cramping badly and pauses nearly every lap to stretch the offending muscles. Lap after lap there are small groups trying to escape and Charles seems to have them all marked. At the end all thirty odd riders are back together for a massive (for this course, anyway) sprint finish. Charles takes fourth for Team 7UP/NutraFig!
The announcer seems to be the only one surprised that Davidenko won: "he's come out of nowhere to win here today!" Whatever, dude! Congrats to Vogels (Mercury), who took second (by an inch) after having made and dropped the big break of the day, and all that on top of riding with a bandaged Achilles heel tendon.
Sights and sounds: This is a road race right out of Europe. The ten towns we race through are lined with people cheering us on. On several climbs there are groups of spectators banging garbage can lids, ringing cowbells, and waving the flags of their mother countries. A woman struggles with her leashed dogs, who are suicidally jumping on their hind legs "lemme go - I wanna chase some bikes - woof!" We're going 50mph/80kph in a 150 man swarm of muscle and metal down into one town, and despite flashing past the crowd I can pick out the general response: "wo! Ooh! and Ah!"
While Outdoor Life Network will do a 30 minute show on the race (May 30, 8pm EST) it's not the same as full-on live coverage and that's probably the only thing missing to link these crowds to the race. It's awesome to see OLN/RAI TV coverage of the Giro here in the States, and I wish we could have the same thing for great events like the Housatonic.
Well, I've got four days to recover AND keep training through Iowa's Quad Cities/Memorial Day races as I look forward to US Pro Week. Thanks to those who supported my last somewhat controversial diary entry about Gila, especially the colleagues from the peloton DeCanio and Swindlehurst.