The Emma James Diary 2002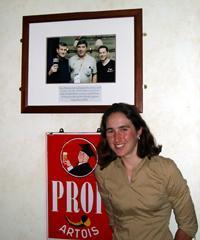 Emma and the Cannibal
Photo: © CN/Anthony Tan
Welcome to Cyclingnews.com's newest female diarist, Australian Emma James. Emma's enjoying her first year as a scholarship holder with the Australian Institute of Sport (AIS) road cycling team, managed by coach James Victor. She's a gutsy rider who's decided that she'd rather be testing the waters of professional cycling than testing the salinity of the Sydney's waterways as an environmental scientist - which used to be her previous occupation before Emma decided to take the plunge.
Emma's Giro d'Italia Femminile diary
Stage 9 - July 14: Solbiate Olona-Gorla Minore, 87.7 km
Glad to have finished, with good memories and good results
The weather was not any better for the final stage of the women's Giro. We had a stage of just under 90km with seven GPM's. We found an excellent place to set our stuff up, out of the rain, and we were given a fresh shot of coffee just before the start (on a wet day, coffee seemed nearly as good as a warm up!)
There was a neutral section of about 5km, after which we had to stop in the little town and then they waited a minute before we could roll off again for the actual race. I'm sure stopping after the neutral zone is an Italian thing… maybe just for women's racing. It is quite amusing the first couple of times.
There were a few riders trying to get away, and I was keen to go with a break if it was possible. The pace was being maintained by the Russians, with an Itera rider keeping the pace on with maglia rose Svetlana Boubnenkova (Team Aliverti Kookai) riding second wheel for much of the stage (fellow Russian/Belorussian Stahurskaia wasn't too far away either). After 30km we had been over a small climb, and the bunch had thinned a little. At a roundabout the peloton was led to the left, and after a few km we were stopped, followed by a compulsory U-turn and a bit of waiting around for the convoy of team cars to sort themselves out. We went back to the roundabout, and took the correct road… and a few stragglers who had been dropped were now four minutes up the road!
We eventually got onto the final hilly circuit, a 9km loop that had to be done 6 times. There were two decent climbs, and a few technical sections/wet descents. The group stayed together more than it might have done on that circuit on a different day! It broke up a couple times, but regrouped after the climb. A Spanish rider who had been aggressive all week finally managed to hold off for the win in a solo breakaway. I'm not sure when she got away… perhaps initially with the group that took advantage of the confusion of taking the wrong road.
Diana Ziulite managed to get a time bonus in the sprint that saw her move from 4th to 3rd on GC, ahead of Edita Pucinskaite. Sara was climbing well with the top few riders up the climbs on the circuit many times, and confidently secured her win in the young rider (U23) competition. Everyone was very glad to have finished, with good memories and good results for the AIS Australia-Trek team.
We have an easy week ahead, with of two one-day races in Italy next weekend. After that I will be heading to France for the 4 day Tour de Haute-Vienne and also the Grande Boucle (women's Tour de France) with the French Mantes-la-Ville team.
Cheers,
Emma
Stage 9 results and final classification
Emma's racing exploits in 2002