Recently on Cyclingnews.com
The Emma James Diary 2002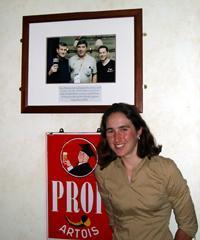 Emma and the Cannibal
Photo: © CN/Anthony Tan
Welcome to Cyclingnews.com's newest female diarist, Australian Emma James. Emma's enjoying her first year as a scholarship holder with the Australian Institute of Sport (AIS) road cycling team, managed by coach James Victor. She's a gutsy rider who's decided that she'd rather be testing the waters of professional cycling than testing the salinity of the Sydney's waterways as an environmental scientist - which used to be her previous occupation before Emma decided to take the plunge.
Emma's Giro d'Italia Femminile diary
Stage 8 - July 13: Barzago-Barzago, 101 km
It was on from the gun!
We left the hotel with flashes of lightning and thunder crashing above us. An hour before the race it was pouring. We were trying to stay enthused, thinking that everyone else would not be up for racing hard in the rain - more chances for a stage win!
At the start town of Bargazo we hid under a small veranda, put on as much clothing as we could, and rolled to the line. It was on from the gun, with Katie Mactier in a very early break with a Spanish rider. They were joined by New Zealand rider Rosalind Reekie May by about the 5km mark. Very soon after that all I can report is wet roads, heaps of corners and climbs and riders losing wheels and the pace not letting up at all.
I lost contact with the bunch and was left with about 15 others riding tempo with a long way to go. After an hour or so the rain eased up, and I could actually see the circuit and where we were going. The circuit was not at all like the profile (never expect it to be and you won't be disappointed). We did four laps of a 15 km circuit, followed by a loop over a really steep, roughly 7km climb and then a descent to the finish. The first circuit never really had a flat section in it - just lots of little rises and sharp pinches and I guess there must have been a little descending in there too. It was a good circuit for a tough race, not quite what my legs had in mind for day nine of a major tour. I have resolved to purchase a pair of waterproof socks, ensure I have thick bootie covers for wet weather conditions, commit to warming up even if it is raining, and to start a race with a vest rather than a rain jacket!
From second-hand reports, I heard a little of the racing. Everyone found the first couple of laps fairly hard, before the peleton settled with another Spanish rider up the road. AccaDue rider Chantal Beltman and Raschiani rider Simonova joined the Spaniard and the break was not caught until somewhere on the final climb. The riders in the break managed to finish in the first main group - top 15. Stahurskaia and Boubenkova finished together, with Edita Pucinskaite not far behind. Sara was not far off the pace - just behind the front group (and with no assistance from vehicles - which can not be said for at least one rider in the top 10!). Sara is now in 14th on GC, and with a very comfortable lead in the young rider competition. There aren't many hotel staff who have not been given a bunch of the wonderful flowers that Sara receives each day on the podium! Plenty of books and trophies for the pool room too!
Cheers,
Emma
Emma's racing exploits in 2002