Recently on Cyclingnews.com
The Emma James Diary 2002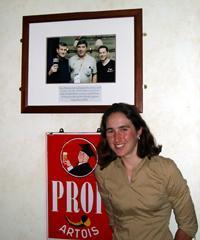 Emma and the Cannibal
Photo: © CN/Anthony Tan
Welcome to Cyclingnews.com's newest female diarist, Australian Emma James. Emma's enjoying her first year as a scholarship holder with the Australian Institute of Sport (AIS) road cycling team, managed by coach James Victor. She's a gutsy rider who's decided that she'd rather be testing the waters of professional cycling than testing the salinity of the Sydney's waterways as an environmental scientist - which used to be her previous occupation before Emma decided to take the plunge.
Emma's Giro d'Italia Femminile diary
Stage 6 - July 11: Suno-Suno ITT, 19.5 km
Corrigan secures the young rider jersey in the cornfields
Today was an individual time trial over 19.7kms on a circuit through maize/corn fields near the town of Sumo still on the outskirts of Milan. The roads were beautifully smooth, and the wind not too strong, and the Aussie team was equipped with beautiful Ti-Sports ITT bikes that just seem to want to go fast!
The course was fairly flat, with a few sweeping corners and little rises early on, and a descent pinch at about the 5km mark. There was a bit of big/small chain ring debate about that part of the course, and it seemed to be prime viewing spot judging by the congregation of dedicated Italian cycling spectators at the top of the climb. A few more corners and a couple little towns separated long stretches of fields on fairly flat terrain. It was quite a hot day, and any trees providing shade decided where we would set the ergos to warm up.
The winner was the current leader on GC, Buobanekoba, a Russian rider with Aliverti Kookai, in a time of just under 26 mins (25:57 av 45.5km/h). Another good climber Rasa Polikeviciute was second, and Australian Anna Millward was 3rd (13 sec behind). Sara Carrigan started one minute behind her main rival for the white, young rider's jersey, and managed to just catch her on the finishing straight… now 1.01 minutes ahead in that competition. Olivia Gollan was 17th with a time of 27.26, Hayley Rutherford was 21st in 27:29, and I finished in 27th place with a time of 27:48 Đ just out of the prize money (top 25). Liz Tadich came 36th and Naomi Williams 41st, both using today as a stage to ride a little conservatively.
I was happy with my ride, catching one rider, and having the next one in sight for the last 3 kms. There were a few corners I could have taken a little faster… and perhaps some of the long straight sections where your focus can easily wander. All in all not a bad day for the Aussies. Anna shared the beautiful Italian wine that she was given for 3rd place with us all at dinner. It contributed to a rather rowdy Australian table in the dining room, and a really funny evening.
Two of the team have headed home to focus on training for upcoming races, so we were without Rochelle Gilmore today, and Hayley will not be racing from tomorrow on. The rest of us will be doing all we can to ensure Sara stays in the white jersey, and we make the most of any opportunities that arise for stage wins.
Cheers,
Emma
Emma's racing exploits in 2002