Recently on Cyclingnews.com
The Emma James Diary 2002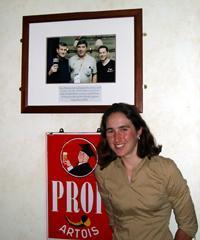 Emma and the Cannibal
Photo: © CN/Anthony Tan
Welcome to Cyclingnews.com's newest female diarist, Australian Emma James. Emma's enjoying her first year as a scholarship holder with the Australian Institute of Sport (AIS) road cycling team, managed by coach James Victor. She's a gutsy rider who's decided that she'd rather be testing the waters of professional cycling than testing the salinity of the Sydney's waterways as an environmental scientist - which used to be her previous occupation before Emma decided to take the plunge.
Emma's Giro d'Italia Femminile diary
Stage 1 - July 6: Pontedera-Perignano di Lari, 128 km
July 6, 2002
Hopefully better legs tomorrow for another tough stage
Hi all,
The first stage covered 128km from Pontedera to Perignano. There was a climb we did twice early on in the stage at 14kms and again at 37kms in a loop close to Pontedera. A group of about 10 riders got in an early but short-lived break, including a two from our team (Anna and Sara). The pace stayed fairly high most of the time and the attacks kept coming.
We had fairly flat terrain for about 30 kms before the first of the GPM climbs at the 79km mark. It was a short reprieve, with the speed maintained by the bunch to pull back a lone breakaway that got out to 1.40 on the flat, and disappeared as we hit the climb. The pace was pretty high leading onto the climb, and the actual climb was quite long and steep with switchback turns. The top Euro climbers got away at this point, Zinaida Stahurskaja, Nicole Brandli and Edita Pucinskaite the first three over the first climb (I saw it on TV coverage back at the hotel!).
The descent was fine for the first bit, but just as I caught two riders ahead half way down, we came to a little town with a really sharp right-hand corner. The two in front of me ran into a chain barrier - I managed to stop just in front of a small fountain on a wall - not having taken the corner at all to avoid the girls crashing! The next 15kms was spent chasing back to the bunch with about eight others. The final two climbs were at 94kms and 116kms, and not so hard in the last bunch, "the laughing group". It did start to rain a little after a very warm day, so there were plenty of wheels skidding and slipping both up and down hills.
Acca Due rider Jolanta Polikeviciute won the stage by about eight seconds after attacking the front bunch of about 12 rider in the last 5km. The second group of 15 included three Aussies: Anna, Sara and Hayley, and finished about five minutes after the front group, and five minutes ahead of our bunch of about 40 riders.
Hopefully better legs tomorrow for another tough stage.
Emma
Emma's racing exploits in 2002