The Emma James Diary 2002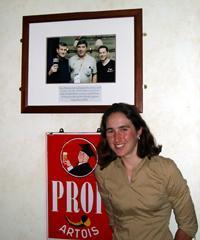 Emma and the Cannibal
Photo: © CN/Anthony Tan
Welcome to Cyclingnews.com's newest female diarist, Australian Emma James. Emma's enjoying her first year as a scholarship holder with the Australian Institute of Sport (AIS) road cycling team, managed by coach James Victor. She's a gutsy rider who's decided that she'd rather be testing the waters of professional cycling than testing the salinity of the Sydney's waterways as an environmental scientist - which used to be her previous occupation before Emma decided to take the plunge.
La Grande Boucle Féminine
Stage 14 - August 18: Paris - Paris ITT, 7.4 km
The final stage, and post-tour celebrations
Two weeks I'll never forget
Photo: © Emma James

It has taken me a little while to recover from the final days of racing, and the celebrations in Paris. I still am recovering and have a twitching eye - which is supposedly a sign of fatigue (or magnesium deficiency if prolonged!).
The final stage was 8km around the Bois de Bologne, starting from Avenue Foch, just a couple blocks from the Arc de Triomphe. I warmed up gently for a while, and had a decent stab at it. I think I was in the top 20, but it didn't feel great because the brakes felt like they were rubbing on the rear wheel. I checked it afterwards, and it was rubbing, but only very slightly - probably not enough to really make much difference. It wasn't going to change anything for me on GC or give me a change to win the stage, so it didn't really matter.
I was keen to roll down a little, and start a little active recovery. Another cyclist/Parisien Ilan Vardi was heading in the same direction, and offered to show me around a bit of Paris by bike! We started to navigate our way through the havoc beneath the Arc de Triomphe! There are no lanes, and even in a car it is scary! People come from any of about eight roads, and exit where they want, going as fast as they can to find gaps. We survived that (easy on a Sunday compared to any other day), and headed down the Champs Elysees. It really is cobble city! The final stage of the men's Tour would be harder than you think, on the bikes and the riders, because the cobbles really make it a dead road surface, very slow and energy sapping.
We saw the Paris 'at the beach' - a freeway along one side of the Seine river which for one month is handed over to pedestrians and recreational cyclists and a whole lot of sand and beach umbrellas set up in one part with people sunbaking in the glorious weather! It really changes the space - from grey car domination to a cheerful, lively colourful vibrant environment.
The next stop was the Eiffel Tower, and my guide (also a maths teacher) carefully pointed out that the names of 24 famous mathematicians are written around one of the lower levels of the tower! We returned via another freeway which each weekend is reserved for cyclists!
Our team was getting organised for our night out at the Lido de Paris - starting with the presentation for the winners, and then for our team, front row seating for the evening spectacle and dinner.
The Lido
We had a beautiful dinner, and a bit of dancing for our group (after a little champagne for motivation) as a live semi-jazz band played during the meal. I was accompanied by none other than Fabian Raymondaud for my first dance on the Lido dance floor. We all had a great time, even though half the team was still in Reeboks and the casual team kit, and looked a little out of place alongside the people dressed up for a big night out at the Lido de Paris! The audience was mainly groups of mature couples in tables of eight or ten.
The actual spectacle runs for about two hours, and consists of four main performances with really talented artists keeping people amazed while the dancers arrange their next costumes. The intervening acts were so impressive - juggling like I have never seen, and street theatre-like stuff: a character who is half statue and half real person - and you can not work out what is real and what is not! The dresses for the main performances remind me of fashion parades: clothing that is totally impractical and that you could never wear in the street - but amazingly elegant and beautiful to watch paraded in front of you. It is really haute couture. The bare chest bit is part of that, and was stylishly done. There were male dancers too, with two of the most amazing physical specimens performing almost a gymnastic routine - painted entirely in gold (for one of the interval performances between the main shows). I can't explain how amazing it wasÉ but we are talking two muscle-bound guys using amazing strength and skill to have everyone in the audience stunned!
There was a Xena warrior computer game style theme for one performance which involved a real horse on the quite small stage just in front of us, as well as swords, a dragon on the roofÉ you name it - it was there!
It was an incredible evening. The Lido will be closed for a month at the end of this year, and a whole new show will be choreographed. I will be definitely taking my boyfriend Adrian to the Lido when we are next in Paris together.
There were further celebrations at a nearby nightclub. I am not much of a drinker, so managed to find myself looking after a few people who had consumed a lot more than my one and a half glasses of champagne! This gave me the opportunity to drive (someone else's car) along the Champs Elysees and elsewhere around Paris at about one am! It was amusing for me as I stalled that car just before we left the car park, and there was a little concern from the others as to whether or not I could handle the Parisien traffic! I had no trouble from then on, and it was not very far to the night club. A few riders, team managers and soigneurs as well as a few key people from the organisation of the Grande Boucle were there - including Pierre Boue. It was a really good atmosphere, and good to see that when Kylie Minogue's song was on the dance floor was packed - everyone loves Aussies!
The limited sleep that evening has caused me a little grief, but I think the fatigue I am struggling to get over now probably has as much to do with the 15 days of hard racing as the four hours of sleep that I missed that night. I am recovering at the house of Roger and Mdme Beaumais. Roger was one of the soigneurs for our team - a former masseur for the French national team, and other men's professional teams. Their home is near Chartres - in wonderfully peaceful woods near Dreux. They are looking after me very well, with home grown salads and rice pudding perfected by years of looking after stray cyclists before races! I have visited the Chateau d'Anet as well as the town of Mantes la Ville (50km from Paris) which is the main sponsor for the team I have been with while racing in France.
The next thing on the program after a couple more days of recovery is a world cup round at Plouay, and then a couple days later a five day race: Trophee D'Or. I will be racing with Rochelle Gilmore in the 'rest of the world' team at Plouay. It should be a bit of fun.
A toute a l'heure,
Emma
Emma's racing exploits in 2002