The Emma James Diary 2002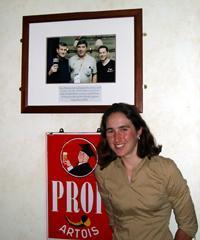 Emma and the Cannibal
Photo: © CN/Anthony Tan
Welcome to Cyclingnews.com's newest female diarist, Australian Emma James. Emma's enjoying her first year as a scholarship holder with the Australian Institute of Sport (AIS) road cycling team, managed by coach James Victor. She's a gutsy rider who's decided that she'd rather be testing the waters of professional cycling than testing the salinity of the Sydney's waterways as an environmental scientist - which used to be her previous occupation before Emma decided to take the plunge.
La Grande Boucle Féminine
Stage 13 - August 17: Chartres - Lisieux, 143.6km
Combativité award for Emma?
Two weeks I'll never forget
Photo: © Emma James

Today was the last long road stage of the tour: 140km and 15km neutral. At the presentation before the depart someone from the media asked if I would be attacking again today. I said: 'Always!', but wasn't so sure what the peloton would be dictating for the day.
The first move included Ljungskog, Cappellotto, Neben and Peters, but not surprisingly within a couple kilometres the yellow jersey had it covered.
After about 15km Daniela Veronesi from Edilsavino attacked and had 20 seconds on the field not long after. I was on the left side of the bunch, and had not enjoyed being at the back of the field when the field was strung out in crosswinds chasing the first big move of day. I had moved up to the head of the field, and seeing the Edilsavino rider out there all alone - and having been well fed by the left over pasta from the Italian Edilsavino team for the last few nights when we have been at the same hotels - I decided to try to get across to Veronesi. There was another Edilsavino rider on the same side of the bunch as me, but she was trying to talk to someone, and didn't look ready to cover any attack.
I attacked hard, and kept going till I was into a fast, steady pace. Looking back the peloton had not responded. I had Veronesi in sight - but a fair way off. I thought about what Anna Millward said a while ago that when you try to get across to a group ahead it has to be done very quickly - so you don't waste heaps of energy - and you can start working sooner with the group ahead to ensure it succeeds. It seemed a long time to me to get across to her … and I kind of hoped she would sit up when the gap was eight seconds, but I got there soon enough (at about 25km mark).
We worked well together. I felt fairly good at this point, and the gap got out to just over a minute fairly quickly. The next 30km went very quickly, with the time gap changing constantly, and we worked really hard at one point when the gap came down to 36 seconds. Veronesi said 'Tutti, adesso', and perhaps a couple other things in Italian that were more difficult to understand. I matched her effort as best I could, and rode harder when I found good rhythm.
There was a large chase group at one point between us and the peloton. The gap was one minute to them and two minutes to the main field. We kept riding hard. We had sections of head wind and smaller roads which were hard. There were also some beautiful smooth fast roads, and looking down at the speedo was very comforting - 50km/hr (for a little while).
I struggled to eat while we were riding hard. It was a really hot day, so I was drinking as much as I could - probably four litres in the hour beforehand during the race and, and another couple litres after the race. At about the 80km mark we were joined by Ina Teutenberg, Rasa Polikeviciute and Madeleine Lindberg. Veronesi and I rested a little when they were getting close to us. I was getting a little bit tired, and was thinking it was a good thing that our group would be strengthened by some strong riders. I thought about sitting on for a while, but they were driving it, and I didn't want them to get annoyed and attack us. I was fairly smashed, but rolled through to help keep the rhythm, and tried to help on the descents to keep the speed up for our little break.
Rasa saw me struggling on a little hill with 50 odd km to go, just keeping in touch with our group of five over the crest. The next hill after that was a mountain sprint. Rasa attacked, and I thought that was rather harsh. We still had 45km to go and we had been out the front for ages - just another 25km as a group of five and it would have been much more enjoyable. Ina was the only one who could go with Rasa. They quickly got 20 seconds on our group of three, and kept increasing their lead.
Veronesi and I kept rolling through with Lindberg, but we were both fairly smashed. A couple more moves came from the peloton - with Vilajosana (Aliverti-Kookai) a couple minutes behind us. With two kilometres to go Teutenberg was on her own, having dropped Rasa (30 seconds behind), and reports claim the sprinter enjoyed finishing solo - with time to celebrate.
I was counting down the kilometres, and thinking that in my tired state it would be best not to try to attack before the finish. With just over one km to go there was a little steep section. Madeleine attacked, and I went to go with it. Veronesi chopped me in the corner, so I eased up, but got back on steadily. Around the next bend the road was also slightly up hill. I didn't think I had the legs to get a descent gap on Madeleine. I waited, thinking that being patient may pay off. The road was rough and downhill for a couple hundred metres before the 300m to go mark. Madeleine started the sprint, and I went with her, but Veronesi was close between the barriers and me. I haven't learnt the art of pushing someone off a wheel - or even not letting someone steel the wheel I'm on! I wish had, because I wanted Madeleine's wheel and was 90% there. Still, if I had the legs at that point I should have been able to launch for the line and come around Lindberg. Not good enough legs after 110km in a break. I was 5th for the stage, and happy with that - in that weird sort of way where you are already thinking about all the things you could have done to have finished 3rd or stayed with Rasa and Ina! 'Tell her she's DREAMING!'
I was absolutely smashed by the day's effort. My feet were aching, and only putting them in the cold water from the ice in the drinks eski could provide some relief.
We had a long transfer to Paris - nearly finished. Luckily there are no more road stages for me to think about solo breakaways for hundreds of kilometres. It is like banging your head against a wall! The average was 40km/h for the 135km of racing. Given that I did most of that with just two or three of us, I reckon it was a decent effort.
A toute a l'heure,
Emma
Emma's racing exploits in 2002