Recently on Cyclingnews.com
The Emma James Diary 2002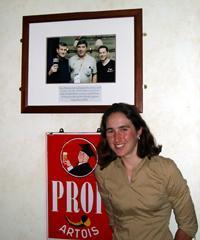 Emma and the Cannibal
Photo: © CN/Anthony Tan
Welcome to Cyclingnews.com's newest female diarist, Australian Emma James. Emma's enjoying her first year as a scholarship holder with the Australian Institute of Sport (AIS) road cycling team, managed by coach James Victor. She's a gutsy rider who's decided that she'd rather be testing the waters of professional cycling than testing the salinity of the Sydney's waterways as an environmental scientist - which used to be her previous occupation before Emma decided to take the plunge.
La Grande Boucle Féminine
Stage 11 - August 15: Bellac - Civaux, 77km
Hanging with the attacks
Two weeks I'll never forget
Photo: © Emma James

Our team director was keen for Cynthia not to finish alone today, after a hard day yesterday, and still some long days to go. In the rules you have to finish with no more delay than 25% of the winner's time (for the mountains up to 33%). For the short stages the time cut can be quite nasty. I was worried that might be the case today, with a fast short stage, with some decent early climbs. There was a decent berg early, but Cynthia was dropped with a couple other riders who also found the pace too fast at the start due to numerous attacks and long fast sections for the peloton.
I was looking for breaks to go with, but the GC riders were putting their nose in everything, making it certain that one of the others would chase that group to ensure that break didn't get away. The pace would ease up from time to time, with the peloton quickly filling the road and making it hard to attack. It wouldn't take long for someone to have a go, and the peloton seemed very quick to cover everything. I didn't think anything would get away for awhile – so I tried to look after myself as best I could.
There was an intermediate sprint, with a prize in memory of Michela Fanini. Appropriately Anke Wichmann from the Michela Fanini team won the sprint prize after very aggressive riding from their team leading up to that intermediate sprint. The time bonuses given at this point were also important, with Susanne Ljungskog (2nd on GC) always making the gap to Stahurskaia just a little bit smaller (only 30 seconds now). After Susanne attacked at one point in the race, I saw Zinaida have words with her – and then follow her continuously for the rest of the race. Tomorrow's stage finishes with a steep climb in the last 500m. It will be a hard fought finish!
After the intermediate sprint there was a small mountain climb. Amber Neben, a really good rider (9th on GC) with the US national team attacked before the climb, and was 20 seconds ahead of the field for about ten kilometres. Slioussareva and other riders with Itera were pulling her back, and as we went through a small town, with a steep section just after, Slioussareva, Veronesi, Ghita Beltman, Giardinelli and Peters joined Neben just up the road. It seemed like some of the riders at the front of the peloton were blocking to let their team mates stay away. I tried to get across, and took Mari Holden with me, to join at least three other riders from the USA national team, and a couple from a few other teams. It looked like a good thing for a while, with 20km to go – perhaps a few too many riders (not all dedicated to establishing the break), but Olga Slioussareva was with us, and so soon Judith Arndt came along for the ride (both contesting the green points jersey).
I was hoping someone would attack the group, and I was focusing on being ready to go with it. I should have made the move myself – but didn't have the benefit of hindsight at the time, and the riders I wanted to go with seemed to be riding hard on the front. Very soon the GC riders were back with us, and they started attacking one another – but not surprisingly they were quickly followed. I tried to have another go, hoping that a few of them might be glad to have someone unthreatening up the road, but no luck there.
Ghita Beltman was the most successful of the attacks in the final part of the race. She stayed just ahead of the peloton for a few kilometres until three km to go. There was a steep little pinch with at this point, and then a descent leading into the fast finish near a nuclear power plant! Olga Slioussareva won the sprint, taking the green jersey back from Arndt. Ljungskog again took a few seconds of time bonuses. And Cynthia made the time cut with her two companions in the 'mini-autobus'.
A long transfer, with massage in the camping car, and a late dinner ensured we were quite late getting to bed. It is not too bad as the stages start in the early afternoon so we can sleep in! I even find a little time to relax and write about the race.
A toute a l'heure,
Emma
Emma's racing exploits in 2002