Recently on Cyclingnews.com
The Emma James Diary 2002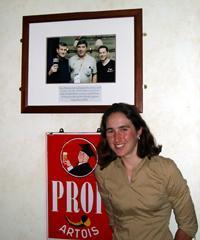 Emma and the Cannibal
Photo: © CN/Anthony Tan
Welcome to Cyclingnews.com's newest female diarist, Australian Emma James. Emma's enjoying her first year as a scholarship holder with the Australian Institute of Sport (AIS) road cycling team, managed by coach James Victor. She's a gutsy rider who's decided that she'd rather be testing the waters of professional cycling than testing the salinity of the Sydney's waterways as an environmental scientist - which used to be her previous occupation before Emma decided to take the plunge.
La Grande Boucle Féminine
Stage 10 - August 14: Montrond-les-Bains - Issoire, 141.2km
Battling along in midfield
There was more action at the start of the stage than I expected – there is still life in the peloton. It was quite fast with attacks going, and Itera riders controlling things on the climb. (Russia and Belorouse – must be the former USSR ties!)
The first couple climbs at about 50km were not too bad, but over the crest of the second one, attacks went in windy conditions, and it was gutterball for those midfield. I was midfield – bad positioning at the top of the climb. I saw the gaps opening up just ahead, but did not react fast enough to stay with the peloton. The roads were fast and descending for the next 10km. A few riders tried to chase, but it was not very coordinated, and there were about 30 tired riders hanging on to 10 chasing hard. I did everything I could, frustrated that I had been caught out in bad position, and wanting to be racing in the peloton ahead. There were very few riders who were willing or able to chase back, and a few who seemed to be doing everything they could to prevent us getting back.
I saw the peloton sit up a little, and was hopeful that if there was no action in the peloton for a few kilometres, we could still make it back. I went with another couple of riders who were hopeful. We got to within one kilometre at the 85km mark after a nice long descent. Unfortunately soon after attacks in the peloton saw them fly up the next 25km drag (2.5 percent) – while we had fatigued, and were left in no man's land. From there I rolled to the finish with the others (group of five), picking up a couple dropped from the front group. I had plenty of time to regret not riding smart on the climb.
Rasa Polikeviciute got away with 60km to go, when we were trying to get back to the peloton, and the attacks that followed on the long drag included efforts by Madeleine Lindberg and Arenda Grimberg (both with Farm Frites), and Daniela Veronesi (Edilsavino). My team mates, Elizabeth Chevanne Brunel and Sylvie Riedle tried to attack in the last part of the race, but the peloton was not keen to let anyone else get away. The last part of the race was four laps of the town where we arrived. It was quite a cool 1.5km circuit – no corners, just like a little ring road circling the older part of the town. It was rather mundane for the groups of riders who had been dropped, but would have been good for the spectators watching the final sprint. Judith Arndt won the sprint for second, and now leads the green jersey points competition.
The results sheets included the prize money allocation for the tour. For omen's racing these numbers are often not too impressive. The green point jersey is only worth 336 Euro from the organisation's prize money, but there's an extra 4,573 Euro from the key sponsor of the tour Monoprix! The prizes for the leader's gold jersey and a 'combined points' jersey are just as generous!
Everyone is tired. Perhaps more accurately, 50 percent of the riders are absolutely smashed. We can still attack, and want to win. We imagine doing well in each stage, but if you talk to us when we have just finished the stage and ask if it was hard, you are likely to be snapped at or bombarded by tears! It is all okay after a shower and some food and a moment lying down, but it is fatigue that you can't hide when little frustrations confront you. Our little bunch of five finished midfield, just ahead of the riders cruising in together. One of the girls in our group just spontaneously burst into tears after about 100km, with another 50km to go. After a minute or two she was fine, helped by another rider for a moment. I had been feeling sorry for myself, wondering why I was more tired than I wanted to be. It must have something to do with roughly 1,400km we have covered in the last ten days. My body seems to remember the physical effort more than my mind, which still wants to feel excited and ready to race.
The stage is short tomorrow (86km), and likely to be fast. There is only one categorised climb, but a few other little bergs that will give any strong rider wanting to attack the chance to cause trouble. With GC so close, I'm sure there will be some action worth following if I can. If I am not with the front group, it will be a day to help Cynthia, our Lido dancer. She suffered more than anyone else in the stage today. About 110km alone (in windy conditions and 25 km drags), after being dropped on the first climb. She only has to survive three more days to be the first rider to do the final 8km time trial in Paris and record the fastest time (as the first rider).
A toute a l'heure,
Emma
Emma's racing exploits in 2002