Recently on Cyclingnews.com
The Emma James Diary 2002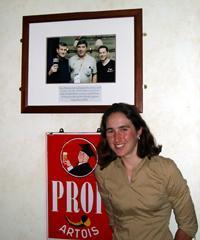 Emma and the Cannibal
Photo: © CN/Anthony Tan
Welcome to Cyclingnews.com's newest female diarist, Australian Emma James. Emma's enjoying her first year as a scholarship holder with the Australian Institute of Sport (AIS) road cycling team, managed by coach James Victor. She's a gutsy rider who's decided that she'd rather be testing the waters of professional cycling than testing the salinity of the Sydney's waterways as an environmental scientist - which used to be her previous occupation before Emma decided to take the plunge.
La Grande Boucle Féminine
Stage 8 - August 11: Courchevel - Vaujany, 113.6km
Sock it to me
We had been hoping for snow overnight, to close the road over the Madeleine and the weather bureau had forecast snow for 2000m altitude. Unfortunately the summit road is only at 1985m and was not covered by snow, so despite rumours of the pass being closed, the weather could not save us. The organisers did understand that with the rain and descents (and a fairly solid week of riding already), it was not the best conditions to be racing over the biggest mountains they could find, but a couple teams were keen (or at least the directors of AccaDueO and DeiaPragma were keen...). A few of the riders expressed a little frustration on the line. It was obvious we were in for a hard day.
The stage was shortened slightly (no descent from Courchevel), so we started 2km from the base of the Madeleine climb. The Swedish tip (from Susanne Ljungskog) for wet, cold mountainous conditions is large, pink rubber gloves – like for washing dishes. I laughed at first, but had five hours to understand entirely the advantages. There were a fair few other small rubber gloves discarded on the road, so it must be worth trying.
In the first kilometre Dede Demet attacked (later to abandon), and so by the start of the climb, perhaps 3km into the stage, the peloton was split into several groups. I was not feeling great (must be an altitude allergy), so I was on my own for almost all the day. I was not that far behind the second big group to start with – but my comfortable tempo was not going to get me any closer to them. It didn't really bother me to be on my own. I wasn't racing, just trying to survive, go hard enough to keep warm and do as little damage to my tired body as possible.
The climb was not so bad, but the descent was hell. Rain had made my gloves wet, and my fingers felt like ice cubes. I clenched my fists, and water poured out of them. I was tense and scared I would not be able to brake. My fingers seemed slow to react. I took it really easy – not really worth risking anything for 60th on GC. My team car was just behind me at the bottom of the descent. I gave them my wet gloves and asked if they had anything dry. They had no spare gloves. I looked hopeful and asked for anything dry – "socks!?" The director, Dominique was quick to respond. "In one km," and sped off up the road. He was just putting his shoes back on as he passed the socks over. He promised to try to dry my gloves by the time I was at the top of the Glandon. It was great to get rid of the wet gloves, but I needed something to keep the wind off my hands. The socks worked perfectly.
The Glandon is really beautiful. I will go back one day when the weather is good. With two km to go, I thought "This is going to be a really hard bit." Suddenly there was a string of incredibly dedicated supporters, standing on the side of the road – in horrible conditions, pushing riders – even if you said no (as did Sylvie Riedle in my team). Most riders know it is wrong, and don't ask for it, but secretly hope to be pushed. Some riders were given a warning in the results for being pushed by spectators. I was just as guilty at the top of the Glandon, where it seemed I didn't even have to pedal for 200m.
The descent was rather disappointing, with a fair bit of false flat as well as a steep 2km climb in it. I saw another road, and thought maybe I had gone the wrong way. Very soon we were onto the last six km of climbing, up to Vaujany. I had some Dutch friends who had come to cheer me on waiting at the finish line. I had survived, and hopefully will have something in my legs for the week ahead.
The stage was won by Polkhanova, ahead of the other gun climbers. Elizabeth Chevanne Brunel, with my team felt better on the climb than the previous day, and was happy to come in just outside the top 20. There were more notable abandoners – Anna Millward before the stage (very wise) and Alison Wright (half-way though)… as well as a few others.
A rest day next, but with at least 1-2 hrs riding to ensure your body doesn't shut down, thinking it is all over.
A toute a l'heure,
Emma
Emma's racing exploits in 2002